SEE what they CAN'T show you on TV! 3 Days FREE No Commitments
3:50pm Matt and Ragan Matt is telling him that it's really hard to talk to Brit. She was handcuffed to Brendon is now taking a nap and he's found out it's Brit's birthday party tonight. They both wonder why they are having it tonight when it's not even her birthday they could have it tomorrow. Ragan says "they" (production) are privy to conversations we are not so they are wanting this to build up the story. Ragan thinks that there are real strong reason for keeping Matt in the house and they will most likely have to really work those reason after the POV ceremony. Matt hopes he's right he hopes they can get the votes, Matt: "i can't handle the stress my poor wife". Ragan still working on his candy bar math, using the candy bars to help him calculate dates and events. Matt laughs calls him a loon, ask "Did you make a abacus out of candy bars?" Ragan doesn't seem as stressed out he thinks "they" (production) want to keep Matt in the house and they can get the votes he's thinking of the future and is studying like never before. Matt adds that if he stays he knows he'll win HOH and finish the job…
4:06pm HOH Lane, HAyden and Brit Lane telling her that they are thinking if Brendon wins HOH he'll put her and Brit up but she'll just be a pawn. Brit doesn't want Brendon to win the next HOH, she wants to know why the guys are going to throw HOH to Brendon. lane tells her they aren't he's just saying if Brendon does win HOH that her and Ragen or him and Ragan are going up. Brit still thinks if raygen wins POV then she's going up and home. Hayden tells her there is no way that Ragan will win. Hayden: "I hate to say this about Ragan but if Matt goes home ragan will mentally check out.." Matt walks in.. Brit completely ignores him.. she doesn't even look at him. They start talking about her birthday party and how they are going to grill it up. They start to talk about Double eviction and they wonder if the first HOH gets a letter….
Lane leaves and they start talking about the episode that is showing tonight, this is the episode where Nick gets called a Bogey. lane asks if nick will hate them. Brit: "He'll love you all…. he'll thank all you guys for taking care of me (LOL) " Lane leaves..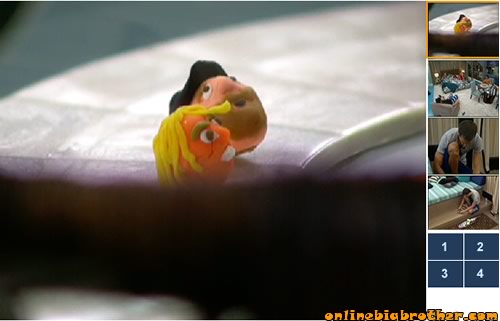 4:30pm HOH Matt and Brit
Matt: "can I pick your brain brit now i'm worried i thought i had a zero percent chance of going up"
Brit: "it sucks "
matt: "what are you doing?"
brit: "theres only 4 people left i have to pick someone you all are really good friends to me"
matt: "I understands.. I'm sure that Brendon is slandering him"
matt: "I had your deal since day one i have proved that since day one and you know it i want to win HOH i want to take Brendon out.. If I go up i'm pretty sure i'll go home and Enzo has everyone's vote so i go up against him i'm going home.. I'm freaked out"
Brit: "I really don't know what I can do i'm not putting up lane and that leaves 3 friends.. I don't want to put up Ragan cause he never played int the pov "
matt agrees say that putting up ragan looks seedy… Matt tells her to just think about it all in his head she knows the pros and cons. Matt: "if BRendon wins the next HOH and if POV is played she's going home but if someone on his team goes then I'm the target and so is ragan… If i stay in this house I am the target for Brendon not you"
Brit: "i'm not in a good position either way.. so my other option is to put up hayden"
matt: "Yeah and enzo will be going home, I know this is a BLANK thing that happens"
Brit: "Someone has to go home"
matt: "I want brendon out of this BLANK house he's a burden to our games.. if you keep me rest assured i'm going after him and he's going after me"
Brit: "you and Ragan are loyal to each other period.. you guiys have each other i don't have anyone"
Matt: "Lane"
Brit: "Lane is as loyal to hayden as he is to me"
Brit tells him the POV was fishy, no matter what she does she's making enemies
Brit tell him that theres no way she'll make it to final 2 if she with Ragan and MAtt. MAtt say no that is not the case, ragan and I are friends but we have a undertsanding to make moves that help us in the game. Brit starts to cry says she was really happy last week that MAtt stayed in the house but now she doesn't know she's in a bad position and whatever she does she's screwed. Matt says theres a huge danger if Brendon wins POV he's not touching Hayden, Lane or Enzo he's going after you.. I'm the super target. MAtt says he's super good friends with all the guys they've talked about splitting votes weeks ago. Matt explains that Ragan wants it to be him, Matt with Brit and Lane in the final 4, then its 2 pairs against each other. Matt asks her to please think about it in the long term…I've protected you in the past, never said BLANK about you and i'll continue to be there for the future. Brit: "I like you to Matt, I love Hayden and I think he's a great person.. he's very good for his word" Matt: "With the DPOV I could of taken out a strong person but i took out Kathy and now it's biting me in the ass". Brit tells him whoever she puts up she'll piss people off, Matt doesn't think things carry over week to week like that. He points out how Brendon and everyone else are friends now and 2 weeks ago there was mad BLANK being said about Brendon.
4:56pm Brit and ragan HOH
ragan asks him to promise her beyond this game that if they talk game they will not repeat it. Brit agrees. Ragan ok he says that the entire house see Brit and MAtt as the 2 biggest threats in the house.
Ragan: "this is what i see is happening in the house right now…I think there are 3 pairs in the house, ragan/matt, brit/lane and enzo/hayden … enzo and hayden have been playing both sides of the fence and it's been great for them". He continues that biggest mistake he took was taking a stand of the rachel and brendon thing because ever since then he's been a target and so is Brit. Brit agrees. Ragan: "I think they want brendon in the end with them and I think they would have loved to have seen kathy be in the game because they want people they can beat in competitions and they want someone they can beat in the final 2. Ragan says he thinks Brit will be fooling herself if she thinks they will keep her in the game because it's mostly quizzes and there freaking out, Ragan: "They are smelling money as we all are.. but they are really smelling it"
Ragan explains to her no matter what side she picks it's 3 vs 2.. If matt goes home it's Ragan and LAne vs Brendon, Enzo and Hayden. He tells her once Matt is gone then the target is on her. Ragan the second option is if Matt stays then she has MAtt, ragan and LAne against 2 of them….
SEE what they CAN'T show you on TV! 3 Days FREE No Commitments
5:22pm Brit telling him that there is no way she can beat Matt in final 2 and she's sure that no one in the house will beat him, Brit: "I'll need to win the final HOH to move it forward". Ragan agrees, he tells her she's in a position now to name her terms.. she needs to make a final deal. Brit tells her if Matt wins the final HOH he won't bring her along. Brit tells him that she is worried that she'll lose ragan in the house even if MAtt goes home. Ragan tells her if Matt goes home he's not going to be going after her. Brit: "I love matt i think he's a great guy but he's my biggest threat". ragan explains that Matt is only a threat in final three otherwise the other guys will
Brit tells him that everyone in the hosue wants Mat to leave becuase he's playing a sneaky game.. they've traced it back from week 3. Ragan: "I think the majority of the house wants you to leave to and it has nothing to do with Matt being sneaky it has everything to do with you and him being competitors". Brit agrees. Brit says that Brendon told her that when Matt goes home he wants it to be her, Brendon and Ragan to team up. Brendon: "That is the funniest thing I've ever heard" Brit agrees. Ragan: "You get rid of matt and you move into his shoes… I promise you that". brit: "If i keep matt here i can't win the 500K" ragan: "Yes you can if you make a deal". Brit says she believes that the house wants brendon to go. Ragan: "Ohhh brit you are being fed BLANK.. sorry brit but I've seen what is going on between the boys".
5:35pm HOH Ragan tells her he will drop out of the part 2 of the HOH comp and let Brit compete against Matt in it. Ragan thinks he has a much better shot at winning up against Brit then Amtt so he wouldn't mind making it to final 2 with her. Brit tells him that Matt is her biggest competitor and if she doesn't take him out now he'll make it to the end. ragan tells her that if Matt is staying in the game then the 3 of us are in the game. He tells her you stick with MAtt it'll be easier to get to final 3 but harder to win but if she sticks with the boys she'll have to win all the comps or she won't make it, However if she does make it in the final 3 with the boys it'll be easier for her. to win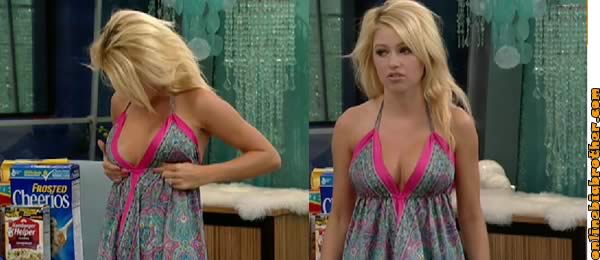 6:09pm Brit getting Ready for her Birthday Party
7:06pm Brits party starts to winds down… apparently one of the fish is dieing.