SEE what they CAN'T show you on TV! 3 Days FREE No Commitments
2:15pm Have Nots Brendon, Lane and Enzo Brendon telling them his conversation with Brit, He explains to her that If she puts up Matt then she's safe next week but if she puts up Hayden or Lane they will all be gunning for her. Lane says they're giving her an incredible deal they promise her one week and at this stage of the game that is huge. Brendon is happy that Ragan and Matt will be gone he feels like there will be no backstabbing or lieing at that point it will be straight competition (but the competition is lieing and backstabbing)
Hayden joins them.. Brendon says that the one thing Brit was telling him about keeping matt was that if she leaves him in the game she leaves the biggest target. Hayden says that brendon is still in the house and he has a big target on him. They agree to all keep talking to Brit getting her to put Matt up.
(If the brigade can win competitions without MAtt then they have this game in a bag)
2:29pm Taj Brendon and Hayden Brendon saying he's sure that he'll win HOH next week and when he does he'll put up Brit and Ragan but the target is Ragan. Hayden thinks that maybe it should be Lane and Ragan. Brendon agrees because that way he keeps his word with Brit.
2:33pm Have Nots Hayden and Enzo Hayden is getting worried that Matt is going to tell everyone about the brigade. Enzo isn't worried they will just tell Matt that they are splitting the vote and he'll keep his mouth shut (Man i hope not) Enzo thinks that next week they will get HOH becuase the power shifts. They agree that they need to survive this week and win the next HOH and then they are golden. The plan is to take Ragan or Brendon out next week. They think Ragan is going to be messed up when Matt is gone and will probably just disappear. Enzo says he wishes they kept Rachel, he wonders keeping Ragan around longer might be a good idea since he'll be dead in the game. They start going over what they will say to Brit, Enzo is going to tell her that if Hayden goes up with him then Enzo goes home and its not fair to do that because she promised him he was a pawn and was safe. He'll brings up the POV comp and how he really fought for it and matt never fought. Hayden: "I think we're going to win" Enzo: "yo"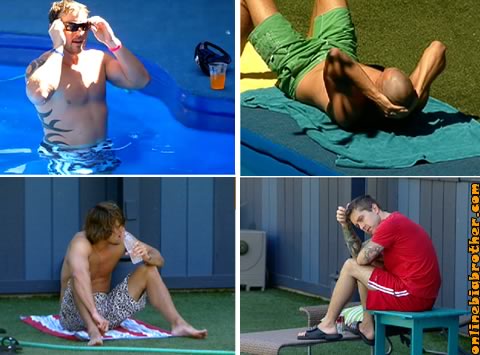 3:00pm Backyard Silence
3:00pm Ragan Studying (Ragan has the entire BB12 timeline memorized and is spewing it out over and over again he's got it locked in)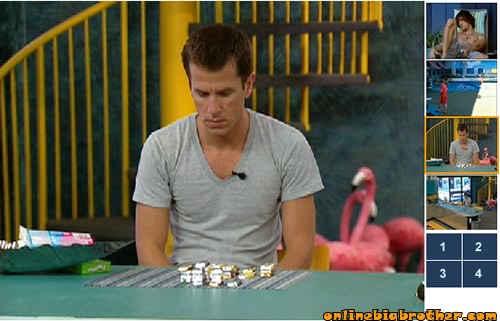 3:31pm Ragan continues to study using the chocolates as study aids


3:32pm Matt tries on the Penguin costume
Share it YO!!
Tweet