1:10pm – 1:30pm Lane and Matt are sitting at the kitchen table. Lane is asking Matt multiple choice questions off of the back of a cereal box.
1:35pm Enzo and Hayden are talking in the backyard by themselves. They are talking about whether to keep Brenon or Britney. They discuss when to put up Brendon. They say that they will put him up and tell him he is a pawn. They talk about who they think Brendon would put up. Enzo says he told Brendon he should put up Britney and Ragan and not Lane. Enzo says that they have to think about themselves too. Enzo says that if it's a double eviction he's gonna put up Brendon. Hayden says that he will to …and that he made a deal with Britney and so that he has to put up him (Brendon) and Ragan. Enzo says that if Brendon wins HOH they are golden. Hayden says that we have to start winning BLANK though man. Enzo says yeah I'm going into this BLANK to win it. Enzo starts going through the timeline of the events of the house. Hayden is confirming Enzo's answers. Enzo and Hayden starts asking each other before and after questions.
1:50pm Lane comes out and they start talking about what they should do if it's a double eviction. Enzo says that if the first competition is a quiz then the next will be a physical. Brendon comes out to the backyard and asks Hayden what he talked about with Ragan over by the hammock. Hayden says that Ragan was talking about how if Brendon wins one more HOH he will be in the finals. Brendon says that they all have an equal chance to be in the finals. Brendon says that its funny when the tides turn everyone thinks I am a threat. Brendon asks Hayden who he would put up. Hayden says that he doesn't know yet… that Ragan is going up for sure and that he already promised that he wouldn't put up Britney. Brendon says that he did too but Britney went back on their deal.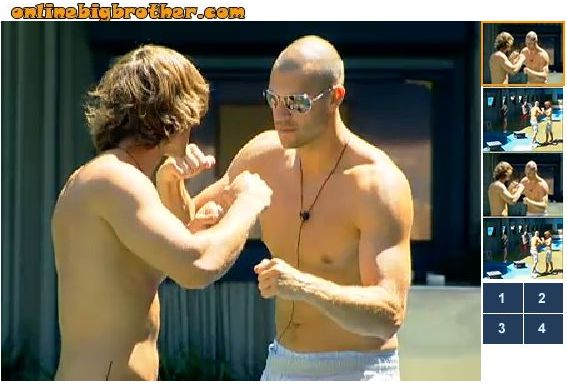 Britney comes out with the camera and tells them that she needs HOH pics. Britney tells Hollywood Hayden to do something exciting. Britney then tells Lane to pretend to grill. Lane complains that he doesn't what to grill. Britney tells him that he just has to pretend. Britney tells them to hurry up …because she wants to go blog and talk to her family. Britney takes a photo of Lane pretending to grill. Lane picks Britney up and holds her upside down and they take a picture of her. Britney gets a photo of Hayden on Gremlins (Matt's) back, and another one of Hayden, Lane and Brendon posing. Britney tells them that they look stupid.
TRY the Live Feeds for FREE!!
Superpass – 3 Day FREE Trial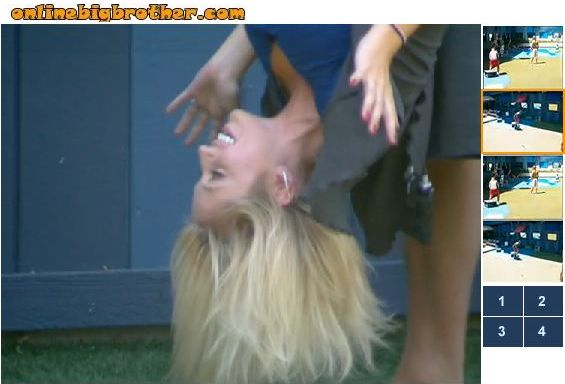 1:55pm Brendon and Hayden are talking in the backyard.  Brendon and Hayden talk about how Britney doesn't need the money.  Brendon asks if Lane would agree with them that Britney doesn't need the money.  Hayden says that he thinks that Lane would agree.   The cameras switch to the bedroom where Matt and Ragan are talking.  Matt has on a t-shirt bandana and some chandelier earings and says that it is going to be his eviction outfit for tomorrow.  Matt heads into the kitchen and takes it off.  Matt, Enzo and Lane sit at the table and talk about random stuff.  Enzo talks about how he cant wait to write meow meow on his penguin suit.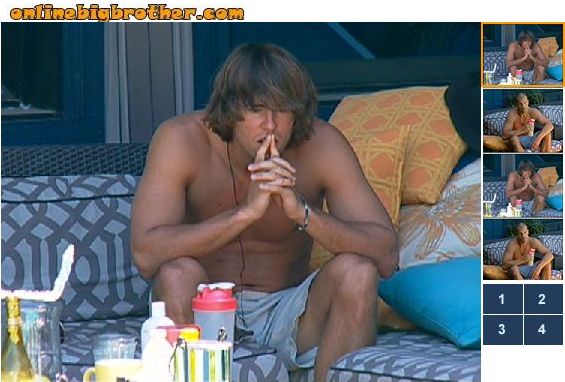 2:10pm Brendon lets Enzo know that there was a DR (Diary Room) leak from Enzo's diary room session. Brendon says that the heard him say …I'm gonna kill those mother BLANK. Brendon says that he was like, is that Enzo? …for real? Enzo is confused and says that he was just talking about his wife. Then Brendon says just kidding man, ..we did hear a little sound though. Lane makes a bandanna for the duck in the pool. Enzo goes out to the backyard and puts it on the duck and says Yeah thats what's UP, YO!! Lane goes to get ready to get into the pool. Enzo takes off his penguin suit and gets in the pool too.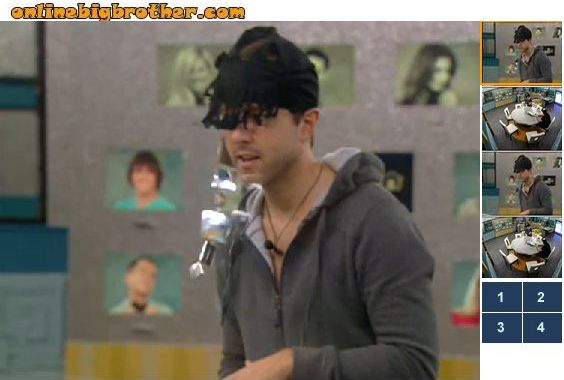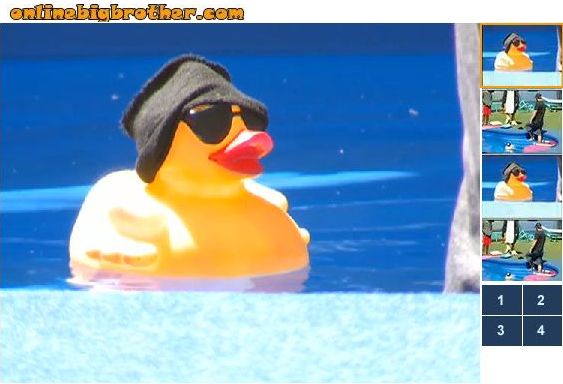 2:30pm Matt and Ragan are in the bedroom talking. Ragan says that he can't imagine them having to do their messages tonight… Matt says yup. Ragan says but that he is just curious why they got to sleep in so late. Matt says that he doesn't want to get to into the theorizing because it doesn't really matter for him any more after tomorrow. Ragan then asks him if Matt will come up with some before and after questions. Matt says Ummm… Im so bad with these. Then the camera switches to the backyard where Lane and Enzo are in the pool.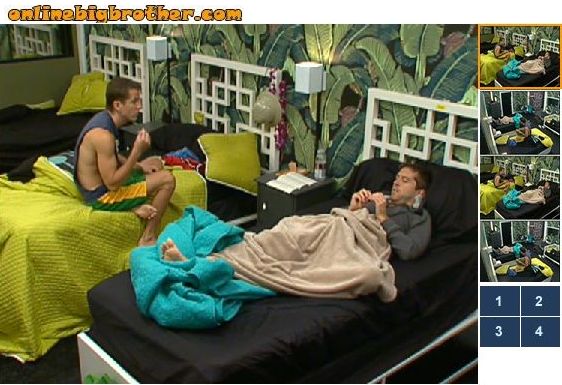 Watch everything LIVE as it happens!!
Superpass – 3 Day FREE Trial