6:02pm Hayden, Lane and Brit in the Kitchen Lane says he hopes Ragan isn't too made at him. Hayden doesn't think so its part of the game. Brit is chopping up food there chatting about the pandoras box punishments.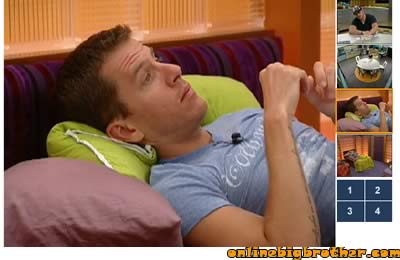 6:00pm Taj Ragan Ragan is studying he's going over facial features that are distinctive to each houseguest (preparing for the face morphing comp)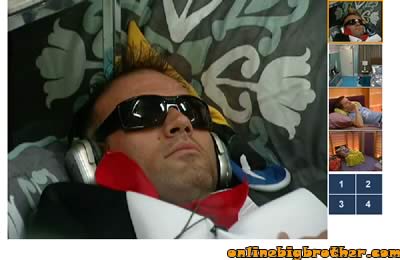 6:06pm HOH, Hair and Enzo Hair tells him that dinner is ready, Enzo is going to listen to a couple more songs then he'll come done. Enzo is worried that Lane won't put Brit up.. Enzo starts getting pissed about it thinks Lane will not put brit if if Ragan wins POV. Hair repeatedly tells them its good Enzo is safe. Hair heads downstairs and Enzo goes back to listening to music. Hair tells Lane and Brit that enzo is pissed, he doesn't understand why he told enxo that someone has to go up. Brit pipes in about being thankful it's not her.

6:10pm Lane, Hair and Brit eating dinner. Ragan still studying for the morph comp (he's going to win it if thats what they get) and Enzo still listening to music gett mad.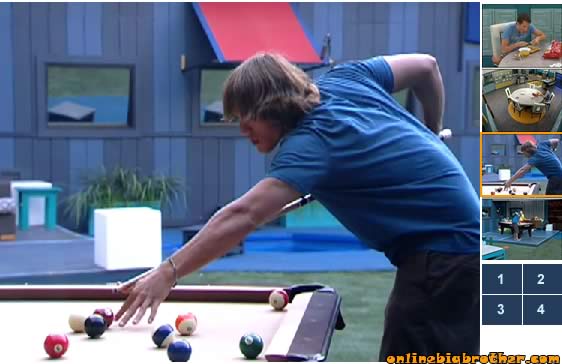 6:25pm Pool table Hayden and Brit Brit wants to know why Enzo is pissed. Hayden doesn't think enzz is really that mad. Brit thinks he is. Hayden: "umm yeah I think he only upset because he just was on the block….. oh well what are you to do". They go back to exciting pool talk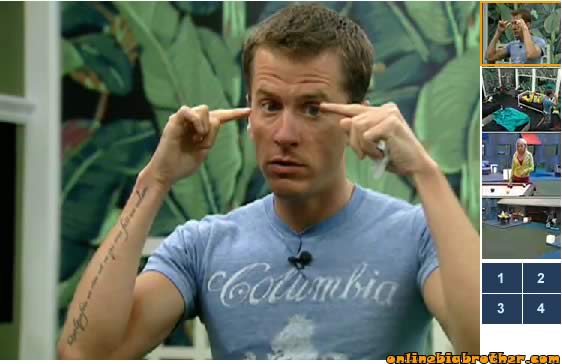 6:34pm Jumanji , Ragan he's studying for the face morph comp. Ragan has memorized everyones facial features and is now going over them all. (the funny thing is he told Lane a couple hours ago that it's probably not going to be face morphing because they've done it 3 years in a row, Ragan has been studying very hard for this comp)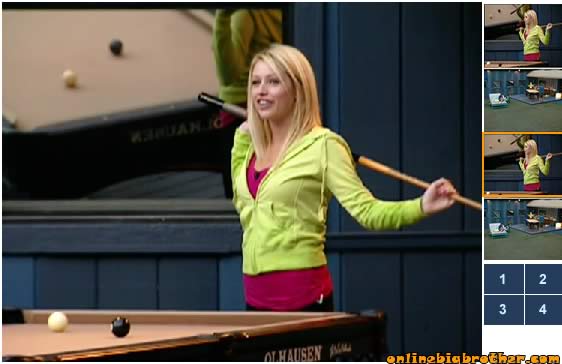 7:00pm Backyard Brit, hayden and LAne. Brit calls them the final 3 and wants to hang out at the NFR in Vegas.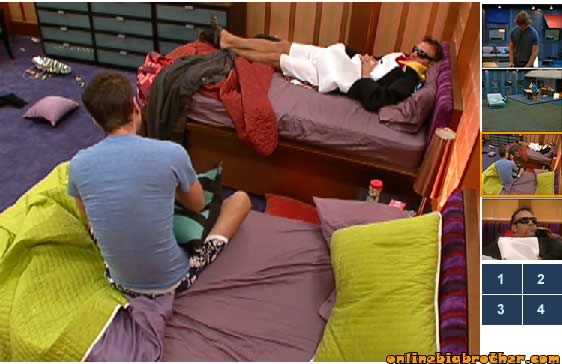 7:02pm taj Ragan and Enzo Enzo is asking what he thinks the POV will be, Enzo wonders if it will be the face morphing comp. Ragan explains to him that he doubts it will be becuase the comps seem to be different this year and oout of order. He mentions they didn't have the comp where the houseguest get woken up through the night with messages from the fans. Enzo thinks the comp will be a messy one because they haven't had those in awhile.

Dawg has kids and a cat to feed please he needs your votes 😉