$5 off Discount – LIMITED Time OFFER! ONLY $9.99!
PLUS try it FREE for 3 Days!
4:00pm Jumanji Hairdo and Lame hairdo is telling lane that he trusts if brit wins POV that she'll not use it on Ragan. He thinks it's best for Lane to put up Enzo and not himself as teh pawn. Lame says he knows what to do, he's going to do whats right. Hairdo adds that if he's trying to think of what to say to Enzo he should bring up that Hayden didn't have a chance to play for the HOH and that Enzo hasn't won any HOH comps so he has to do his duty and go up on the block. Lame tells him he's not going to say that because Enzo has been getting sensitive lately about his inability to win shit in the comps. Hayden says he's not going to be mad if he's the pawn but he thinks its a better strategy to put up Enzo. They head into the kitchen.. Lame is practicing his noinations speech, "one of my duties is to nominate 2 houseguests…."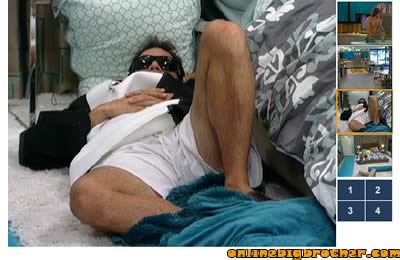 4:10pm Enzo listening to Lame's music
4:11pm This seasons Keesha and lane in the bathroom Lane tells her he;s got a tough decision to make, he doesn't know who he'll put up. Lane: "Its a toss up" Brit: "well i'm not a toss up". Lane brings up that he's stronger than Nick, Brit says you don't know that. Lane says that nicks armss would break if he tried to pick her up by her ankles or do pushups with her on his back. Brit: "How so yo know we don't do that every morning".



$5 off Discount – LIMITED Time OFFER! ONLY $9.99! Go back and see all the early fights using flashback
try it FREE for 3 Days!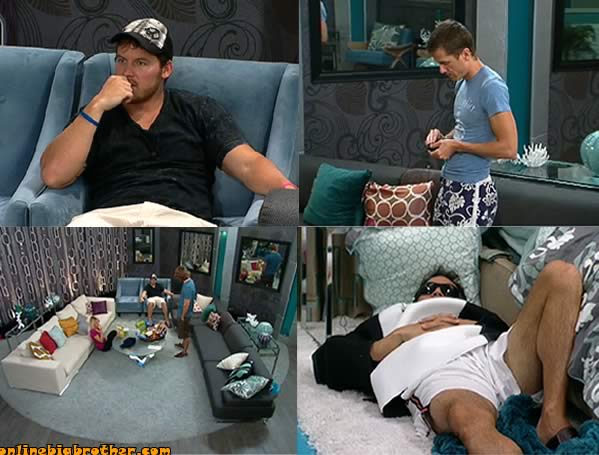 4:30pm Nominations ceremony coming up the penguin still listening to music, Lane talking about how HOH is unimportant it's all about the POV. Ragan correcting him saying that HOH keeps you safe so it is important.

4:50pm Trivia Nominations ceremony under way

5:15pm Trivia Nominations ceremony under way

5:42pm Trivia Nominations ceremony under way

Dawg has kids and a cat to feed please he needs your votes ;)