$5 off Discount – LIMITED Time OFFER! ONLY $9.99!
try it FREE for 3 Days!
7:15pm Backyard Brit, Hayden and Lane Brit comes out tells them she walked in on Ragan and Enzo game talking in the Taj. Hayden:"WHAT for real" brit: "for real.. they told me they're planning their plan of attack if one of them survives….. I'm like what are you guys talking about one one of you will survive". Hayden starts asking her questions about how the next 2 weeks work. Brit: I'm telling you and i'm not being a conspiracy theorist but this year these competitions are being designed to fuel drama in the house,… I have never seen a POV be a straight quiz" She says they wanted BRendon to win the HOH that hayden won and they wanted Ragan to win the POV. Hayden thinks they do that every year, Brit disagrees she thinks this year they wanted certain people to win to make more drama in the house. Brit says that it's nice a quiet in the house now, Hayden thinks that its hurting CBS's ratings. Brit had ask the DR which day has the highest ratings and they told her it fluctuated. She remembers last year she never watched the Thursday show because she watched the feeds and knew exactly how everyone was going to vote. ..
Hayden asks her how the face morphing comp goes, she tells him and adds that they all have a very good chance of winning it but she also thinks so does Ragan.. Brit brings up how weird Enzo is beign, she wonders what his problem is.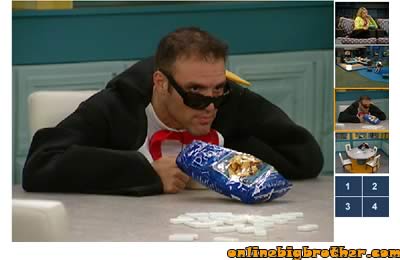 7:25pm Kitchen The penguin Studying the Faces
8:00pm Ragan studies while working out, Brit studies while picking her nails
$5 off Discount – LIMITED Time OFFER! ONLY $9.99!
try it FREE for 3 Days!
8:07pm Backyard Enzo and Hayden Enzo is really worried that Lane will not put up Brit if the POV is played. Hayden thinks theres nothing for them to worry about… "he hopes". Enzo is says he's not getting any sleep and it's really BLANK with him Enzo really wants to take the penguin suit on. Last Saturday afternoon after that veto… 2o'clock. Hayden tells enzo brit has no BLANK clue whats going on so don't worry. Enzo is planing on going to bed early, Hayden says he is as well but first he's thinking about working out when Ragan is done. They decide to go play some pool.
8:35pm Playing domino's, Enzo wants to have a a ceremony at 9 tonight when he takes the penguin costume off, Enzo: "Un shun the penguin"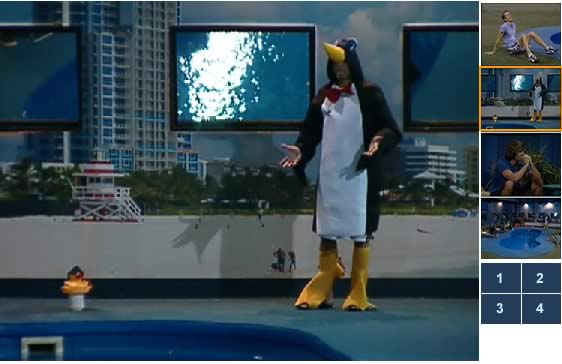 $5 off Discount – LIMITED Time OFFER! ONLY $9.99!
try it FREE for 3 Days!
They are having a ceremony for enzo getting to finally take off his costume. Ever houseguest does a short speech. Enzo does a short speech and takes to Howey the duck.
Brit: "You bring a lot of ambiance to the atmosphere"
Ragan: "Uh ambiance to the atmosphere?
Breit: "ahh it made sense"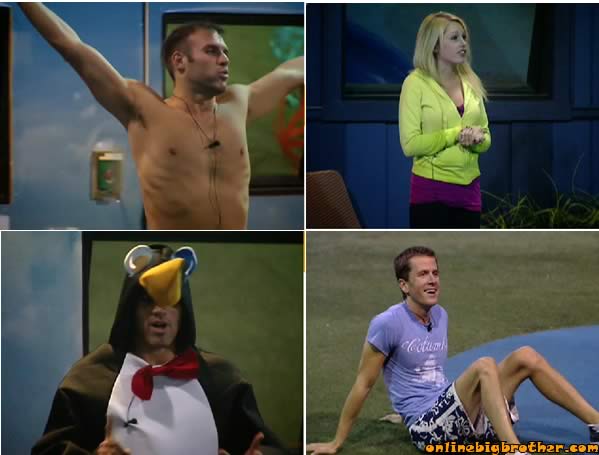 Dawg has kids and a cat to feed please he needs your votes 😉