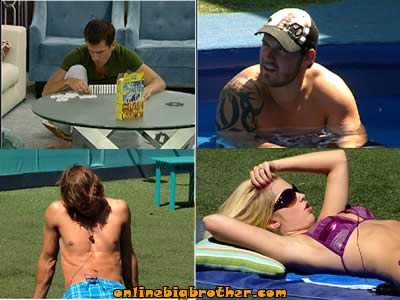 2:50pm Ragan playing dominos by himself
2:52pm Backyard Everyone but Ragan They're talking about the pool vacuum, Brit wants to know how it works. Hayden explains the one they have at there house is different then this one because theres doesn't climb up the walls. Brit says she would never marry a guy with a tattoo her mom would freak out. She tells them that when at college her first boyfriend was a communications major. When she told her mom he was a communication major her mom wasn't too impressed with him, Brit: "I was like mom I'm a communications major what is that saying about me". Lane and Hayden laugh. Enzo brings up the POV competition he impersonates Ragan, "OMG did you see that" . Lane: "We've seen the devil come out". Brit explains the pov comp says it was very close and he body checked ragan out of the way. Brit: "It was so funny i hope we can see it in slowmotion.. After you got it you screamed this is my time". Brit adds that after enzo won Ragan walked down and said "jesus Christ you see that". Enzo didn't catch Ragan saying that he heard him say "oh my god! did you see that". Enzo just looked at production and they "scampered off" so he was worried that they were going to review it.
They start talking about what to have for dinner, BRit wants Hotodg. Enzo says he heard hotdogs give you cancer. Lane disagrees says you have a better chance getting cancer by being near Kahty then you do eating a hotdog, Lane: "Enzo you hung around Kathy out side more than anyone"
They start talking baout Rachel.. Brit:"Her boobs were so gross they would float in the hot tub" hayden wonders how big they really were. Brit says F, Hayden says she told him D… Brit calls BLANK on that. Brit: "Rachel really gained a lot of weight while she was here". enzo: "You think they BLANK in the taj" Brit: "Maybe but they did it in the HOH" Brit brings up how B/R were so excited to be in the jury house together because they thought it was going to be a huge sex fest then they were told they couldn't be together and they must be pissed.
Talk moves to religion, Lane says he had friends that would think because they went to church on Wednesday and didn't have tattoos they would get a bigger mansion in heaven. Enzo is Catholic and Brit is Church of Christ. Both hayden and Lane don't like it when people say they come from monkeys, hayden and Lane do not believe in evolution.
3:20pm Ragan sleeping in the Taj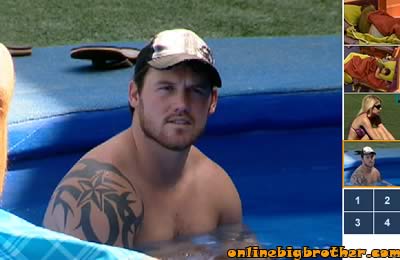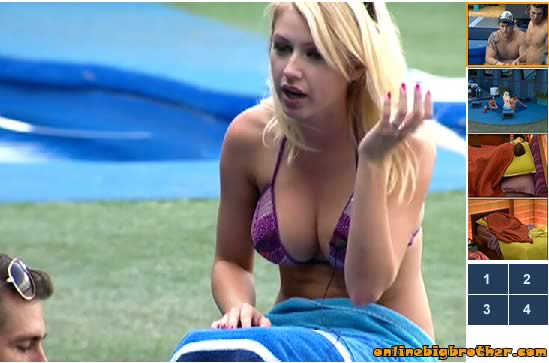 4:00pm Hot tub Brit, Hayden and Lane They are talking about who should go up as the pawn with Ragan, BRit or Hayden. Brit says that she feels safe but maybe a little less safe than Hayden would be if he was up. Brit says she wants Enzo out next week but thinks they shouldn't put him up they should back door him. BRit says if she wins HOH then she'll put up lane and hayden with the intend to back door Enzo. Hayden asks what if POV isn't used then one of us goes home. Brit explains that regardless of what happens if they win POV or Not the outcome is the same. She thinks if Enzo isn't on the block he won't fight as hard for POV. Lane agrees. Hayden says he might be the best one to go up this week because he wants to do a shout out to steamboat moutain and his mom.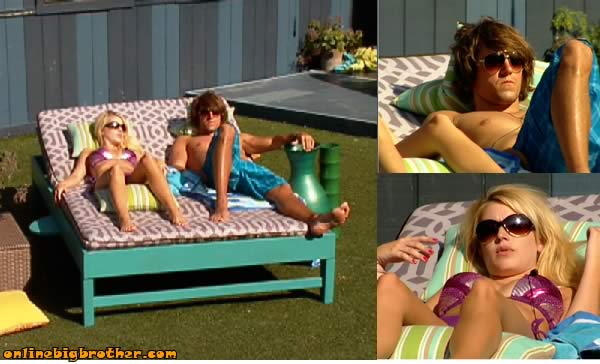 4:18pm Brit and Hayden trying to figure out what the next HOH comp will be. Brit says she's not underestimating enzo anymore he's starting to do much better in the comps. Hayden agrees says one of them three has to win HOH.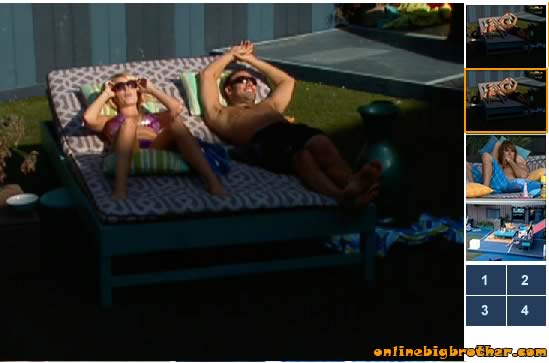 4:45pm Backyard Brit, Enzo and Ragan bashing Rachel Brit is telling them that Rachel was so proud of her hair extensions because she painted them. Brit: "You ever notice how they were all different colours?… well she did that". Ragan: "She's like the Michaelangelo of hair extensions"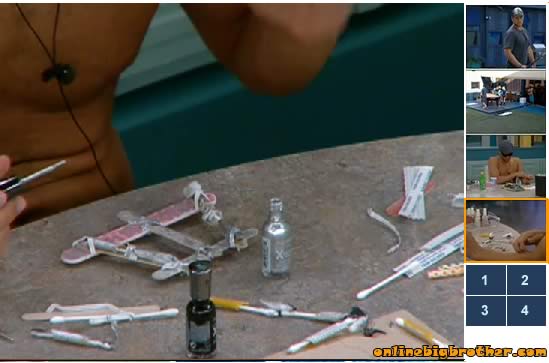 5:19pm Kitchen Enzo He's building a stealth fighter .. (LOL he really is, Big Brother production has given them crafts to play with to help pass the time, Enzo is having a lot of fun)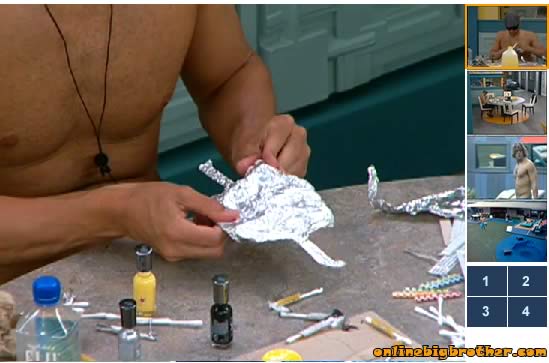 5:39pm Stealth Fighter almost complete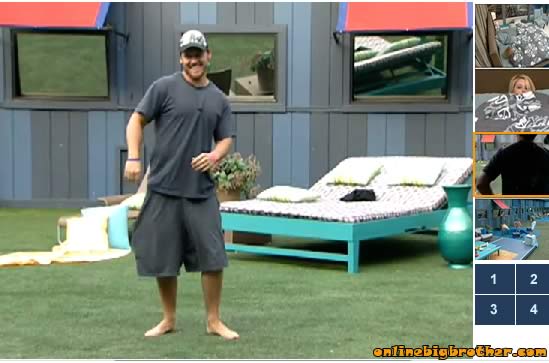 6:10pm Music comes over the speakers and the houseguests have to dance.. Lane really gets into it.