10am – 10:30am Big Brother switches the live feeds to the "We'll be right back" screen. When the feeds come back up at 10:12am all four cameras are on the taj bedroom where Britney and Ragan are still sleeping.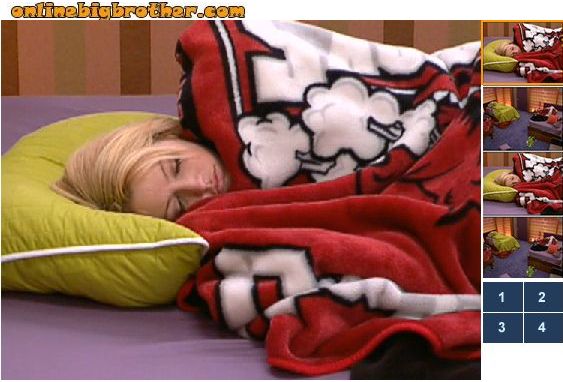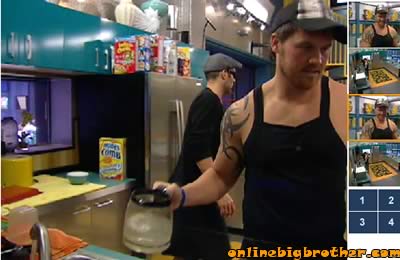 10:51pm Kitchen Lane and Enzo They are talking about being motivated and getting things done today. Enzo jokes that he's making something of himself he's doing the dishes. Lane says he's going to make this coffee so strong it'll keep him until the finale. He can't believe it's been 5 months since he went through the Big Brother Casting process. Lane and Enzo start joking around how popular they will be at the end. Enzo Jokes that they're going to be on opera. Enzo jokes that "peoples bosses" saying i want to hire you for more pay and less hours.. I just want you to show up show your face then you can leave.
11:00pm Backyard Lane and BRit Last night Hayden and Enzo started talking loud in the taj and woke up brit. He asks her if she's pissed off because she didn't get any sleep. Brit explains that last night she was dead asleep and Hayden and enzo come in talking about fantasy football. She grabbed her blanket let out a giant sigh and left the room to sleep in jumanjii. Lane says that Enzo told him you got out of bed and hovered over him giving him a BLANK up face like paranormal activity. Lane asks whats the difference between what enzo and Hayden did and what brit and Ragan did to him all season. Brit says there was a huge difference because when you have a group of people already in a room talking that is a jumanji jam but if you have a person already sleeping and then start enter the room talking that is a douchey move. Lane tells her she's being princessy she thinks its common human decency. Lane and her agree to push it aside, Lane: "So now you going to fix this.. go work out" Brit: "Yeah i'm going to go put on my makeup and change". Lane: "you in a better mood now". Brit: "I've not in a bad mood". He tells her to start being nice to other people. BRit: "WHAT… what do you mean". Lane: "Chill out i'm joking its a nice day not too terribly hot out"
Lane calls her Debra Downer.. wants to know why everyone in the house is stressed and why is it up to him to lift them all up. He tells her theres only 2 weeks left because this week is over they know what there doing theres nothing else to do. Brit says he's the only one happy because he's in the best position right now he's HOH. Brit says that Lane and HAyden are guaranteed to get to final 3 brit isn't and that is why she's been down. Brit tells him she is a bit worried if she goes up as a pawn she will go home, She thinks it's stupid for them to get rid of her over Ragan.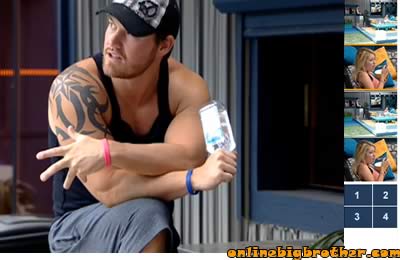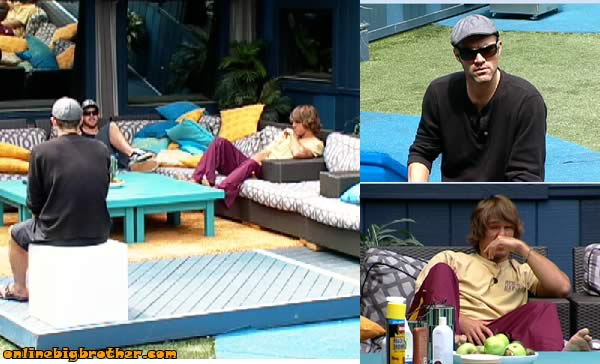 11:23pm Backyard Enzo, Lane and Hayden Enzo is calling brit a little BLANK, him and Hayden go over last nights events. Hayden calls her a spoiler princess and thinks maybe they should "blind side" her this week. Enzo agrees he thinks Ragan is a "BLANK" and they can terrorize him next week. Lane tells them he's been talking to her about looking like a princess but she's stressed right now. Lane tells them next week he wants to go up against brit. Enzo says actually it doesn't matter who you out up can be lane and Enzo becuase they need to win POV regardless. Lane agrees, they need to win HOH/pov and its 3 versus 1. enzo is worried that the power is going to shift to brit next week.. hayden doesn't think so the power is stuck with them for the rest of the game.
Noon kitchen HAyden and Lane Hayden still going on about taking brit out this week. Lane telsl him its a bad idea because he knows Brit will take us to the final 3 we're not sure what Ragan will do he might take Enzo and Brit. HAyden mentions that Enzo is getting very keen on putting up Brit this week.
12:17pm Brit joins them and Lane starts talking about his dog having there own room with their own bed. He explains that the beds are like small replicates of larger fancier beds.
2:00pm All the houseguests Outside Ragan is laughing with them all acting normal again.. Enzo is saying he wants the last punishment already to get it over and done with.