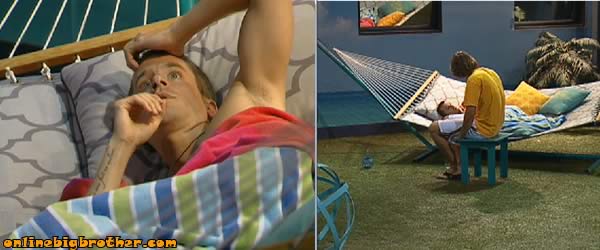 8:30pm Hammock Hayden and Ragan Ragan basically tells Hayden the same thing to Hayden that he did to Kristen, There hard votes and easy votes get the hard votes first. He recommends they talk to Brendon and Rachel and tell people to vote based on which player will take them farther in the game. Ragan "it blows my mind that one of you are leaving this week". (in the background you hear Rachel laughing and Brendon doing his POV host speech Using the English accent) Ragan asks Hayden if him and Kristen have talked about how there are going to handle this week.. he imagines both of them being nominated is going to be tough. hayden says they have, they're both going to campaign for themselves but not campaign against each other. Hayden asks him if he want's to talk later, Ragan says yes of course I told Kristen the same thing please come to me I take this weeks decision the most serious of any decision in the game yet. Ragan says it's not easy being in the Big Brother house, "it's f** brutle".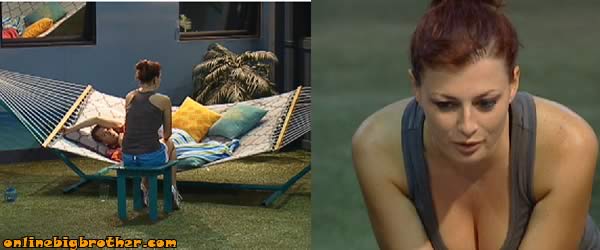 8:40pm Hamock Rachel and Ragan Ragan: "let me ask you a queston who would you like to see go home".. "and How does it benefit you to see Kristen go?". Rachel: "I want Kristen gone". Ragan: "why?". Rachel: "Becuase she's coming after me". Ragan: "and hayden isnt?". Rachel: "I know they both are" Ragan: "Then which one has a better chance of winning HOH" Rachel: "Kristen does" Ragan: "REALLY?" Ragan doesn't think Kristen will have a better change at Winning HOH competitions.
Rachel wants to tell him something but he'll need to pinky swear first. "I don't think Hayden is too smart I don't think he's manipulative or very good at the game". She goes about how she doesn't think he's been really playing all he does is hang out with Kristen and talk sh!t with the boys. Rachel thinks Kristen is much more dangerous, "Kristen attacked me". Ragan has a feeling it's going to be a 6-1 vote Rachel thinks it'll be 4-3. Rachel was assuming there was a few pople that would want to keep Kristen. Ragan says Kristen and hayden are fierce competitors, "I have amazing respect for them thats why this so hard to do". rachel: "HUH you really think they are fierce competitors?" Ragan: "yes I do". Rachel says she had to make a power move since winning HOH she feels the decisions she makes show she's a logical strategic player. "it was a time in the game to make a power-move"… Live Feeds cut for a moment. Live Feeds come back and their discussing competitions and whether or not the next HOH competition will be physical or mental.. Rachel leaves to work out Ragan goes to hang with the pool guys still playing in the pool tournament.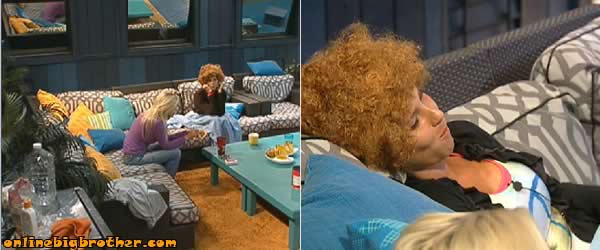 9:05pm Kathy and Kristen kathy saying that she would like to be on survivor because she loves Jeff Probst. She would just want to touch him (yes she said that). Kathy: "If he came into this house I would just sit there and drool" .. She then goes on to explain to Kristen that she doesn't like Jeff Probst in a sexual stalker way she just thinks he's a cool dude. (Kathy's cracking yo)