6:28pm Ragan and Kristen Ragan asks her how it's all going, She had a good talk with lane but still needs to talk more in depth with him and other people. Kristen thinks if she's left in the house over Hayden it will benefit Ragan more. Ragan asks who else does Kristen have for votes, She says kathy, Probably Brit, maybe enzo and maybe lane because Lane listens to logic and you can talk straight game from him. Ragan suggests she go talk to Enzo and Brit.. Kristen says she going to talk to Brendon becuase if rachel does go home down the line he would benefit from her being in the house more than hayden. She thinks that it's time for the house to vote based on whats going to benefit themselve not because "the house" wants the votes a certain way. Ragan "i think there are people that realize that, but the problem is if the numbers are against them it become even more dangerous for them" Kristen "why does rachel want me out of the house so badly becuase hayden is going after them just like me and hayden has won comps I havent". ragan tells her she's right she needs to bring that case up to Brendon and ask him who he would rather compete against next week Hayden or her. Kristen "This kills me becuase i'm on the block based on personal reasons and because Andrew threw me under the bus". Ragan tells her theres no point to talk to just brendon she'll have to talk to both of them. Kristen knows but she thinks she only needs a couple minutes alone with Brendon. Ragan "go right now and talk to them".. Kristen doesn't want to right now she has plenty of time this week to do it. Ragan tells her to work those hard votes first cause if she can get one of them it'll be huge in helping her stay. Rachel walks outside "HEEEYEEEEEEYYYYYYYYY! WUD UP"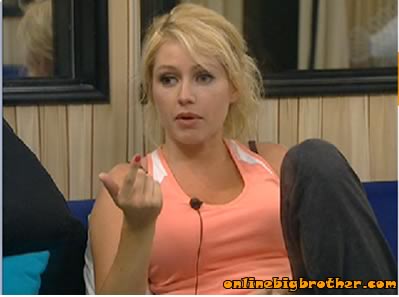 7:15pm cabana Room Brith and Kristen Kristen says she only needs 4 votes and she has one so she just needs 3 solid votes to stay. She offers Brit the same deal she offered yesterday to get Brit to use the POV, "I will offer you all that for one vote" (HOLY SHIT she offered BRit the world for that POV) Kristen mentions that Ragan thinks it'll be 6-1 because the house is too scared to vote its own way. Brit fully understands how much BS it is with this years house votes, she says the same thing happened with Monet. Brit tells her the smartest thing is to not offer any alliances but just offer 2 week deals. Brit thinks KRisten has a chance to be in the house but she really has to work it. She has the fire in her belly and a common enemy with everyone else. They talk about how personal Rachel is playing, they're convinced she won't make it far in this game. Kristen about Rachel "sorry girl you'll be powerless next week"

Brit: "Next week the party is over for Rachel" Kristen knows that brit wantted to use the POV but she was under a lot of pressure no to. Kristen says she understands and that is why she wasn't mad. Brit said that they had laid out all the ground work to make this deal work but "LITERALLY at the last second Rachel said no if Hayden goes down lane goes up". Kristen says all she wants to do is to stay here and take out R/B. brit doesn't understand why everyone wants to do what Rachel says this HOH, "the whole house is going after Brendon next week…THE WHOLE FREAKING HOUSE" Kristen asks if she thinks Matt has a strong deal going with B/R because Kristen is convinced they do. Brit says that MAtt played his HOH very safety so he looks good to both side of the house. Brit isn't sure if he has anything going but she warns Kristen to watch what she says around Matt because it could go back to B/R. Brit: "I don't know what Matt has going on but His stuff doesn't add up" Kristen asks what Brit opinion on Lane and Enzo.. Brit thinks they are open minded people so their worth a try, she says lane and Enzo can be trusted.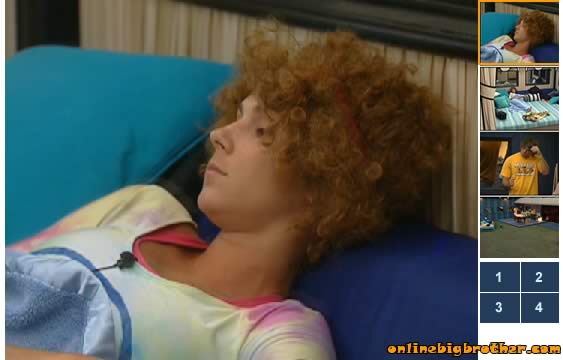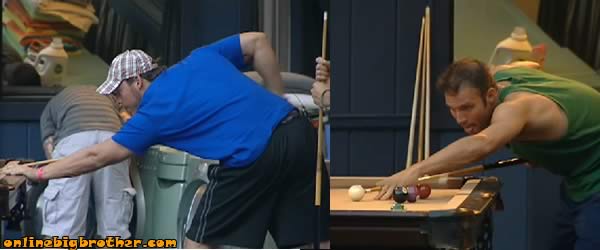 7:45pm Pool Tournament going on
Enzo isn't playing a good game of pool "Is this fucking amateur hour in the fucking apollo".."AHHH major Blunder man" There a side conversation going on the couch between kathy, rachel and brit about the double eviction.