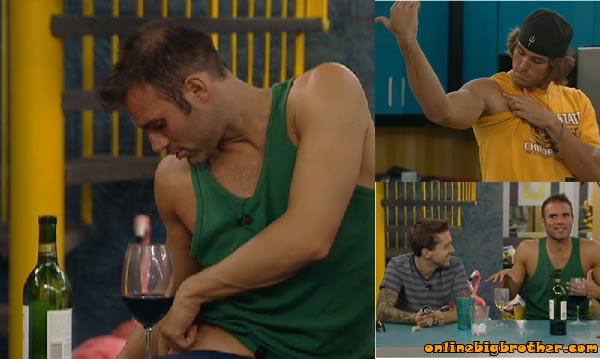 9:30pm Enzo's is joking around with matt says this time of the day he always looks stoned. Enzo brings up all the pills Matt has and how they're drugs, "the gremlins doign 6 lines under that blanket yo". Enzo starts asking Matt a bunch of questions about Matt losing weight, Enzo wonders why he has no stretch marks. Matt says he lost 40lbs, "My baby fat" They start talking about stretch marks and how some guys get them from lifting weights in their pec muscles. Enzo shows them a stretch mark on his ass. Rachel comes in and wants them all to play a drinking game.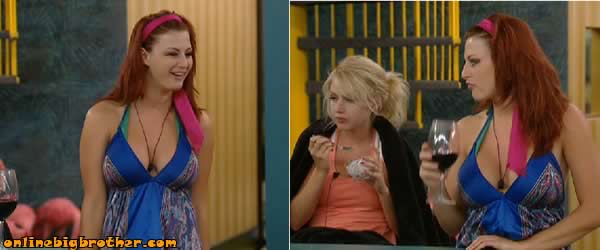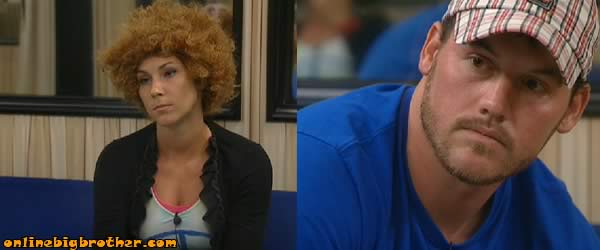 9:43pm Kristen and Lane She tells him that she's going to talk to everyone and tell them reasons why he should keep her. Lane asks what did feeling did she get on her other talks. Kristen has only talked to ragan and brit, ragan will vote for the majority, but if it's 3/3 he'll vote for me. Lane thinks ragan wants B/R out to, Kristen agress but he's playing safe. Kristen: "argh I want to stay here and piss rachel off". Lane asks what brit had to say. She explains that Brit seemed pretty open to her ideas.. "we talked about previous seasons and historically when all the girsl go early no girl makes it to final 2" (Kristen useing a lot of you knows.. kathy mst be rubbung off on her) Lane says he want's her to tell him what information People are saying to her he could help her. lane says he's gotten to know hayden he's a good guy, He tells her that in the beginning Hayden and her were the closest to him. Kristen says if she goes home this week she loses everything she gave up my house (renting) she gave up her job she really wants to make it to jury house at least. (Kathy is rubbung off on her) Kristen wants people to vote for individual game not becuase the house is going to vote a certain way. Lane tells her he likes her and thinks she needs to talk to everyone in the house He thinks she has a good chance of staying. Kristen can take him further in this game then hayden so he's considering he both votes. Lane calls the last 4 weeks the Big Brother pre-season becuase your not sending jury members out, "this bullshit with Brendon and Rachel winning everything that shit is the preseason this is the regular season" Kristen: "they have luck on their side FUCKING bitch I want to rip their eyes out" Kristen is worried that Matt has a deal with b/r. Lane: "every is thinking that" She continues about and why it could affect her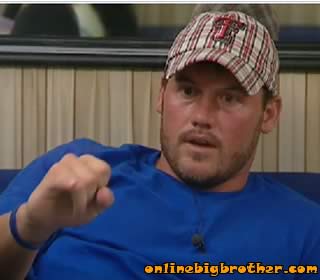 campaigning. If she talks to brendon it might go back to matt and then to ragan and che can't afford to lose ragans vote. She counts her votes.. Kristen: "I have Kathy and Maybe Brits.. I'll need to fight for the others", Lane suggests she talk to Brendon first. Lane: "I know what is in Brendon's head right now he's scared that people are all after him and Rachel and rightfully so we all are"…."This is why he's been hammering into everyone that he wants Kathy gone because she's such a neutral target". Lane starts to give her some tips on how to gather votes. He explains that if next week brendon wins HOH he needs to put a pawn up against Kathy. He won't want to put a strong player up becauase then he'll be targeted by that strong player. Kristen needs to offer him protection next week and tell him you're the perfect pawn to take kathy out that way he doesn't make anymore enemies. Kristen: "and you know what really get me rachel is up there expecting me to just give up to go out side and dig my grave" Lane laughs I know he really appreciates seeing Kristen fight and he thinks if she can stay it will go along way in her building respect from some of the other players.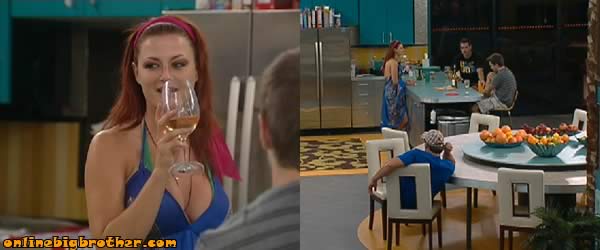 10:27pm Rachel Getting Drunk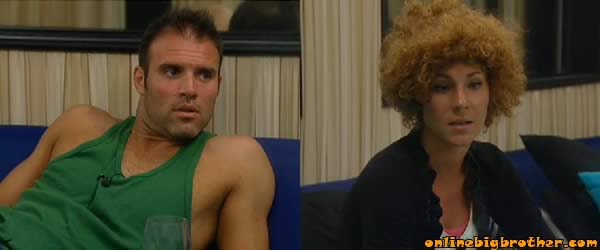 10:27pm Cabana Room Enzo and Lane Enzo and Kristen start off the conversation IDENTICALLY like the one with Lane. Enzo says he's out of the loop int his house he thought Brit was going to use the POV, "Whats going on yo". Kristen explains that the POV was going to be used but Rachel told her she was going to put Lane up not Kathy. Kristen: "I want to stay in this house so i can kill that bitch (rachel)" Enzo tells her he likes Hayden they play pool and he's a cool kid but his decision is going to be based on who campaigning the hardest and is making the most sense.