9:47pm Backyard Lane and Ragan on the couch, Enzo jogging and Hayden on the elliptical. There talking about Kathy and how horny she was. Ragan: "She straddled me I didn't know what to do with that… I can't believe she ripped off Enzo's towel". Ragan: "Your doing great BEBE… OH MY GOD can you believe that Bowling challenge". LAne: "We should feel privileged for experiencing that first hand". They go on about the bowling POV and how ridiculous B/R were during it. Ragan mentions that Brendon was saying he bowled a 270 but only got 3 pins down in the comp. Lane brings up how big of a douche BRendon was when he threw the ball.. he thinks if something had slipped Brendon could of really hurt someone maybe hit Jordan. Enzo: "If Jordan got hit Jeff was f*cking him up i'll tell you that right now".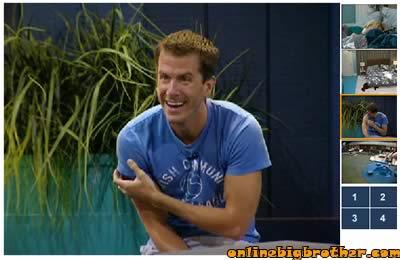 Lane says when he saw Rachel walk back in the Big Brother house he thought she was back in the house for good, Ragan: "the blood left my face". Enzo says she told him: "I'm in the jury house you have to be nice to me.. who even says that" Lane: "No BLANK". After the fight with Ragan enzo tells them that Rachel said, "I would never treat anyone like that everyone has pimples I don't understand that" Ragan: "THAT is what she got out of that.. There not pimples there witch warts".
Ragan tells them that Rachel had figured out what MAtt was doing when he volunteered to go up on the block. Ragan: "Say what you want about Rachel she had figured it all out". He continues to tell them that the house meeting was his idea and the result was that it exposed B/R not Matt. They start talking about Rachel always using material from previous seasons. Enzo: "It's because people don't have their own material"..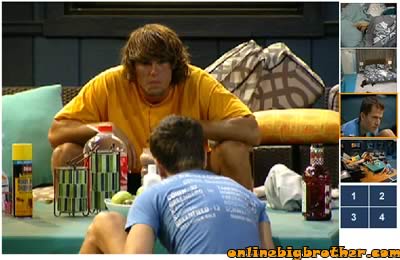 Hayden wonders if production knows who will do well, Ragan totally thinks that Production has their favorites to win. Ragan thinks that they knew Andrew and Rachel weren't expected to make it far and the only reason rachel lasted so was because she won so many HOH comps. Ragan thinks Laura from BB11 was expected to last longer
but her "assets" really worked against her. Hayden: "Laura was pretty hot". Ragan: "I think she would of made it back to allstar". Enzo: "I didn't like it when she cried".
Ragan: "I think they thought Annie was going to stay long but after day 2 they were like BLANK.. there goes our twist". They all agree that after day one they could tell Annie's game was f'ed up. Ragan doesn't think that production thought Monet was going to win but they must of thought she could of made it farther. Ragan thinks that Kristen was a favorite to win it, Hayden agrees. Ragan: "I don't think they had any idea about brit.. nobody would of thought she would do so good in skills". Ragan says he doesn't know what they thought about Brendon because he was such a different person when Rachel was around. Enzo thinks they thought he would of made it far becuase he's so smart and sh!t. Lane: "He was a goober" Ragan: "week one I thought he was cute but week 2 i though he was a monster" Ragan asks them other than rachel who will be the most salty during the reunion… Hayden thinks it will be Brendon or Andrew, Ragan isn't sure it'll be andrew he's sure that after watching the tapes of his behavior he'll come back to the finale with his tail tucked between his legs.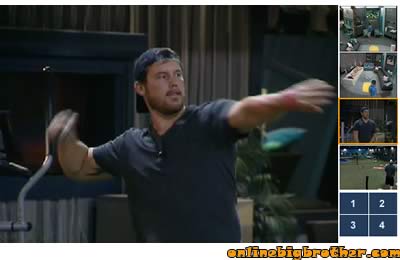 10:30pm Lane and Hayden are passing the bean bag , Enzo sleeping on the house and Ragan wanderering around the house by himself. Her highness is sleeping in the HOH.


10:46pm Have Nots Ragan He's talking to himself.. wondering if his siblings who have disconnected from him have seen this and regretted their decision… he wonders what it will be like when someone comes up to him and asks him about big brother and if his friends are telling everyone that they know a player on big brother.
11:20pm Lane and Enzo They have received a bunch of toys like moon stand and foam paddles. Everyone is getting excited, Brit joins them "Ohh you got MOON SAND cool". Brit: "My mom use to sell this stuff online". Enzo: "This BLANK smells like ass yo"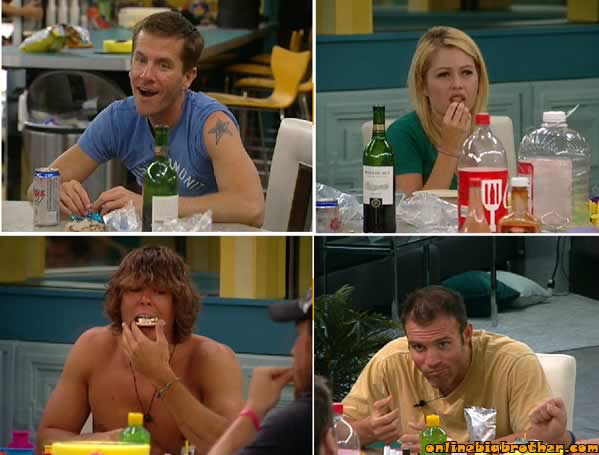 11:45pm Kitchen Everyone playing with the toys and chomping on food. Lane tells them a riddle "What kind of mail is hard to read at night"… None of them can get it. Lane tries to help them along gives them an example.. Finally Enzo gets it burps our BLACKMAIL. Ragan: "I find that Riddle extremely Racist.. what is it trying to say black people can't read" (he's joking around). Ragan wonders if B/R had sex.. Brit is sure they did under the covers in the HOH. Enzo is sure she showed the camera something…