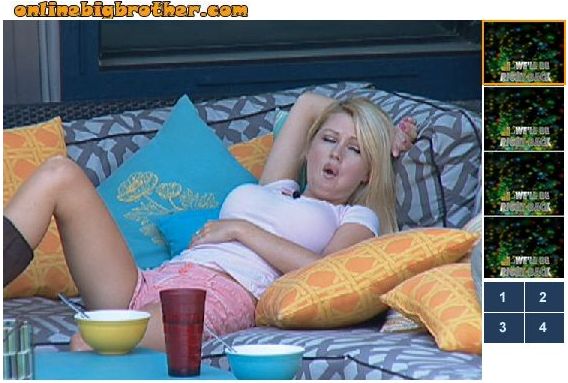 Watch everything LIVE as it happens!!
Superpass – 3 Day FREE Trial
11:30am – 11:50am Britney and Ragan are talking on the backyard couches about how Rachel being let back into the house has disrupted the integrity of the game.  Ragan says that three hours was enough let alone 24 hours.  Ragan says that he needs to talk to production about it not being fair.  Britney says that she already did …she says that she had a long conversation with them about letting Rachel back into the game isn't fair.  Britney says that she really hopes she doesn't get sent home this week …because she doesn't want to be stuck in the jury house with Rachel for a whole week by herself.  Britney says that she is going to stay in the guest house and not talk to Rachel.  Ragan asks her if she is going to be mean to her and Britney says yes!   Britney and Ragan go over the Ragan vs. Rachel fight from yesterday.  Britney laughs that Ragan called her a parrot face with zits.  Britney says that she thinks she might dress up as Rachel for Halloween. Ragan says no don't that's too scary, you'll scar the kids.  Britney tells Ragan that yesterday she had to zip up Brendons space suit …and that after she burned her fingers with acid.  Ragan says that Rachels attacks on him yesterday were so pre-planned …and that it is so easy to get her flustered… and Ragan says that all of her responses were OH REALLY!? Britney says that was the same with her fight last night with Rachel.  Britney says that Rachel couldn't think of a response and that Britney told her that she would give her a minute to think about it.  Britney says think of something you doe-doe head.  Britney says that she wants to demand that they use the part where Rachel bashes gay people so that people will see her for who she really is…  Ragan says that Rachel is the first time in a long long time since he has hated someone.  They both say that they would never talk to someone like her in the real world. They talk about how Rachel doesn't have any real friends outside of the house either.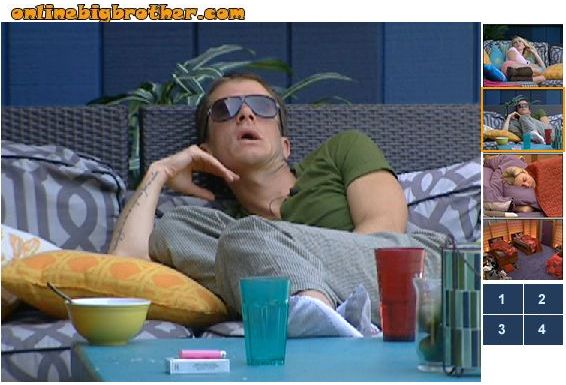 SEE what they CAN'T show you on TV! 3 Day FREE Trial
12pm Ragan and Britney talk about how after the show ends they know that they are contractually obligated to go to events together but that neither of them will spend any more time than necessary with Rachel. Ragan talks about how Rachel works at a club called Ariola… and says that the name is so fitting. They talk about how they cant wait to get out and watch the Ragan/Rachel fight. Ragan says that he can't wait until the finale night when all the house guests will say what's really on their minds. Ragan says that Kristen will annihilate Rachel. They talk about how they don't think anyone really wants to go to Vegas to see Rachel. Ragan says that he is looking forward to going back to work and getting his life back. They talk about how they would both do an all-stars season of Big Brother …and fans versus favourites. Britney laughs that they could tell that Jeff and Jordon didn't like Rachel and Brendon. They says that Janelle probably hates Rachel too. Ragan wants no more drama, and that Brendon is the only who might want to cause it but they don't think he will. Britney says that when the doorbell rang, if it was Lady GaGa I would've peed my pants. Britney says that she never wants to hear the doorbell ring again. Britney says that she wants to barricade the door. Britney says how embarrassing would it be for Rachels ex boyfriends to see her on tv. Ragan says yeah they probably would deny it.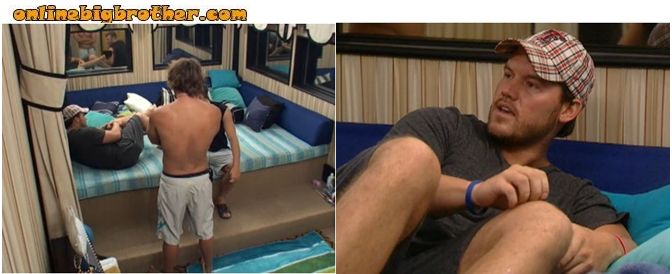 12:15pm Lane Hayden and Enzo are in the cabana room talking. Lane is telling them about his conversation that he had with Rachel this morning about getting rid of Matt since he's head of the snake and that the other two (Ragan and Britney) will fall off. Lane tells them that Matt told Britney to throw him under the bus to Brendon because he has the votes and that he wants to be the one to get out Brendon next week. Enzo and Hayden find it suspicious and tell that he doesn't need to worry and that he has the votes to stay. They tell him that they worked on Kathy yesterday and she will vote for Lane to stay no matter what. They agree they need to try and get Matt out They head into the kitchen. Ragan leaves the backyard and says that isn't this the best…this is what it should be like every day! (Rachel has left the house) Matt asks Ragan if Rachel is gone. Ragan and Kathy both say that Rachel left the house.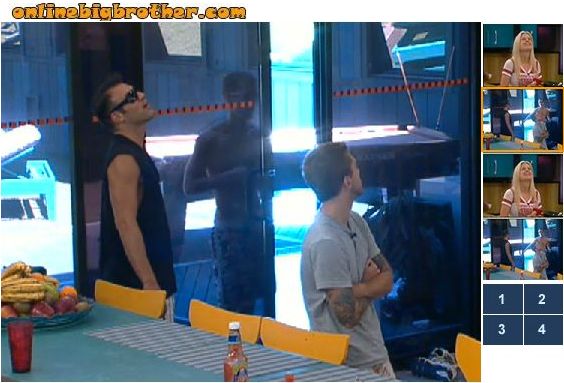 12:25pm Brendon comes back into the house. He comes in through Pandoras Box door in the HOH room and then goes out to the HOH balcony and yells guess whos back!!! Matt asks him if he was blindfolded. Brendon says yes. Brendon starts to explain what happened. He says that he opened Pandoras box and then ….Big Brother cuts the feeds.

Watch all drama on FLASHBACK! FREE 3 Days TRIAL