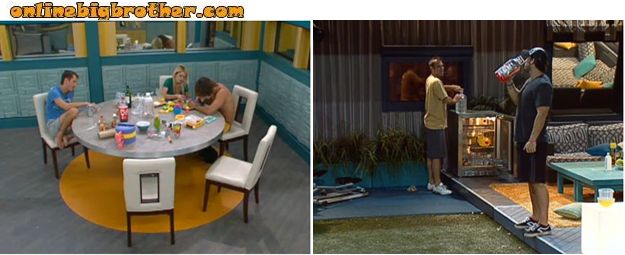 11:50pm In the kitchen Hayden, Ragan, Britney, Lane and Enzo are all in the kitchen table playing with the new toys. Enzo and Lane leave and head out into the backyard. Both Enzo and Lane are tired of hearing everyone talk about Rachel all the time. Enzo says that it's enough, yo! Lane says that he is done talking about Rachel, I get it, …I've heard the impressions. Enzo says I know, yo! ..it's all the time! In the kitchen Hayden, Britney and Ragan are still playing with the toys. They continue to talk about Rachel. Britney asks what if Rachel announces on the finale that she's pregnant. Ragan says that he is not even a big advocate of abortion, but he would offer to abort that baby himself.
12:35am Up in the HOH room Lane by himself watching the spy screen with the lights off. Hayden and Britney are sitting at the kitchen table by themselves talking. Britney tells Hayden that she feels like her and Enzo are disposable. Britney says that she thinks Enzo would take her out and she'd take Enzo out leaving Hayden and Lane safe. Hayden says that you know if Enzo makes final two he wins, we all know that, he knows that. Britney agrees. Hayden tells Britney that if she makes the final two she has a great chance of winning and has a great chance of getting his vote, if he is in Jury. Britney says that Ragan told her that with the people that are left she doesn't have a chance to win. Hayden tells Britney that if he is sitting next to Lane in the final two, he thinks Lane would beat him. Hayden says he thinks that of the jury people he would have Kathy's vote but he has no idea if he would have Brendon or Rachel's vote. Britney says that she thinks it would be a 4-3 vote for Lane if he were up against Hayden. Britney tells Hayden that she thinks he has a really good shot though. Hayden tells Britney if she can make it to the end then she has a great chance to win. Britney says that even if she doesn't, just winning the $50,000 would make it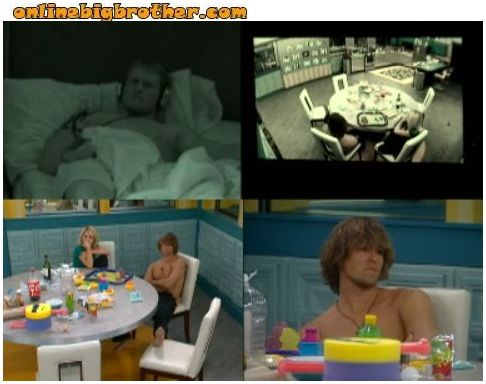 worth it to her, she could at least pay off her car. Britney says that is more money than she makes in a year. Britney says that she regrets not trying to go for money or prizes in the game. Britney whispers to Hayden and says you know Enzo is going to win the $25,000 America's Choice prize?! Britney says that the only reason Enzo wants to win is so he doesn't have to go back to work. Hayden says thinking about how much his mom works depresses him. Hayden says that he knows Britney's family could use the money also. Britney says that her mom can't work because she has to take care of her brother. Hayden says he just hopes someone wins the money that needs it! Hayden brings up that he thinks Lane's family has money. Britney says yeah anyone that can post $100,000 bail has money. They talk about Lane's home, his motorcycle and his gym. Hayden says that it is tough to hear about all the money some of the people have. Hayden talks about how Rachel told them she drinks $20,000 bottles of wine. Hayden says his mom worked so much to make it possible for him to play sports. Hayden and Britney both have similar stories about their fathers after their parents divorced. They talk about how both of their moms had to really step up because their dad's did not help out as much as their moms needed them to.
1am The conversation changes to Britney and Hayden talking about traveling. Hayden says he has never been out of the country. Hayden says that he enjoys hearing the other the house guests talk about their travels. Hayden says that it's crazy its going to come down to… Britney interrupts and says basically two more competitions! Britney and Hayden talk about staying positive, even if they don't win Big Brother. They talk about how they could have other opportunities that open up to them. Britney says just the experience is worth so much. They talk about their stipend and how they will have $10,000 that they will get when the game is over. Hayden says that alone is more money than he would have ever made from a summer job. Hayden says that he tells them in the diary room to hook him up with a job, he'll make copies, and he will do whatever they want. They talk about fun things they would like to do with the money. Hayden says he would love to take his grandfather to New Zealand; he has always wanted to go. Britney says that she would love to take her brother to Harry Potter world. Britney says that before she came into the house she was looking all over the internet for Big Brother spoilers. Britney says that none of the ones she read came true though. Britney and Hayden go to the bathroom to get ready for bed. Hayden tells Britney that he has had more pimples this summer than he's had in the last two or three years. Britney heads to the jumanji room and asks Enzo what he's doing. Enzo is laying in bed with the lights out. Enzo says that he want to listen to the CD but he thinks Lane is asleep up there. Britney says that in her letter her mom said see you in September and its finally here …. She says that she is excited! Britney says that its two months until Enzo's daughter's first birthday. Enzo says they are going to have the birthday party at a big hall and have lots of people. Hayden comes in and Enzo asks him why he was all quiet in the kitchen talking game.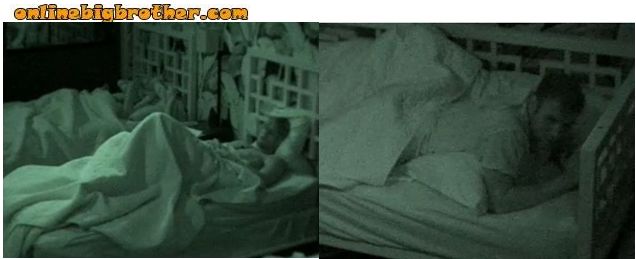 1:35am In the jumanji room Enzo, Hayden and Britney are talking . Enzo tells them they are lucky to have him on this season even though he says he isn't going to win the money. Enzo asks them what they plan to do with the money. Hayden says he is going to help his family, pay off his loans and invest the rest. Enzo says that he wants the title of winner of Big Brother more than the money. Ezno says that he would give the money to his family, just as long as his daughter is taken care of. Enzo says that he can't wait to watch the season back. Britney says that she can't wait either. Enzo says that he wants to see Annie trying to make alliances. Britney talks about how Annie wanted to make an all girl alliance right off the bat. They talk about where everyone slept the first night. Then they talk about how Kristen had to sleep with Brendon the first few days. Enzo talks about the first thing he heard when he entered the house was Andrew saying Mazel Tov… Enzo says that he didn't think Andrew was for real. Enzo says that its a mind trip, its unreal this game. Enzo say that the game is way harder than they ever thought it would be. Enzo thinks all their families are very proud of them, no matter what. Britney and Enzo joke about how Ragan was making good points about keeping him in the house and evicting Hayden. Hayden says that he thought Lane was going to be really shy when he first met him. They talk about their first impressions of everyone. Hayden says that he knew from the first time he saw Matt that he had to keep an eye on him. Britney says that the first time she saw Monet she thought she was stuck-up. Enzo agrees. Hayden says that he liked Monet from the start. They all thought that Rachel was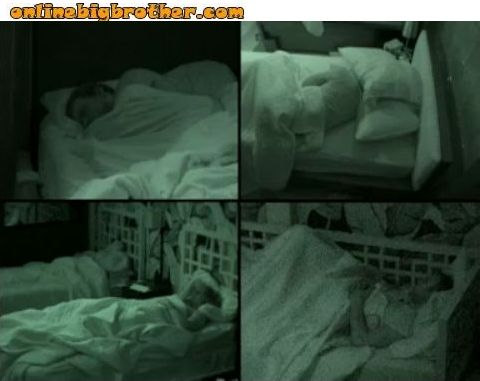 trouble. Enzo says that with Kristen, you had to beat a conversation out of her! Brit laughs and says yeah. Britney says that Matt told her about his wife & her illness in the first 10 minutes of meeting him. Enzo says that Matty did the same thing with him. They talk about the caramel competition. Enzo says that caramel was serious yo. Britney says she remembers thinking she hopes all the competitions aren't going to be this hard! Britney says Kathy in the caramel is her favorite memory from the game! Hayden asks how dead on were my nominations week one. Britney says so dead on… Hayden says he didn't really get to bond that first week because he was HOH. The laugh about Enzo coming right out and telling everyone his nickname is the meow meow!
2am – 2:25am Britney says that she doesn't ever want to go to the jury house. Hayden says yeah me neither, hopefully we won't. Enzo asks Hayden what jobs he has done. Hayden says that he has worked at a snowboard shop, and that he has worked as a landscaper. Enzo wants Britney to tell them about hotel management; so that it will put them to sleep. Britney says no, she wants Hayden to tell them about the different types of snowboards. They talk about what they will do after the show is over. Britney covers up and tries to go to sleep while the guys continue to talk. Enzo says that he is ready to get the BLANK out of here… Hayden says that they've got good times ahead. Hayden and Enzo start talking about Finale night. They can't wait until they are hanging out in the backyard doing interviews and its all over. Enzo and Hayden roll over to go to sleep.
8am All the house guests are still sleeping…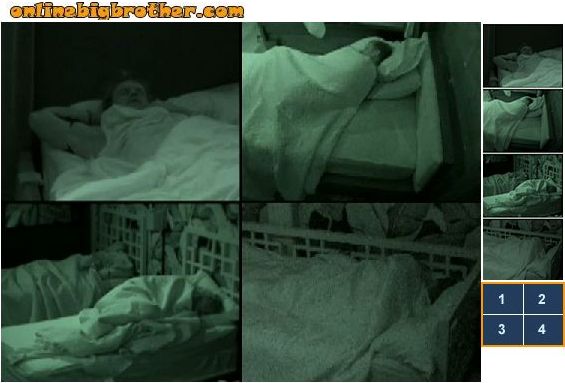 9:10am They are still sleeping..
9:50am ZZZZzzzzzzzzzz…
10:30am No wake up call yet…