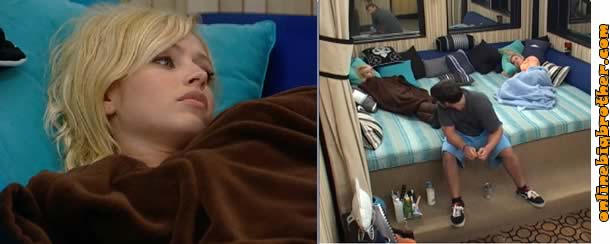 10:00pm Cabana Room Lane, Kathy and Brit Lanes asking the fish keeper kathy if she's fed the fish, She tells him she usually feeds them later in the night. Lane talks about one of the fish being a fighter and another one looks like it's given up and has stopped eating. He asks brit to list off the houseguests on the memory wall in order. She does and she right.
10:10pm Taj Rachel and Brendon She's crying becuase production told her she's not allowed to get drunk tonight … Brendon is there trying to comfort her.. they start to kiss I press mute. Dawg says Rachel says expect the unexpected a lot..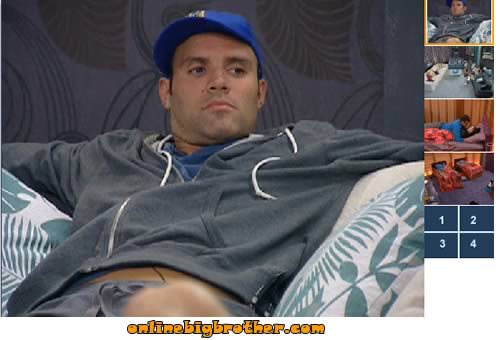 10:35pm Living Room Couch Enzo and Andrew Enzo is talking about his wife and daughter and how much he misses them. He says his daughter is only 8 months old and she's the cutest little thing. He goes on to explain that she loves having her belly rubbed and tickled and she loves watching the TV.. "She just stares at the thing for ever" They talk about the HOH and how a lot of the people on the boards were really fighting. Andrew thinks it's bullshit that the people that hung on the longest are the once given the slop. Meow Meow brings up Monet and how the game isn't suited for her. HE doesn't think being sneaky and scheming is in her nature, he's happy for her she got 10g's and gets to go home and see her family. Talk moves to Matt speech and how awesome it is, They laugh at the Chen bot Comment.