10:50pm Kitchen Lane and Enzo
There talking about how critical it is that they get Brendon out. Enzo believes that putting up Rachel and Andrew would be the best bet. If POV is used then Brendon goes up.. however if Brendon wins POV then there fucked. Lane thinks getting rid of Brendon would be awesome.
Enzo: "First we take out the Salvatore now we split up this years showmance"
Enzo: "we're the most deadly group in BB history"
Enzo points out that there was 2 votes to keep Monet one from Brit and one from Brendon. Lane doesn't think it was Brendon.. Maybe Andrew. Enzo for some reason if POSITIVE that Kathy and Andrew voted out Monet. Enzo: "We're safe for another week"
Lane: "We're Safe for another 2 weeks"
Lane thinks they should try and keep brit around at least for the next couple weeks because she can do their dirty work, plus Brit can win HOH's and POV's. Enzo points out that 5 minutes after Matt gets HOH Boy George is already kissing his ass. He continues saying that Brendon walked into the kitchen and said in a tough voice "He better no put me up i never put him up" Lane and Enzo laugh… Enzo "What the fuck was up with the other night we they caused all that shit"…"You gotta be watching yourself every 24 hours, he showed his whole hand at that point he's fucked" Enzo tells him that Rachel was crying because she thought Matt is going to put her up. Lane "FUCK HER"
Enzo: "This week will be a masterpiece"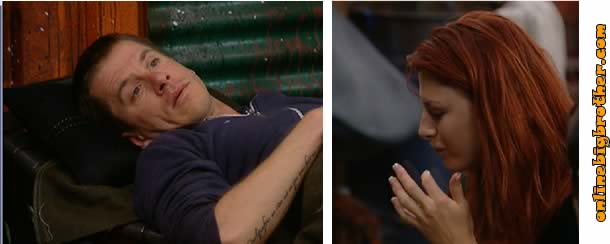 11:00pm Have Nots ragan, Boy George and Brendon Ragan says that he's finally gotten over the mental wall in this game that he had for the first 2 weeks and now he feels like he's able to handle it. Rachel goes on about how her and Brendon have always been real to Matt. Ragan says he knows he reminds them that he fought as hard as he could up on that surf board. Brendon knows he adds that the boards were a lot harder to stand on then he thought. Rachel says she going to me who she is around Matt and see were that gets her. Lane walks in drinking a beer..

Onlinebigbrother.com is around because of your donation every year the site costs us to host the images and run the 3 servers needed to handle the traffic. If you like the site then please consider donating to keep the madness going. Thanks!