9:10pm Taj, Kristen and Rachel Rachel is telling her a heavily modified version of her conversation with Matt. She says that at least one of her or Brendon are going up this week but she doesn't know which one. She thinks it'll be herself, She starts to win saying that this entire game has been such a battle for her she's struggled and struggled just to keep her head above water. Kristen tells her that Rachel had a awesome HOH week she did very well. Kristen thinks that MAtt will put ANdrew and Kathy up she doesn't think Rachel has anything to worry about. Krsiten is SHOCKED that matt won that comp she thought Brendon was going to have it. Kristen wonders what would of been better Matt or Brit, Rachel says it doesn't matter they are both after me. Kristen goes on to say worst case one of you goes up on the block but theres still POV and a lot of people will fight for you. Rachel starts pouting that she's really worried about Brendon he's on have nots again. Hayden walks in and beds over to pick something out of his suite case. Classy Rachel (or should i say boy George) says "Ohh I could check that Hayden ass out to" hayden sticks around and Rachel brings up that everyone hates her and brendon. Hayden Explains to her why the house may feel threatened by her. She says that in her head she though thought what people were saying to her in HOH was the truth.. Rachel starts to cry.. they briefly talk about who the replacement nomination would be if Rachel and Brendon go up… Nobody seems to have much of a idea. Rachel says the worst thing that could happen to her is if she was backdoored.. she would feel so betrayed, "I just wants to have a chance to play POV" She cries some more says she can't handle this she can't sleep she can't eat she can't focus…. (Please get rid of her)
9:27pm Living room Lane, Matt, Brit, Enzo, and Ragan all talking about how awesome Matts Speech ways today (it was awesome) They talk about Have nots they are Meow Meow, Brendon, Andrew, and Ragan.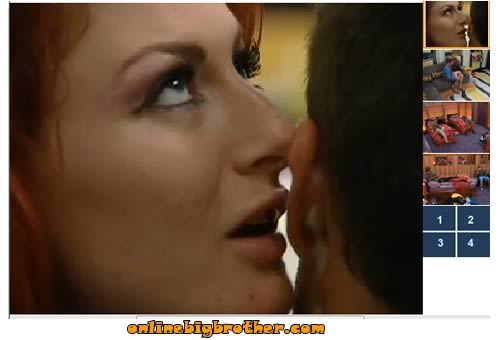 9:38pm Bathroom rachel and brendon she's telling him to really lay low and not be sneaky She says that MAtt told her that he might have to put one of them up or the house will be pissed at him. She instructs Brendon to not piss Matt off or anyone else in the house for that matter. Rachel doesn't think they should make any deals with matt unless it has to do with next week. She tells him that next week Matt will be in trouble. She tells Rachel that brendon needs to go talk to Matt privately and she'll go up after.Brendon says he's a pit upset with Matt right now becuase he told Brendon that he wouldn't put either of them up if he won HOH.. Rachel adds that Ragan may not be as loyal to them as she thought.. she thinks they should play it quiet with him for the time being.