SEE what they CAN'T show you on TV! 3 Days FREE No Commitments
9:46pm Lane tells Enzo to cool down… Enzo: "I want to rip ragan's face off yo" LAne: "Umm yeah don't do that". Enzo: "Should I go off on him now or after the POC ceremony" Lane: "tells him to keep cool and only say something if Ragan brings is up" Enzo: "I feel like this is a fixed fight.. I like MAtty alot but I don't trust him no more". LAne tells him they have to trust LAne that Brit is going to put up matt. Enzo trusts him, he telsl LAne that if He goes Lane has only Hayden and Brit then he's BLANK. LAne knows… he's not worried about it he thinks they should all go up and talk to her tonight and she'll dot the right thing. LAne doesn't think Ragan can into her head anymore thats done. Lane tells Enzo they have to win HOH back to back then there to final 3. Enzo is really pissed at Ragan for saying that he's in an alliance with Brendon. Lane tells Enzo to just stay cool and wait it out, Lanes working brit right now and he won't do anything to jeopardize enzo or Hayden. Lane tells Enzo that Matt asked him to throw Ragan under the bus to Brit. Matt said he couldn't do it because Ragan is his friend and. Lane points out that Matt had no trouble throwing them under the bus (Actually matt wasn't the one doing it) Enzo says he can't stand being near Ragan right now.
10pm Hayden, Matt, Ragan, and Brit drinking and talking about BLANK, Whats better the movie 300 or troy hayden and Brit thinks troy is better .. Brendon and LAne playing Pool talking about buying your domain name for your name (like Brendonv.com or Lane.com etc etc ) before coming on the show. Lane didn't know people could use your name like that. Brendon isn't sure either but he bought his anyways just incase.
10:15pm Brendon telling Enzo to maintain himself and do it for his wife and his daughter. Brendon is going to go talk to Brit and tell her if she puts up Matt then his target is Ragan if she doesn't then his target his Brit and Ragan. Brendon says he'll tell her that Matt is a much stronger competitor then Hayden and he's going to win competitions, Brendon: "Matt rises to the occasion but only when the competition is conducive to him winning". Brendon is going to also tell her that Matt and ragan are backstabbers and if she doesn't take them out now then she'll be next on Matt's list. Brendon says brit is out of her mind if she thinks that Ragan can beat him in a quiz. Enzo agrees says that he beat Ragan in the last quiz, Enzo's going to go up there tonight and tell her that if she puts Hayden up then there will be a lot of people coming after her. Brendon just tells him to watch his actions, Brendon knows how enzo is feeling when he was up with Rachel he wanted to punch Ragan in the face but he didn't. (thats right guys keep threatening her) .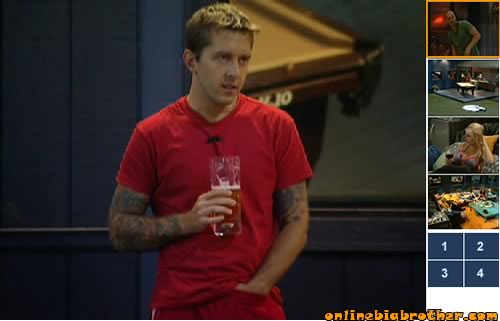 10:28pm Gremlin playing the Ogre
10:43pm The Band is BAck together, Brit, Ragan and MAtt laughing at things Kathy says most of the jokes are about Kathy taking Ambian and getting horny.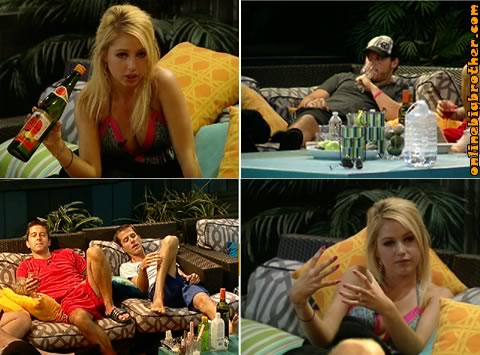 11:13pm Backyard drinking and talking about Brits brothers. She says her younger brother will really like Matt.
11:26pm Everyone in the backyard beside Ragan whose in the HOH listening to music. Enzo has his hand down his pants and is playing with his balls. (this dude is going to snap he's shaking and everything) Brit talking about the Spanish language and about when she lived in spain.
11:40pm Brendon, Enzo and Lane Backyard LAne is telling enzo if he loses his cool tonight then any chance of her putting up Matt is gone. Lane is confident that she's going to put Matt up if he wasn't he would be more upset then Enzo is right now. Brendon goes on and on about how Matt and Ragan are going to go after Brit after he's gone and how she's making a big mistake they need to get MAtt out because he's sneaky. Enzo tells them if he wins HOH he'll put Brendon and ragan up and Brendon wins POV then he'll backdoor her. Lane tells him he needs to keep it down.. after the POV ceremony he can do whatever he wants. Enzo says what he's going to do is going to make Ragan go off on him which in turn will make him go off on Ragan. All three of them engage in a orgy of how awesome there deal with brit is and how she's throwing the game away if she doesn't take it.
11:55pm HOH Just the tip Hayden, Ragan, BRit and Matt. Everyone but hayden is tipsy doing just the tip.