SEE what they CAN'T show you on TV! 3 Days FREE No Commitments
8:27pm Lane and Brit in the HOH Lane tells her that he trusts Hayden and Enzo 100% and he would never do anything to risk her game. He feels that if she leaves then his game is screwed so why would he put her in jeopardy. Brit: I'm the bloody ox and your the carriage driver". Lane tells her she's safe nobody will take her out next week if she puts Matt up.. Matt: "I'll pinky swear". Brit says she wishes he would win something because she feels like she's doing all the work. Lane tells her that he wants it to be her and him against Hayden and Enzo.. he explains that he can control that side of the house and she can control Ragan. Brit is liking his thinking says that if matt goes home then she still has ragan on her side (Good grief she's already talked out of it) . She asks him if he's been playing to his fullest, because she's scared of Brendon winning the HOH. Lane tells her that he's been holding back because he hasn't had to play hard.
Brit: "If we get to final 4 we have a much better chance of beating Hayden/enzo then Ragan and MAtt in final 4". Lane: "Exactly you now have the chance to take out 2 competitors int eh game if Matt goes home Ragan will be completely useless in the game". Brit Agrees (Damn she had it for a hour)
8:44pm Backyard Enzo, Lane and Hayden There all laughing about one minute brit is taking Matt out the next she's taking Hayden out. Lane tells them that he's feeding Brit that they are using Brendon to take out the other players.. and she believes him.. She doesn't think Lane is close to them all. Enzo is semi freaking out lane is trying to get him to calm down says if Enzo goes off then there whole plan will collapse. Lane: "the only thing she is scared of is that you and hayden are allied with Brendon". enzo: "Fine i'm going to go talk to her i'll swear on my family that I want brendon out"
brendon joins them. Enzo: "If she doesn't take Matty out then she'll have us all survivors after her.. You have to talk to her tomorrow right before the POV ceremony" Lane is worried that when Matt is put up he will start talking about shit and Brit will get upset about everything. Brendon: "Who cares about her once we get Matt up then she doesn't matter" (these guys really smell the money) . Lane gets called into the DR right before he goes he talks about how they must win the POV next week so Ragan goes home, Enzo agrees. Brit joins them..
8:55pm Brit joins them in the pool tournament
9:15pm Brit, Ragan and matt making fun of the fight Ragan had with Rachel.. HAyden and Enzo outside looking damn ass worried.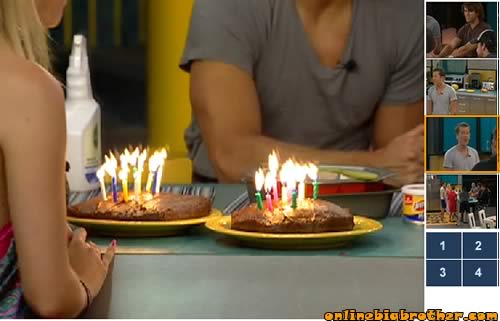 9:22pm Brits Birthday Cake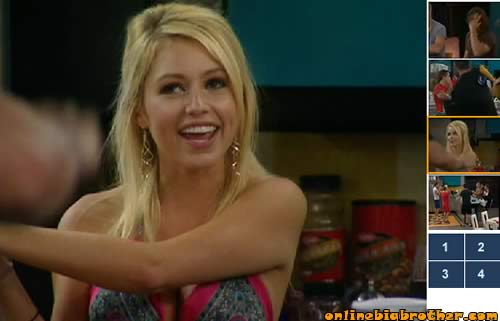 9:39pm The penguin watches the Gremlin playing Brit in Pool.. He's going to snap yo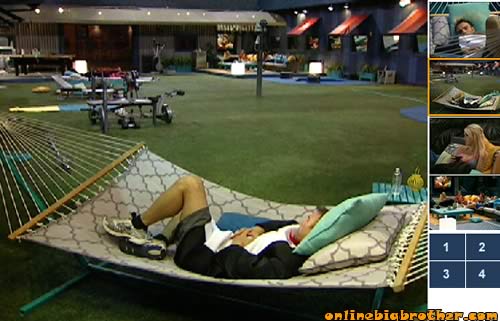 9:45pm Enzo watching the rest of the house guests having fun drinking at the backyard couch