SEE what they CAN'T show you on TV! 3 Days FREE No Commitments

4:00pm HOH Brendon and Enzo Brendon telling him he doesn't want to Backdoor anyone. He thinks that LAne's tactic is to float through and not win anything/get blood on his hands and then come out blazin int eh final few comps. Brendon thinks that Lane really isn't as good as he thinks and he doubts he'll win many comps. He tells enzo they better start winning more comps they'll need everyone fighting for POV and HOH. Enzo thinks they shouldn't worry about lane and take out Brit because she's much better at quizzes and later in the game most the comps are quizzes. Enzo: "Matt and ragan are really tight yo they want final 2 i don't think brit and lane are as tight as you think.. Matt and ragan are the tightest..if you ask me i don't like brit and ragan i don't trust them". Brendon doesn't trust Brit and ragan either. Brendon: "brit runs from power to power". BRendon really doesn't respect how ragan is playing the game becuase ragan jumped off during the second HOH, Brendon doesn't play that way he's a competitor. they are called intot he living room as they go Brendon tells Enzo he better start winning comps they need wins.
4:13pm Sab message Everyone in the living room The sab message was about 2 life long friends in the game and they are a girl and a guy. Matt thinks it's complete bullshit. Brit and Kathy both swear on their family's that they are not saboteurs. Matt: "Knowing Kathy and Brits character and having them swear on their family is proof enough that the message is shit". Brit starts to replay the message they got when the sab came back the second time "Pandora's box is open and it said you've released a saboteur back in the game.. it doesn't say specifically say that it was a player" They are all convinced that the sabetour is useless. Matt: "This sab is swinging a miss every-time.. there hasn't been one message that is confirmed true" Brendon chimes in about the love conquers all message. Brit mentions that the message will hurt Kahty and her game so whoever wrote it is targeting them. Matt mentions that theres a good chance that the sab is production.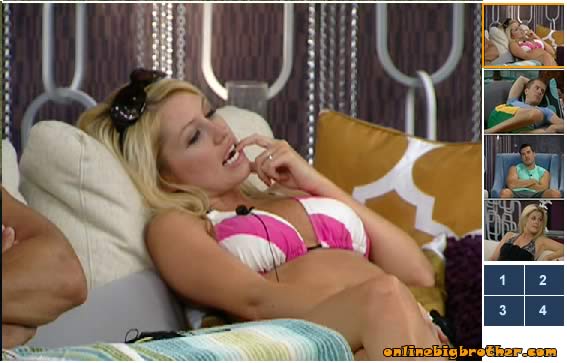 4:29pm Nominations Today comes up on the Living room TV set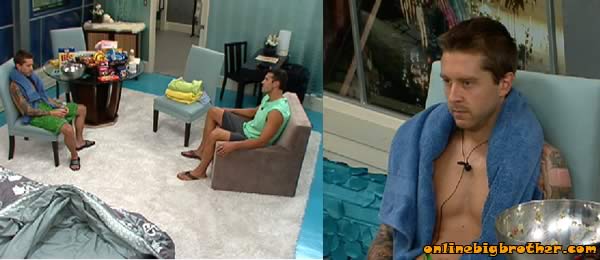 4:30pm HOH Matt and Brendon Brendon says he won't put matt up or Backdoor him if he can promise the same thing to him. Matt: "Really you won't backdoor me?" Brendon: "yeah its a good deal but yo need to fight for POV and don't use it.. I would rather keep you in this game". Brendon's reason is that Matt's has blood on his hands and he feels other players have been hideing behind him. Brendon doesn't want the POV played he wants matt or ragan to win it.
Matt am I allowed to know who the target is? Brendon: "no, I'm going to put up lane and brit". he thinks the house will want brit gone. Brendon wants someone to win this game that deserves it and that needs the money. Matt thanks him on behalf of his wife Stacey. Matt tells Brendon that he swears there was no money in the saboteur box. Brendon nows there was some crazy shit that happened last week and he knows emotions were running high but he doesn't want to carry that over into this week. They start talking about the sabetour.. Matt making a case as to why the sab is BS
4:42pm BAckyard Sab talk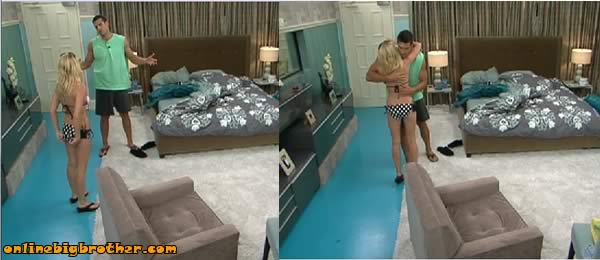 4:45pm HOH Brendon tells Brit she's going up

5:36pm Trivia Nominations ceremony

6:48 Trivia
7:07 Trivia
Share it YO!!
Tweet