SEE what they CAN'T show you on TV! 3 Days FREE No Commitments
8:43pm New SAB Message the sab message says there will be a competition Tomorrow that will change the course of the game. The houseguests are all freaking out thinking they competition will be late tonight or early tomorrow. Brendon suggests they cancel the pool tournament and go to bed early. Brit: "Your drinking a red bull" Brendon: "Oh yeah I'm a caffeine junkie" they decide to start the tournament early and "power through it". Speculation runs crazy some of them think it'll release a new power they have never seen in Big Brother again. Some think it might be a HOH comp they all agree that if it's a real message then it'll be a mental comp because they haven't set up anything in the backyard. Matt tells them all why are they listening now to the sab every other message they have given has been complete bullshit. Everyone plans on going to bed early except for the gremlin he sas he usually doesn't' sleep until 4 every night.
9:05pm backyard the entire house is in the backyard some of them are working out most are in the pool tournament. Kathy is smoking. Ragan is not in the backyard.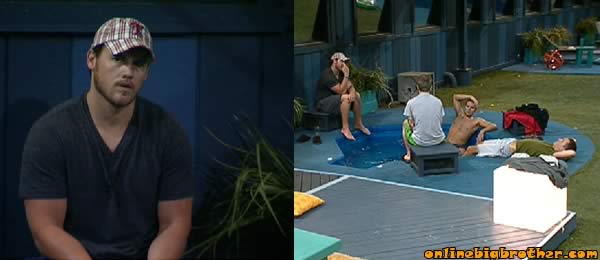 9:32pm
9:35HOH Kathy in the tub Brendon changing Brendon is complaining that the comp tonight better not be for a power that will change his nominations because he worked hard for his HOH and it wouldn't be fair to lose his his HOH power. (I'm calling it now if Matt uses the DPOV on Thursday and take out one of Brendons side alliances he going to pull a chima). kathy says once they find out who the saboteur is they better get 3 security in here to stop you guys. Kathy goes on about how bad the saboteur is. Brendon tells her he won a game in Pool. Kathy congratulates him. Brendon says that he's getting so much better every time he plays but the other guys are also getting better every day. Brenodon says he was still able to beat one of them.