7:55pm Cabana Room Enzo and Hayden Hayden asks if matty stays what do they do. Enzo doesn't care if matty stays or not because they need to get BRit out to. Hayden says they can pull ragan in for a week once Matt and Brit goes because ragan will have no one. Enzo:"I don't know what this BLANK guy (brendon) will do if it's matty or Brit we now what to do.. this year a guy is going to win it yo" Hayden: "yeah for sure". Enzo : "Kathy needs to stop brown nosing" Hayden says he loves how kathy plays she waits until the last day then she starts brown nosing hard. Enzo: "I love how kathy says she would never say anything bad about Brendon because she's not that type of person..bitch like two weeks ago you were ripping into him like a lunatic" Hayden corrects him it was 3 days ago when he last hear Kahty rip into Brendon. They can hear kathy talking game with brendon in the kitchen. Enzo:"what the BLANK yo why does a floater always make it to final 3 yo… Kathy is going to make it to the end". Hayden laughs. Enzo: "when i get out of here i want to go to a hotel bang my wife go to sleep and then do the press thing" Hayden wonders what he will do, they both agree to party it up in the bar at the hotel. enzo (joking): "Matty flipped because we sucked and never won anything". Hayden and Enzo both agree they are playing a great social game and they don't need to win anything because they are safe and the other players are fighting each other. Enzo says the Live Feeds must be pretty boring lately.
Enzo I don't trust Brit, Hayden we need to talk to matt and make sure he thinks we're still together. Hayden's is worried that MAtt will put enzo and Brendon up if he wins HOH. Enzo i just want to do the ceremony already then we know who is on the block then we can just sit back and relax for a couple days and study.
Brendon joins them and they start talking about who is going up. they all agree that whoever Brit or MAtt goes up it'll help them in the long run. Enzo tells them that the only thing they have to do is to win HOH next week.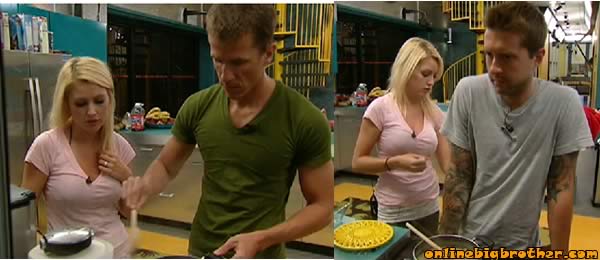 8:25pm Havenots preparing food chit chatting about how BLANK being on slop all the time is.
(there is a huge divide now between the 3 have nots and the rest of the house. I wonder if Matt is clueing in on whats going on)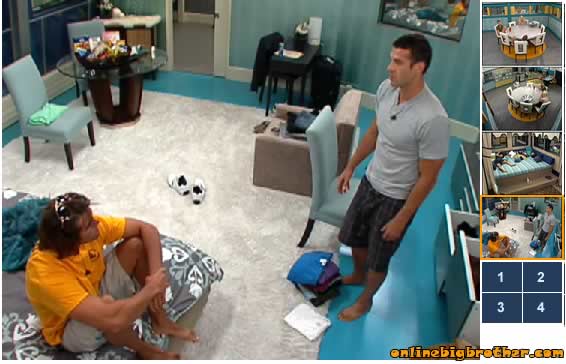 8:30pm HOH Brendon and Hayden Brendon is thinking about putting Matt up because if he takes out Matt then Ragan will be essentially out of the game. (thats why the brigade said about Brendon) Brendon calls ragan a "Mopey McMoperson". Brendon thinks that a better strategy will be to take out Brit and leave ragan and matt because they are a visible pair and the house will be gunning for them But Brendon is aware that Rachel really wants Matt gone so he's leaning more towards that.