SEE what they CAN'T show you on TV! 3 Days FREE No Commitments
5:00pm Cabana Room Matt and Ragan Ragan is saying it is important how people play the game their integrity and sportsmanship. Ragan thinks there is too many players you just sit back and let the game happen. Matt tells him about his conversations with Hayden and lane and how they may want to split the vote that way the it's up to Kathy to decide since she's the swing vote. Ragan is sure Kathy will vote to keep Lane, Matt agrees. He thinks his only chance is to convince the 2 guys to vote to keep him in. Matt: "The argument has to be very compelling otherwise why would they want to lose a jury vote". Ragan asks if that means convincing Hayden, Matt says of course hayden is the one you want to work with he's honest and sensible, Enzo is a goof ball. Ragan: "is it slimy to say in a final 4 situation which one would we take with us" Matt: "I don't think that information if useful for hayden.. Hayden knowing that information isn't a horrible thing… there might be a way to imply it to hayden". Ragan suggests that they start to point out that there are people in the house that are very popular (enzo) and they would be difficult to beat in the final 2. Matt: "I've heard hayden and lane say that enzo has the 25 grand". Ragan starts to talk about Matt leaving and how is he going to survive, right now he's not sure what he'll do. Ragan: "the only person I would feel comfortable to work with is Hayden.. but i don't know". Ragan knows who he will not work with he will not work with Brendon or Kathy. Ragan asks if Hayden initiated the conversation. Matt says not really the pretzel talk started the conversation. Matt: if it weren't for the pretzel incident brit would be on the block because Hayden and enzo tried hardcore to get Brendon to put her up".. Matt says he's been telling the boys (hayden mostly) that if he's left in the house he will be going after Brendon, matt: "I win competitions and if i stay Brendon will be going done in flames"they head to have nots
5:13pm have nots Ragan and Matt Ragan says he'll have another talk with hayden tonight, Mat thinks they should wait till early tomorrow. Matt understands what is going on, he knows they may be voting him out. Matt: "This season is full with lackadaisically people". ragan agrees: "we need to ask them a question what move did you make what did you do… hayden needs to visualize what did I do" Ragan hopes that some of them will figure out that they may not win the money if they do nothing all season. Matt: "hayden asked me what if BRendon makes it to the final 2 with anyone… I told him I would give him my vote I hate him but everyone is against him and if he can survive he deserves it". Matt adds that he was asked the same thing from Lane. Matt points out that he's packed every week since he's been in the Big Brother house because he's either been HOH or on the block.
5:45pm Ragan working out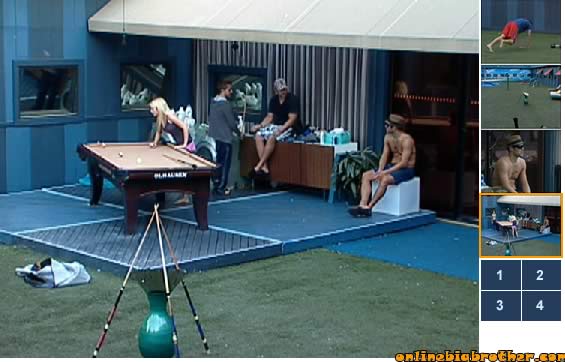 6:10pm Pool tournament
7:03pm If something worthwhile is said i'll post it
Share it YO!!
Tweet