SEE what they CAN'T show you on TV! 3 Days FREE No Commitments
3:00pm Cabana Room Brigade Enzo I got a new nickname for brendon he's number 3 .. becuase he's third in line on the evolutionary chart. Hayden says that Brendon told him he use to teach snowboarding up in the hills. They're all laughing about how Brendon always has something to say when you bring up any subject matter. Hayden says that Brendon told him that he use to squast 500lbs decided he didn't need all the extra muscle because he was never goig to play in the NFL. Enzo bring sup Brendon's "weird" body says it looks like he has a c-section. Enzo move onto to Brit, he impersonates her during the last HOH comp when she was telling Lane to "keep going lane", Enzo thinks her pale face is gross enzo: "get some sun now would ya… Turn around let me see your body i don't want to see your face".. They start talking about the saboteur and it's messages, Enzo thinks the sab is either America or Rachel. The rest of the brigade seem to agree… feeds cut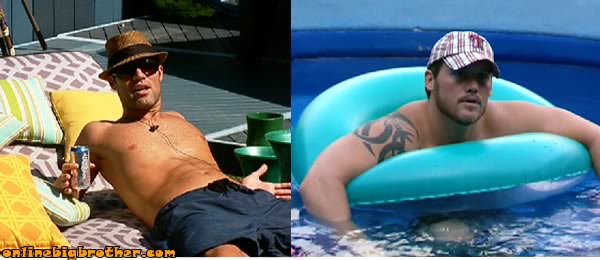 3:40pm backyard Enzo and Lane Enzo mentions that Matty's been asking people if they have the power yo, Enzo: "He's starting to get desperate". He tells Lane they will tell Matt he's going home right before the eviction. Enzo brings up Brendon and how he can't stand him, Enzo: "He's got twinky filling for a brains.. he wants to be a doctor, a lawyer what the BLANK.. that guy actually thinks he's safe next week"
lane brings up that Brit is trying to go behind his back. Enzo says that Brit is the biggest BLANK left in the house, he calls BLANK on ragan saying that Matty should stay becuase he diod all the work for the house. Enzo:" I don't care if you've won 4 POV's I want the house filled with people on my side I don't care what they've done" Enzo: "me you and hayden are the brigade and we have one HOH but we're still this far, competitions don't mean BLANK yo look at Jordon she didn't do anything until the end". Lane: "brit is a little snake if it's between brit and ragan which on do you want out?"
Enzo: "brit, ragan is a stand up guy… i actually wouldn't mind it if he won" Lane agrees says ragan complains a lot and is annoying but he sticks to his principles. lane: "brit is fishy everyone has to watch out for her". Enzo: "I'm telling you need to watch out for her who knows what she'll be saying up in HOH to brendon". Enzo says he can't stand brendon he hates how he talks but he knows Brendon isn't coming after the brigade so they should just leave him alone for awhile.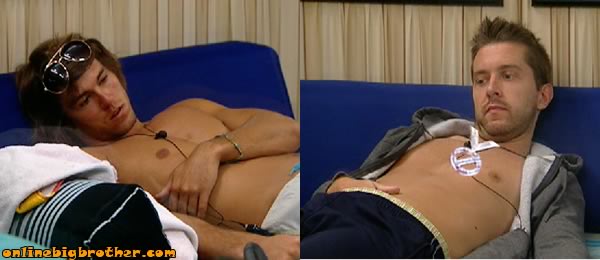 3:45pm Cabana Room Matt and Hayden Matt wants to know who Hayden and Enzo are going to keep this week. Hayden tells him they will know on Thursday, hayden will tell Matt then so he doesn't feel blindsided. Matt brings up the pretzel message and how he wishes he would of known before the POV meeting. Matt and Hayden agree that BRit is talking too much and she's painting a giant target on herself. Matt brings up the special power and he thinks America will vote for who gets it, matt is sure that America will give it to Enzo, Hayden agrees. They wonder who America likes in the house. Hayden thinks Lane is a favorite, hayden doesn't think Ragan is as popular as everyone thinks because of things that he says.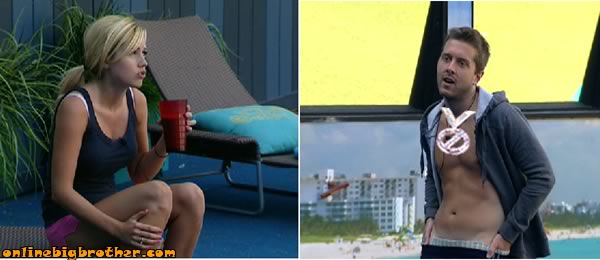 4:33pm Backyard Lane in the pool, Matt and Brit near the pool talking about how long the rope was during the last HOH comp. Quiz competition studying dominates the conversation