SEE what they CAN'T show you on TV! 3 Days FREE No Commitments
Lots of new things have happened over the past 12hours check out The early morning Big Brother Update and the Late Night Big Brother Update

11:42 Kitchen talking about how there is no competition today and the saboteur tells complete lies.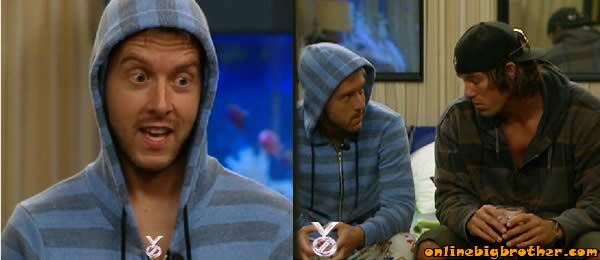 11:49AM cabana Matt telling Hayden that there is a power out there and anyone in the house will use except for Kathy and Brendon. He wants the Brigade to be kept a secret because if Ragan has it he'll use it one himself and if Brit has it then they'll safe Lane. Enzo walks in and Matt tells him theres a power out there and they need to keep the BG a secret, Matt: "It's not over until I go out that door.. Keep the dream alive" Matt asks them if they are still going to split the votes. Hayden and Enzo say they will be Matt: "This is the week it usually gets used" Matt tells them it's his only chance is to hope the power is out there and the person uses it. They agree that America must have voted 2 weeks ago because only Brendon or Rachel would of used it last week.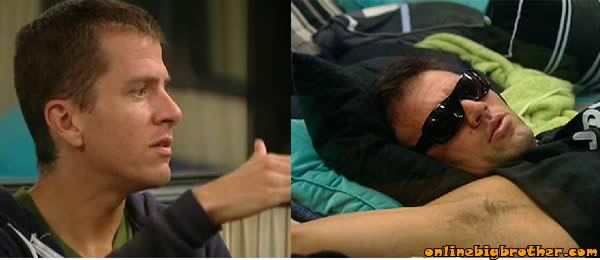 Ragan joins Hayden and Enzo in the cabana room tells them that Brendon had approached Matt and offered him a deal to not put him up on the block or backdoor him and now he broke that deal. Enzo: "there you have it that guys word is worthless". Ragan tells him that Brendon was trying to make a del with ragan so that if Ragan wins HOH he would only be able to put up Hayden, Lane or enzo. Enzo: "Yeah theres nothing fair about this game yo the more you play it the more you know this game is unfair". Ragan: "I just don't understand why Matt is getting punished for doing something that everyone wanted to". Ragan leaves.
Hayden: "I feel bad"
Enzo: "I know i love Matty"
Lane walks in enzo and Hayden tell him about Matt thinking there is a special power and they need to keep the brigade a secret. Lane agrees they have to keep quiet.