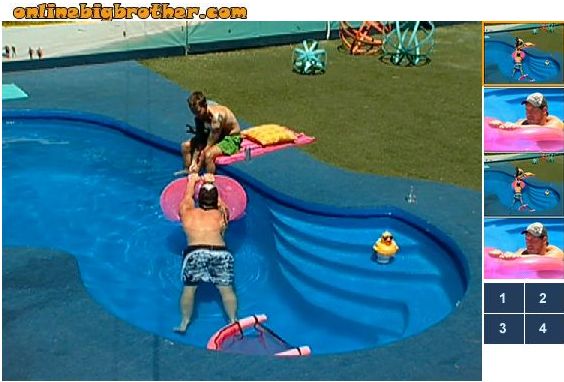 1:15pm Matt and Lane are talking by the pool. Matt is try to convince Lane that he is still part of the Brigade and that he is tells them whatever Ragan tells him. Matt says Ragan is different now and that he is not the sappy emotional one, but that he has fire in his eyes. Matt tells Lane the things that he talked about with Ragan where Ragan had told him not to throw him under the bus. Matt had promised Ragan that he would not use his plan. Matt says to Lane that he thinks Britney and Enzo have a side alliance that no one knows about. Lane doesn't say anything. Matt makes a point to tell Lane that he will also tell Hayden that Ragan is now really crazy. Matt tells Lane that Ragan does not trust Lane, Hayden or Enzo and that his target is no longer Brendon. (Ragan never said any of this and strictly told Matt not to implicate him with this plan of his. Ragan told Matt that he only wants out Brendon and that he wants to repair his relationship with Hayden.) Matt says that Ragan's target is Lane and Hayden. Matt promises Lane to keep Lane updated on everything else that Ragan tells him.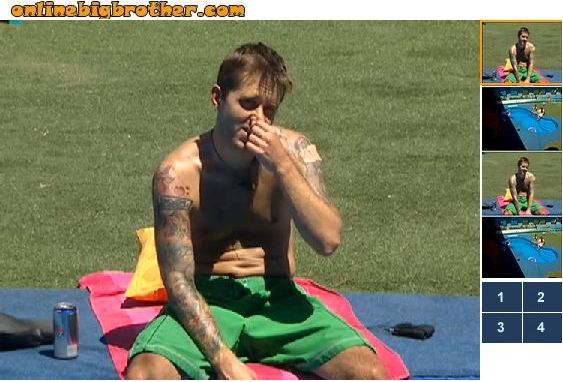 1:30pm – 1:50pm Enzo takes off his penguin suit to get into the pool and then gets mad at Big Brother for taking all his clothes away. Matt says that production doesn't care about Enzo cheating on the have not diet. Enzo asks Matt what are you doing… trying to sabotage me? They all talk about how the diary room does not seem to care any more. Enzo asks Matt about Ragan. Matt says that Ragan has become a monster with no emotion, hard core Ragan with a wild look in his eye. Matt says that Ragan is being very weird. The conversation changes to talking about if there will be a double eviction or not this week. They are starting to think that there wont be an double eviction.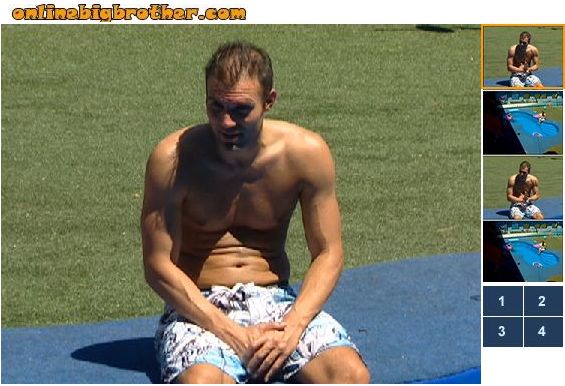 2pm – 2:15pm Britney comes out to lay out by the pool and she tells Matt, Ragan, Enzo and Lane that she just did her HOH blog for twitter. They talk about what she said and about how none of them knew about the twitter account last season. Ragan says that he has a feeling that this week is going to be the week they get rid of Brendon. Britney and Matt both agree and say that would be awesome!! Ragan starts to sing I got a feeling that this week is gonna be our….(Big Brother cuts the feeds) When the feeds come back they are talking about the previous season where the aliens came into the house and stole things.. The conversation changes to talking about random things. They talk about grilling some burgers for dinner. Matt asks Ragan about what his favorite era of Saturday Night Live is? Matt and Ragan then discuss the different cast member and the funny skits that they remember. Ragan and Matt head inside to make the turkey burgers.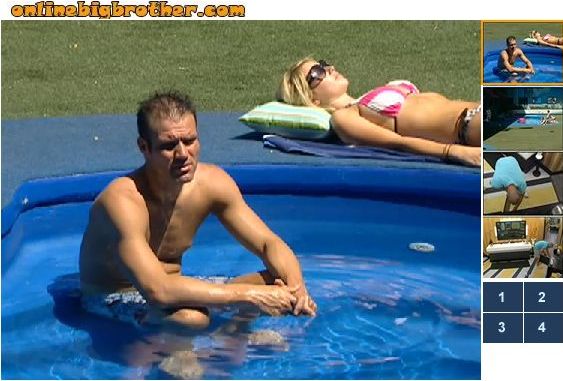 Watch everything LIVE as it happens!! Superpass – 3 Day FREE Trial!
2:30pm Britney, Lane, Enzo and Hayden are hanging out by the pool talking. Lane explains that Ragan uses the chocolates to remember the events of the house …thats how he knows it all backwards and forwards. Lane asks Britney if she is friends with Ragan. Britney says that Ragan told her that they need to stop hanging out because they are starting to think they are together. Lane says that Ragan thinks that she is with Enzo. Enzo and Britney both ask what? Britney asks why would he think I am with Enzo?! Lane says that he thinks you're with Enzo and that he doesn't trust you. They talk about how Matt has no loyalties and that they have caught him in lies. Britney talks about how they can't get rid of Brendon. Hayden explains that its not that they can't get rid of Brendon …he says that we just keep …keeping him here… We decided to send Rachel home when he asked us to evict him. They talk about how they cant let Ragan win the HOH or POV.. Big Brother calls for an indoor lock down. Ragan and Enzo try and get into the diary room and find that its locked and they aren't answering it.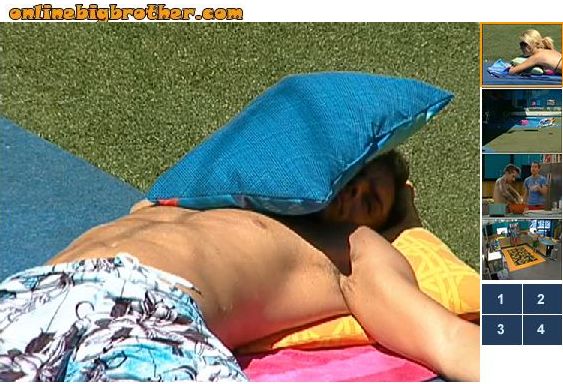 2:40pm Ragan goes to the bedroom to lay down by himself and he studies the events of the house again. Britney and Enzo head up to the HOH room. They find that the door is locked. Matt asks if its locked. Britney says yeah … maybe its another Pandora's Box and you guys will get an other party while I'm locked up in here. Britney decides to go lay down in the cabana room. Britney and Lane are in the cabana room. Britney says that if she wanted to show her beaver she would. Lane says that Britney is letting her roast beef hang out. Britney asks who calls it roast beef? Lane asks have you seen it?! Britney says yeah… you are being vulgar!! Lane asks her if she touches it in the shower?


3:31pm A ogre with a maxi pad on his face, A Gremlin on a sinking ship, The Target for Thursday and a collection of douches that can't keep their mouths closed when they eat.