Watch everything LIVE as it happens!!
Superpass – 3 Day FREE Trial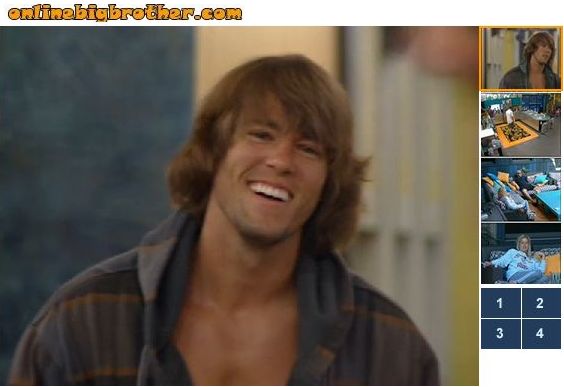 9:40am Big Brother wakes up the house guests. Brendon, Enzo and Kathy are in the kitchen. Brendon says guess whos back… rub my back. Brendon is going around the house cleaning the windows and mirrors. Hayden and Brendon talk about the music Big Brother played to wake them up. Brendon says that they played Rage Against The Machine, he says that he loves it because it gets you pumped up. Brendon and Hayden are talking about Hayden's Native American heritage. Kathy and Lane are laying out on the couch. Brendon, Lane, Hayden and Enzo are sitting at the kitchen table talking about random things.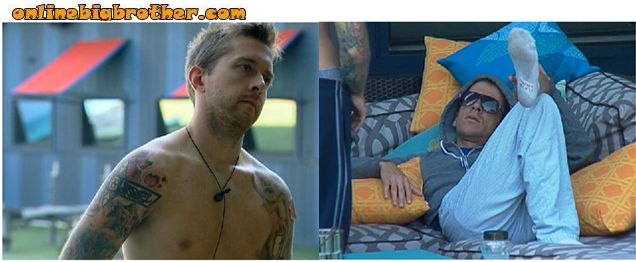 10am Matt and Ragan are talking out on the backyard couch. Matt is talking through the scenarios and how to get people to vote for him to stay. Matt says that Kathy tells people what they want to hear and makes you feel like you have her vote but that she probably makes everyone else feel that way too. Matt says that he feels like he has her vote but that he is sure she makes Lane feel like he has her vote as well. Matt says that tomorrow he will start talking to people about votes. Ragan is worried about Matt leaving. Matt wont do any game playing today, he wants people to be comfortable. Ragan is trying to figure out what the upcoming competitions will be like. Matt tells Ragan that Brendon is studying with Enzo and Hayden and that they think Brendon knows a lot about the house. Matt tells Ragan that Hayden and Enzo play stupid to get information from Brendon. Matt says that he thinks the diary room is lying about Rachel leaving behind a message using pretzels and thinks its all bullshit. Ragan really doesn't want Matt to leave. Ragan wants to know if anyone has said anything to Matt regarding the votes. Matt said no, he asked them to give him a good reason, other than a Brendon one, when they tell him they're voting him out. Matt wants them to tell him he's too strong in competitions to stay. Ragan says that Britney doesn't trust Enzo. Matt agrees and asks who does? ..Enzo is shaddy. But how does that help me? Ragan tries to think about who would vote out Enzo, after this week. Ragan says that if it gets down to the final six and Britney and Enzo are still there Britney will gun to get out Enzo. Matt says that he is just going to rid out the day and start talking to people tomorrow. Ragan tells Matt that he only needs three votes to stay. Matt says not much game play today and that he is just going to chill. Matt and Ragan talk about who will be left in the game come Thursday night. Matt says that he is going to chew out Rachel for that pretzel shit she pulled.

TRY the Live Feeds for FREE!!
Superpass – 3 Day FREE Trial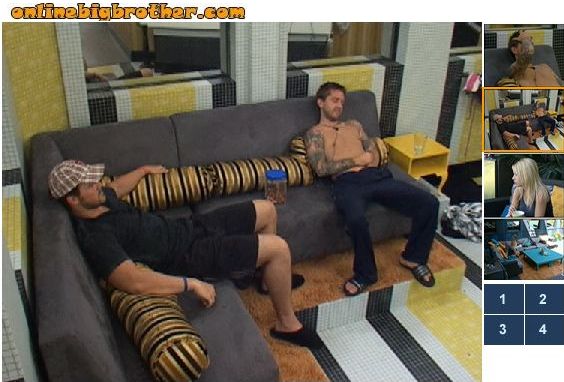 10:40am Ragan, Lane and Matt are in the bathroom talking. Lane tells Matt that Brendon told Hayden and Enzo last night that the house was full of cowards. Matt tells Lane that he told Kathy the same thing. Ragan and Matt don't understand why they're cowards for playing strategy and not giving into Brendon's bullying. Lane asks Ragan if he saw Brendon just watching Ragan and Hayden on the Hammock last night and Ragan says he did, that it was freaky. Lane says that he probably wanted to ask Hayden what Ragan was talking to him about.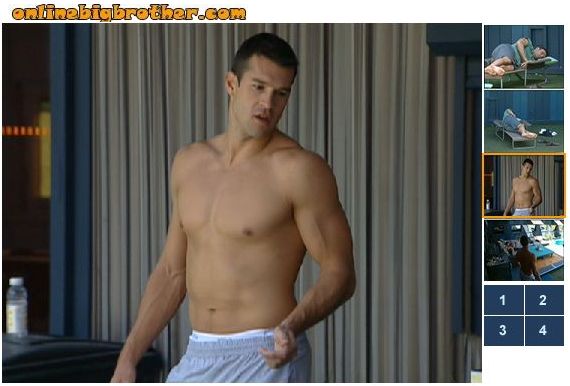 10:50am Matt and Britney are in the kitchen talking. Matt tells Britney that Brendon Button is back. Matt tells Britney that this morning Brendon came down and had his shirt tucked into his underwear. Britney laughs. Britney and Matt head outside to eat on the couch. Brendon comes out in to the backyard and Britney asks what dating show he was on. Brendon says that he was on Dismissed. Brendon goes back inside. Matt says that the girls on his show probably dismissed themselves. Matt asks Britney if her and Nick were ever rocky would she ever go on that reality show where they hook up with their ex's. Britney says that if wasn't with Nick and was ever curious she wouldn't go on a show to see an ex she would just text him. Matt asks what if you and Nick were really rocky. Britney says that they wouldn't be rocky. Matt says you wouldn't be rock …you would just be over. Britney says yeah. Matt tries to think of a show that her and Nick could do together. Britney tells Matt that Nick doesn't want to be in the spot light or on TV. Matt makes up a show called In The Nick of Time, where Nick gets to play 18 holes of golf and at each hole he spends time with a different girl and that Britney would be the finally at the end. Britney laughs and says that would be a good show. Britney thinks up a twist for the show. Britney says that if Nick really likes the girl he has to make par, and if he gets an eagle or a birdy then he gets an extra fifteen minutes with her. Matt says that if Nick gets a hole in one then he gets to bang her. Britney laughs and says yeah sure since he has never gotten a hole in one… They both laugh.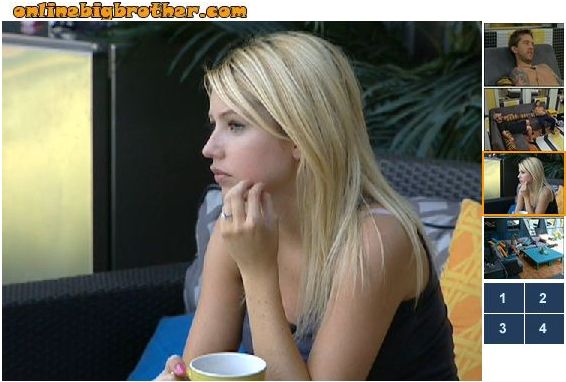 11:10am- 11:30am Matt is folding his laundry, Enzo is laying on a lounge chair trying to nap and Brendon is working out on the elliptical.  Britney goes to lay in the hammock and runs through some studying for the upcoming competition. Britney gets up and then heads inside the house and goes into the have not room to lay down.  Matt is laying in the have not room as well.  Matt talks about how Brendon was out in the backyard playing pool by himself for hours last night until 2 or 2:30 in the morning.  Britney laughs and says oh god.  Ragan joins them.

Watch all drama on FLASHBACK! FREE 3 Days TRIAL