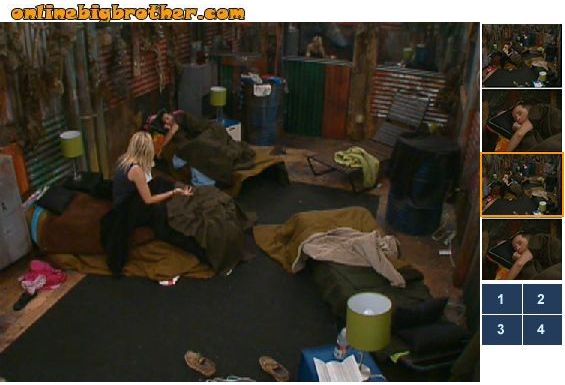 Watch everything LIVE as it happens!!
Superpass – 3 Day FREE Trial
11:40am Matt asks Ragan what the chances of it being a double eviction this week. Ragan says high, very high… 85 – 90%! Matt says that he really doesn't want to be stuck in the jury house with Rachel this next week and then him the week after. Britney says that they need to start winning competitions. Ragan says that even when he does well he's punished. They talk about how they worry that the double eviction competitions will be more suited to Brendon's strengths. Britney gives Ragan pep talk telling him that the only way Brendon has a chance of staying is for him to win the POV. Then Britney says that she doesn't know why everyone is worried about Brendon winning it because he is good at physical challenges. Britney says that Lane, Hayden, Enzo are all physical guys that can beat Brendon. Britney leaves the have not room and then lays down in the cabana room to take a nap.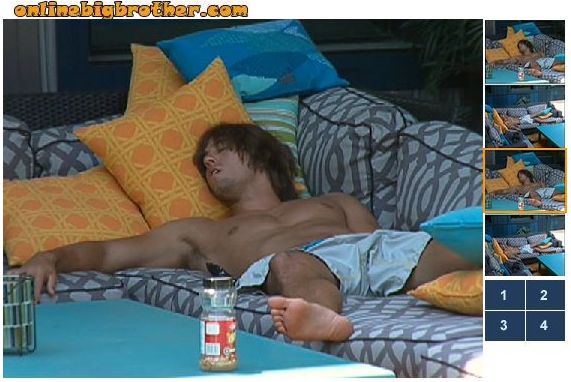 12:15pm Brendon is finished his workout and then goes around cleaning up the yard in his sweat drenched shorts. Hayden is passed out on the backyard couch.
12:20pm – 12:45pm Matt is in the have not room talking to Ragan about how Kathy told him that she wants to help him. Matt says that he doesn't know why Kathy told him about how Rachel left Brendon a message. Matt wonders if she wanted to help him why wait till after he was nominated to tell him that info when it couldn't help him. Ragan and Matt continue to talk about Kathys game. Matt says that this is not the way for Kathy to get on my good side. Matt says that if she knows some way of saving me and waits until the last minute I am not going to be happy. Matt says that if she knows something she should have told me the minute she knew it not wait until the last minute. Matt says that he talked to the diary room about how Rachel wrote that message to Brendon using the pretzels and they said that they were unaware that she left a message and that they are going to revaluate what to do with it in the future …but as of right now it wasn't against the rules. Ragan starts to says that there is no writing allowed ….Big Brother cuts the feeds. Britney comes into the have not room and Matt says that he is going to go lay out in the backyard. Britney says that she wants to but that Brendon is out there watering the grass and the deck. Matt asks what the grass that doesn't grow?! Britney says that Brendon walks like a Clydesdale T-Reks.  Matt asks like a what? Britney says it again and they Matt leaves the have not room to go out into the backyard.
SEE what they CAN'T show you on TV! 3 Day FREE Trial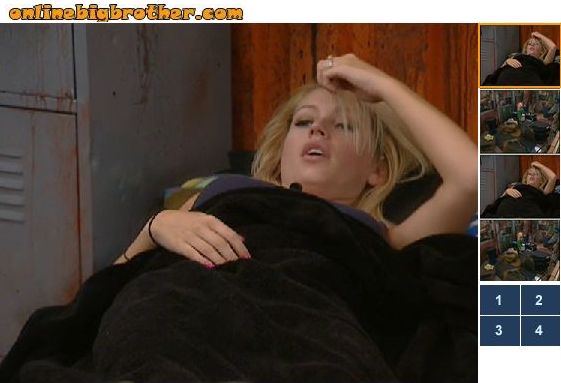 12:40pm Lane and Hayden are in the cabana room talking about the scenarios for next week.  Hayden talks about what would happen if they putting up Britney and Ragan, Enzo and Kathy, Lane and Enzo.  Hayden says that if Lane is up then he is safe because he has Britney's vote.  They talk about how they think the the only people that they have a chance against in the final two is Brendon, Kathy or each other. Britney comes in and asks what they are doing. Hayden says that they are game talkin… They tell her that they are talking about the scenarios. Britney tells them that the POV competition after the double eviction is always a physical challenge. Ragan comes in and joins the conversation. Hayden tells them that they all really want Brendon out!!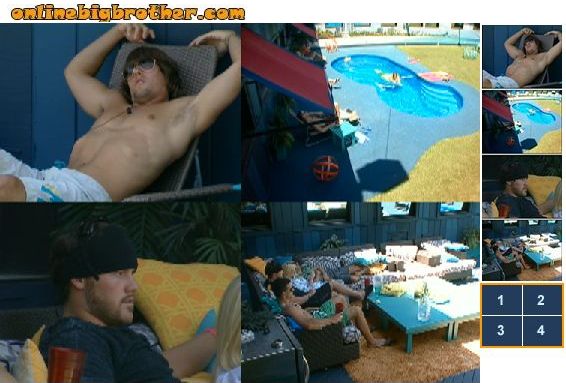 1pm – 1:25pm Big Brother calls for an outdoor lock down. Brendon starts talking in his annoying robot voice.  Matt is floating around in the pool, Britney and Hayden are laying out on the lounge chairs. The rest of the house guests are sitting on the backyard couches. None of the house guests are talking.
Superpass No commitment – 3 Day FREE Trial
1:40pm Lane asks Kathy if she is going to play pool tonight? Kathy yeah …training one on one, give you one more to play with. Lane says that Brendon won the pool trophy last night. Lane then says that he will erase Brendons name when he gone. After awhile of silence Lane and Kathy start talking. Lane asks Kathy if how many fish are in the fish tank are how many people started off in the house. Lane asks so ..four of them died and then they replaced them. Kathy says yeah. Lane says that there is no way he will let Brendon win the POV … that he will burn his legs off before he lets him win. They talk about how hard it is to be a have not ….and how if you are a have not for a week it is really like two weeks because you have to retrain your body. Lane says that they all need to fight like their life is on the line …like its Kathy's son Shanes life on the line… Kathy says yeah.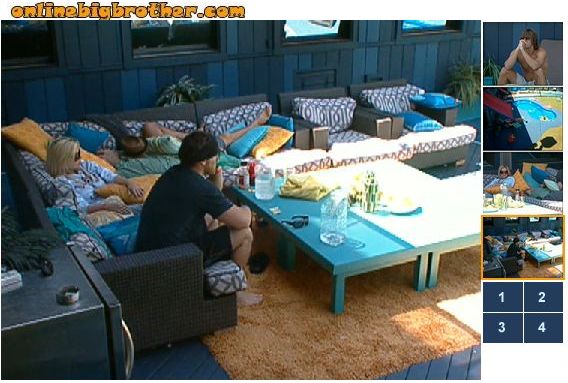 2pm Big Brother calls an end to the lock down. Kathy and Brendon go inside to make something to eat. Britney, Matt, Hayden talk in the pool about how Rachel got to leave a message that compromises the game for them. Britney starts going off about how its not fair ….she jokes that its just for half a million dollars and that they gave up their jobs in a bad economy and they are away from their families… Big Brother keeps freaking out at them to stop talking about their diary room sessions. They continue to talk about their diary room sessions. And after about the third of fourth time of being told not to talk about their diary room sessions big brother cuts the feeds.