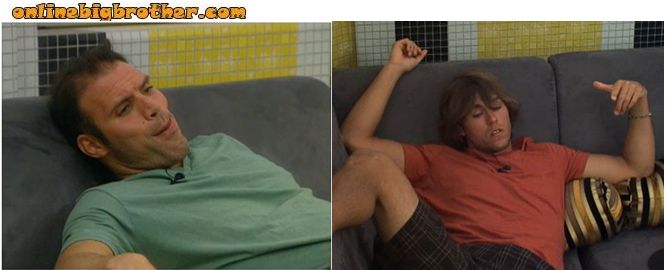 Watch everything LIVE as it happens!!
Superpass – 3 Day FREE Trial
12:40am Lane,Hayden, Kathy and Enzo are talking. Enzo tells Lane he is all BLANK right now because he's on the block, when he gets off the block he'll be back. Enzo is joking around with them. Enzo says Hayden was all BLANK up too when he was on the block but he came back! They start joking around about Kristen. Lane asks Hayden if he loves her, he says he's got to love her, she's his sister! Kathy asks Hayden if he and Kristen kissed, Hayden laughs and says no, I didn't kiss her Kathy! Kathy is wrestling with Hayden on the bathroom couch. Kathy is asking him what went on with Kristen. Kathy keeps telling him he lies. Enzo and Lane are laughing at them! Hayden says Lane can you get her off me? Kathy tells Hayden he should grow his hair out and give it to Locks for Love, he says his cousin did that last year. Kathy says goodnight. When Kathy leaves the room Enzo says to Hayden about Kathy ..get outta here! They head into the kitchen. Enzo says that wanted some candy bar. Lane tells him that it has 400 calories. Enzo replies 400 calories in that whole bar?! Enzo decides not to eat it! Lane wants to make sure the guys are keeping him in the safe with Brendon. Lane decides he its time to head to bed. Hayden and Enzo start whispering in the bathroom. Enzo asks Hayden what they should do about Matty. Hayden says they can't tell him. Enzo wonders if they should split the votes, because Kathy is voting for Lane. Hayden doesn't think that is a good idea. Enzo thinks maybe they should tell Matt Wednesday night. Hayden says that he thinks that Matt won something and that he isn't telling them about it. Hayden says that he guesses they could tell him, and that they we owe it to him. Enzo says that he thinks they need to just tell him. Hayden says they just need to tell Matt that he could beat them in the game and that's why they are keeping Lane. Enzo says that another major part of it is that Matt wanted to get Rachel out and that is the reason he is up. Enzo says that Rachel went home and Brendon won HOH and that's why Matt is going home. They think that Matt could lose it. Enzo plans on telling Matt that the three of them have gotten close and Matt is always off with Ragan. Enzo and Hayden open the backyard door and say goodnight to Brendon who is in the backyard by himself. Enzo asks him why he is still up. Brendon says that he's bored. Enzo tells Brendon that he might come outside if he can't sleep.

1am In the bedroom Enzo, Hayden and Lane are whispering about Matt. Hayden and Enzo tell Lane about how they talked about maybe telling Matt before the vote. Hayden asks what if he has a power? They agree that if that's the case they just need to vote him out and not tell him beforehand. Enzo says that they may have to do it dirty. Enzo starts to say if Kathy wins HOH… Lane says oh BLANK …laughs and says then we are a bunch of dodos. Enzo asks Hayden who do you have bro? Hayden says that he's got you two! Enzo says they just have to tell Matt that they can't beat him in the game, that's why they are voting him out. Enzo says that in another week or so we are going to be fighting for our lives in here. Enzo says that Britney has got to go! Enzo says that Ragan is legit and that when he says something he means it. The guys hear Brendon come back inside and they all pretend to be sleeping. When they figure they are okay …they start to talk again. Enzo starts going over the saboteur messages from last night. Kathy tries to recite the messages back to them. Enzo and Kathy are always forgetting the sixth message which is "House guests, am I keeping you up?" Kathy asks Hayden and Enzo who they think Britney and Ragan would put up against Brendon. Hayden tells her that they would probably put you up.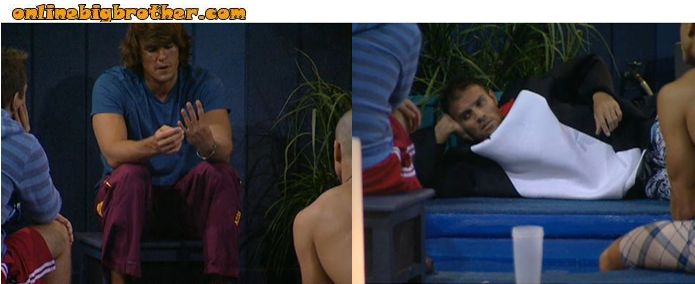 1:40am Enzo says that it could be one of them though. They tell her not to worry if she goes up against Brendon, she'll have the votes to stay and they'll get rid of Brendon. Enzo says that if we win HOH who do we put up? Kathy says Brendon. Enzo asks if they should put up Brendon against Britney? Enzo says that if Brendon wins POV they can send Britney home. Kathy says the longer Britney stays the farther she will go in the game, she is smart and manipulative … and she will be five hundred thousand dollars richer! Enzo says BLANK her! Enzo says that Brendon messed up this week by not putting up Britney. Enzo says that Britney got in Brendon's head! Hayden and Kathy say that they are ready to go to bed but Enzo wants to go over the saboteur messages again. Enzo starts to recite the messages again and gets stuck on the sixth one again. Hayden tells him what it is and then says that he is going to punch him in the dick if he doesn't remember that one. Kathy and Hayden say goodnight to Enzo. Enzo asks why? Hayden asks him if he wants to keep talking, Enzo says that he does and then says that he misses everyone. Enzo says that he didn't think he would make it 1/2 way in the game. Hayden says his first goal coming into the game was to not get evicted first. They talk about how dirty it was the first week when Annie was evicted; she didn't even get to play in the POV. Hayden says who cares she was the saboteur! Enzo and Hayden both think that the saboteur messages are going to be important in the game. They start quizzing each other on the saboteur message time line and then decide to go to sleep.
TRY the Live Feeds for FREE!!
Superpass – 3 Day FREE Trial
1:50am All of the house guests are now sleeping.