SEE what they CAN'T show you on TV! 3 Days FREE No Commitments
3:20pm Matt and Lane Kitchen
Matt says starts bringing up the advantages of keeping him around, he mentions that he's the best out of the brigade with quizzes and Brendon is after him so he can shield Lane/Hayden. Matt tells lane that he is hardcore BG and it that is a route Lane and Hayden want to take then Matt isn't turning on anyone. Lane says there getting down to the final here they have to be with people they can trust completely. Matt points out that theres still a lot of strong players in the house being with someone that can win is also important. Lane agrees. Matt starts in about his wife how he feels like he's really let her down and the thought of that is weighing him down.
Lane mentions that him and Matt have been in the same boat since day one because they took the side alliances. Matt tells Lane he's 100% BG, he's not going to go with Ragan or anyone over Hayden and Lane. Matt brings up Brendon and how with Matt gone Brendon's 2 targets are Lane and Brit. Lane says he'll think about it, after talking to his family today Lane is starting to realize that he's here to win the money not make friends. He calls the BB experience to be Dreadful and wouldn't want to wish it on anyone. Matt appreciates lane listening and hearing him out. Lane adds that he'll talk to Hayden today and they'll see whats best for them. (the curse is still alive)
3:40pm MAtt, Brit, hayden, enzo sitting in silence. Brit is cleaning off the polish from her nails.
3:50pm A Gremlin, a blonde, a penguin and a douchey corpse talking about lane's phone call with his mom.
4:08pm HOH Brit and Ragan ragan tells her he's spent.. he heads to the Taj to complete his nap, Brit curls up in the HOH bed to rest.
4:34pm Enzo and Lane Bathroom There talking about how great the phone call was for Lane to get. Lane mentions the good position they are in, Enzo agrees. Enzo: "Where almost done". Lane: "We're not done yet". enzo: "We still have some unfinished work yo… Then we start celebrating yo.. If its me you or hayden that wins it's like be winning yo". Lane: "Yup"…. Lane goes to take a shower.
4:36pm Brendon telling Lane this is the first time he's ever felt that the whole house is against him. He adds that he's only threatened by Ragan right now. Hayden tells him that the entire house is after Ragan so whoever goes up against ragan is just a pawn. Brendon says that Matt has made some smart moves in the game but ultimately it was his cockiness that did him in.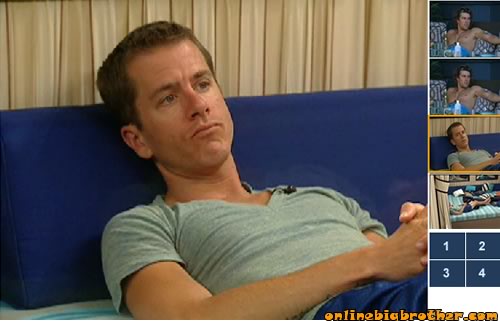 4:44pm cabana Ragan talking to himself
"One of these pairs needs a third it's Brit/Lane and Enzo/hayden… So maybe it's not as bad as I think if Brendon goes in this last eviction… I become very powerful because playing for final 3 is better than playing for final 4. If Hayden and Lane leave…. and bust up both pairs …I can beat beat of them at endurance.. I might be able to pull this off… but I have to win the next HOH"
"I have to I have to I have to … its my only chance in the house"
Ragan starts to study…
5:25pm Enzo doesn't understand why they use teaspoons to measure shit in baking and nutritional labels. Brit explains how to measure a teaspoon and show him that theres nothing inaccurate about it. Enzo isn't convinced he thinks that his teaspoon might be bigger then her teaspoon..