SEE what they CAN'T show you on TV! 3 Days FREE No Commitments
5:35pm HOH Brit, Hayden, LAne, MAtt and Enzo Ragan' sbeen in the DR for a very long time. Enzo is telling them that he thinks ragan is going to quit playing because he's so upset about Matt. Brit doesn't think so she thinks he's just being emotional and talking alot in the DR. Matt: "this house is real dead".. BRit: "I was napping real good when they called the lockdown"….Lane leaves. Brit wonders why the two dead fish haven't been removed when they called the lockdown. Brit: "I don't care about those fish though". Matt: "neither do I"… Brit: "Kathy's last words were to take care of her fish".. They start talking about Lady Gaga, Brit hopes she got a lot of money for the tickets she had. Hayden says he would love to go see lady gaga because it will be wild… Hayden leaves (and for some reason all 4 cameras on the feeds follow him)
5:52pm Pool table Lane and Hayden Briefly talk about why Ragan has been in the DR for so long.
Lane: "Dude you and me guaranteed final 5 even if Ragan wins .. its ours"
Hayden: "We don't even need to win BLANK and we're getting final 2 man.. "
Lane: "Dude we're in the best spot for final 2.. in the entire house. "
Hayden: "Final 3 we're going to get rid of brit because we'll never beat her"
Matt joins them and they start talking about Ragan being in the DR, Lane asks Matt if he thinks Ragan quit. Matt doesn't think so.
6:07pm HOH Brit and Enzo Brit is talking about ragan being upset because Matt pretty much told ragan that ragans "Hardcore campaigning" hurt Matts game. She says that Ragan's speech earlier today was confusing and she felt that he came across like he was mad and HAyden and Enzo. Enzo agrees he doesn't know what is going on int he house right now. Brit tells him the reason she didn't put hayden up is because she didn't want Enzo to go home. She also believes that Enzo and Brendon were the only 2 that fought for the veto and she doesn't think it's fair to have enzo go home. She doesn't think Matt tried for the veto. Brit thinks that everyone in the house is friends and work together and only Matt and Ragan are on the outside working for themselves. Brit says that Ragan is also upset with her for putting matt up because Ragan thinks theres this house pairs going on and i'll be left out. Brit mentions that Matt had thrown enzo over the bus by saying that enzo isn't playing his hardest during the comps. Brit starts saying that Matt is so weird right now he just lurks around, nobody wants him around. Enzo: "Yeah he should just go to sleep". Brit all of a sudden panics when she sees that Matt is in the kitchen she thinks he'll come upstairs. Her and enzo scramble to get out, they meet matt at the stairs and treat him like he has the plague.
6:23pm Hammock Ragan and Matt Ragan says that people have been telling him that he was telling everyone in the house that brit should put up Ragan. Matt wants to know who said that to him. Ragan won't say he doesn't there to be any drama. Ragan tells him last week Ragan risked his game by campaigning for MAtt when matt knew he was safe with the power and then matt spins it around tell ragan that Matt didn't appreciate it. Ragan says that he never would in a million years do to Matt what he did to Ragan. Ragan: "I'm really glad all this has happened because it has open my eyes that this is a game…" Matt says he's sorry, asks if theres anything he can do. Ragan tells him there nothing Matt can do or say ragan will decide after he views the episode and figure out all the BLANK that went down. ragan says that from what he heard Matt was trying to get me put up. Matt says if he had intentions like that, he wouldn't have told Ragan the entire conversation with brit. MAtt is so sorry he wasn't trying to get Ragan put up on the block, what he told Brit was more of a defensive move. Ragan tells him that these past few weeks Ragan has seriously damaged his game because of MAtt. Matt tells Ragan that he's a real friend and Matt wouldn't turn on him in this house. ragan thinks that his friendship with Matt is realer than any in the house.. he does think that Matt's back is against the wall so he did what it could to stay.. ragan will not know what to think of matt until after he's seen what really happened in the house.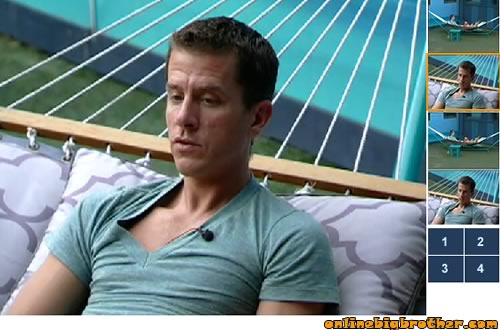 7:03pm Ragan tells Matt that Matt is going home. Matt asks him what can he do to survive. Ragan doesn't think there is anyting MAtt can do.
7:25pm ragan tells matt that Hayden, Lane and enzo are not as mentally deficient as they once thought, he's throughly convinced that they have not been trying at all in any competitions. Brit briefly goes to tell them that dinner is ready. Matt tells Ragan that Brit is more dangerous then Brendon. Ragan knows that. Matt tells him that when Matt goes to the jury house he'll fight like a BLANK to get him the votes. Ragan doesn't think he has a chance to get to the final 2. Matt: "BLANK this BLANK i'm going to try to stay in this house and if I can i'll fight to help your position". ragan knows that his survival solely hinges on him winning HOH on thursday. Matt tells him he can, Matt: "Just go do your chocolate bar studying". They head in to eat dinner