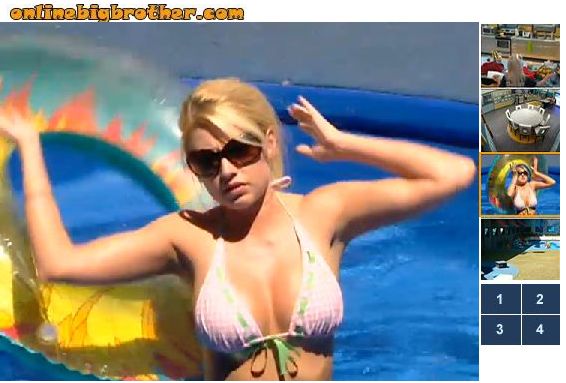 Watch everything LIVE as it happens!!
Superpass – 3 Day FREE Trial
2:10pm – 2:30pm Britney says that she is not laughing at Matt or anything … but that she has already talked about how the next person that gets evicted has to go be in the jury house with Rachel. Matt says so you are already talking about me leaving. Matt laughs. Britney starts talks about how Lane hasn't been a have not yet and how he hasn't been on slop yet. Britney thinks that it should the people that haven't been on slop that have to go on it. Britney says that Lane is so insensitive to her and other people who are have nots. Britney says that Ragan has been on slop three times already. Lane tells Britney that he was going to volunteer to be on slop. Britney tells him that he should have done it sooner to keep one of them off of slop. Britney tells Lane that he has no idea how bad it is. Matt tells Lane: that is no way to get votes.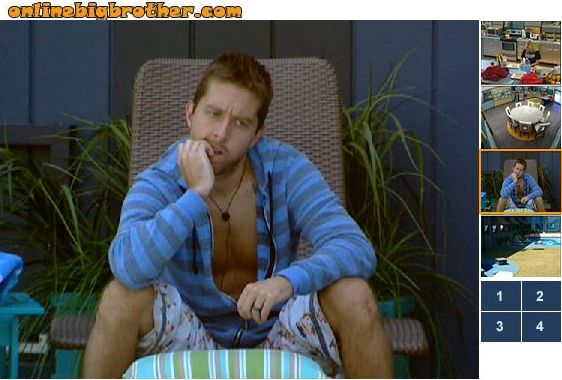 The conversation changes to talking about sports and football. Lane says no that he has a year to go back but doesn't want to.  Matt asks why cuz you're all Hollywood now …like Hayden?!  Britney says that Hayden hates it when you call him that.  Matt says what Hollywood Hayden…  They laugh.  Britney, Lane, and Matt talk about how hard it is to become a firefighter. Britney says that Lane reminds her of a fireman Brit's father is fireman Britney says that her real dad is real tough and a big guy … she says that hes a fire fighter.  Lane says that his friend was studying to be a fire fighter and that he couldn't even go wake boarding one summer because he had to study so much.  Lane says that to pass the test there were a 100 questions and you had to get at least 85 right.  Matt asks Britney if she was to introduce a boyfriend to her real dad or her step dad who would she rather introduce them to.  Britney says her real dad.  Matt says that when he met his wifes dad for the first time he was sharpening an axe …right then big brother switches the all the cameras on Enzo, Hayden and Kathy sleeping.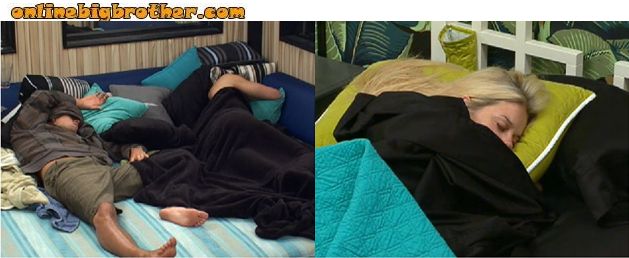 SEE what they CAN'T show you on TV! 3 Day FREE Trial
Britney gets called to the diary room.  Matt and Lane talk.  Matt says that Brendon is such a coward BLANK! Lane says that he tells everyone something different.  Lane says that he had a deal with Brendon when he talked to him that if Brendon put him up he wanted to be put up with Britney so that he wouldn't have to vote and then he goes and does this.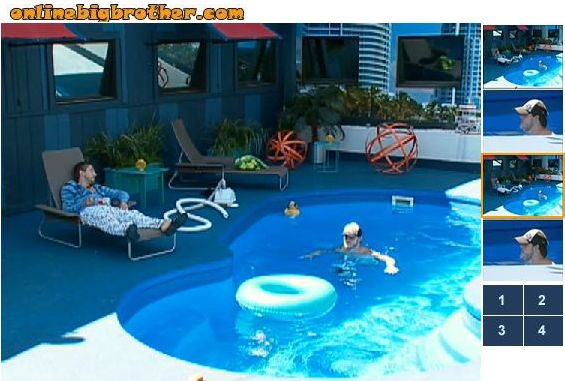 3pm Lane says that Brendon wants to keep Kathy here. Matt says he is such a pussy! Matt says that Brendon talks about how much he wants to go up against competitors and then he says that he wants to keep Kathy here … he is such a pussy. Matt asks Lane what he thinks Enzo and Hayden would put up Brendon? Lane says that he doesn't know. Matt gets mad and ask how could they let him stay in here and not try and get him out. Matt asks how do you think you would play next week out if I end up leaving, would you stick with them or would you go over to Brendon and Kathy's side? Lane says that he thinks he would just keep doing what he is doing. Matt says so that's why I like talking to you because we are in the same boat. Lane is hoping there is a power in the house. Asking Matt if it's been handed out. Matt not sure, says it's America's vote. Matt thinks that Enzo might have it, would be awesome if someone has it.. maybe Britney. Matt doubts that it exists. Lane says that Enzo freaked out about being called the saboteur but ….we have been called the saboteur for weeks and we don't care. Lane says the Brigade has the worst luck. Matt agrees and says they also suck. Lane says that we just got to cocky ..thinking that we control all the votes. Matt says that he just doesn't know what he is going to do if he stays and Lane leaves. Lane says yeah I don't know … Matt says well if you figure it out let me know. Both Lane and Matt hope that there is some kind of power that will save them. They both think that if Kathy had anything she wouldn't use it on either of them. They say that Brendon definitely doesn't because he would have used it last week if he did. Lane says if he goes this week that he better see Brendon right after him. Matt agrees. Matt says that if he doesn't go home this week and doesn't win HOH next week he wants to be put up against Brendon and then be able to play for the POV and kick his BLANK.
Watch all drama on FLASHBACK! FREE 3 Days TRIAL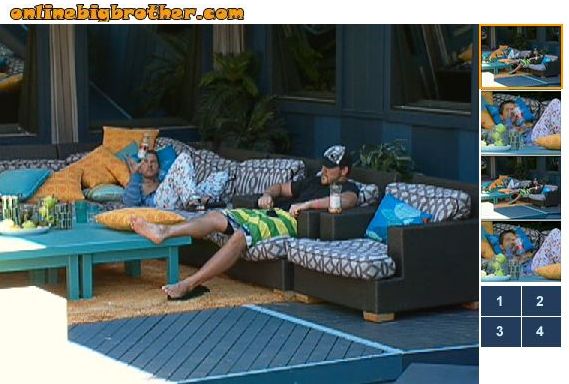 3:15pm Matt and Lane are on the backyard couch talking. Lane says that Brendon is playing this game as if Rachel is still here. Matt says Brendon needs to get over it… it's some broad he met over a month and a half ago. Matt and Lane think the next HOH will definitely be a quiz and probably a double elimination week.