SEE what they CAN'T show you on TV! 3 Days FREE No Commitments
Lots of new things have happened over the past 12hours check out The early morning Big Brother Update and the Late Night Big Brother Update
12:01pm cabana room enzo Brit confronts them tells them that Brendon told her that one of you three guys has been tellign him to put her on the block and she wants to know who. Enzo: "Whose saying to put you u?" Brit: "I dunno Brendon just told me that" they start to talk about Brendon and all the deals he tried to make. Enzo starts saying that they all hav to watch out for Brendon and the way he's playing the game, he points out that Brendon and Matty had a deal. Enzo: "He's spreading BLANK all over this house yo..He wants to play with everyones minds because he has a beef or two". Talk moves to the stupid sabetour, they all think it's rachel or america (same round and round talk about the sab) Enzo: "I think the BLANK paranoia is starting to set into people.. everyone is going crazy about this BLANK sab". Enzo: "whose winning HOH this week yo" Brit: "I am". Enzo: "you think it's double eviction.. if so lets get Brendon out yo". Brit: "yeah but he'll win POV" Enzo and Hayden both say that theres going to be a lot of pressure on Brendon and unless it's another physical comp he;'s going to crumble under the pressure. Hayden mentions that theres something going on with Kathy and Brendon he tells them to listen how kathy laughs with him. Enzo: "Sorry I can't stomach to do that"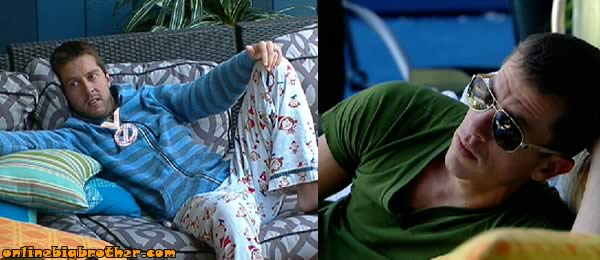 11:59AM Backyard couch Matt and Ragan
Ragan is saying that he's working on the angle that Matt is being punished for doing something everyone else in the house wanted to do. Ragan believes it's there only chance to steer votes over to them and away from Lane without throwing Lane under the bus.
12:21pm cabana room Brigade, Ragan, Brit Brit, Matt and Ragan telling Lane, Enzo and hayden that Brendon has made deals with everyone in the house to ensure his safety next week. Brit says that Brendon told her that he wants her to stay so her and Ragan can take out the other players. Brit asks if they should put brendon up against a strong competitor so that they are guaranteed to have them play against Brendon. Brit tells them that you can feel the grooves on the chips so you might be able to figure out whose name it is an not pull his chip, she brings up that they could try and backdoor him and not pull his chip in the POV comp . Matt thinks it's a little risky gambling the entire game one feeling a groove on a chip. They start running through scenarios, putting hayden up with Kathy to backdoor Brendon then he wins POV and kathy comes off, they all agree that it's too risky. Matt: "I think it should be brendon and a strong person that way you use kathy if the pov is played" They talk about the veto in the haystack competition and how brendon will probably do well at it. Enzo saying that it sounds like a fun competition. Enzo: "grabbing, throwing picking up thats my type of game". Matt: "Brendon will win it if because they'll place his medallion right at the top and the rest of ours will be barried to the bottom". Brit: "well at least his speeches have gotten better" .Ragan explains that when brendon is in power his speeches are decent but once he's at the bottom his speeches turn into everyone being a pussy, you all better watch out, floaters don't deserve to be here etc etc.. Brit and Ragan leave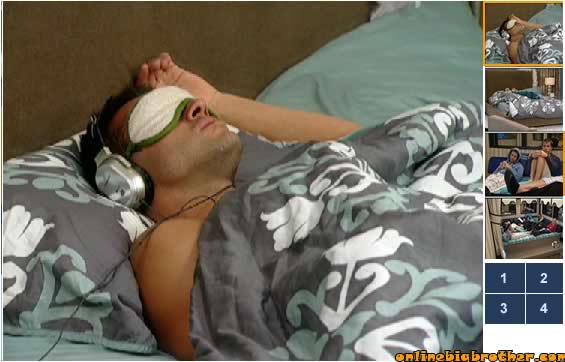 12:20pm Brendon HOH talking to himself Brendon feels like his plan has worked Matt is going home this week and Ragan is going to be depressed and useless in the next HOH comp. Brendon nows he's looking like a hypocrite because he's going back on his word but he needs to get Matt out it's what is best for him and Rachel.
12:39pm cabana room Brigade Matt starts off by telling them there is a power in the house and therefore they have to keep the brigade a secret to make sure it gets used. Matt wants to know how deep Hayden and Enzo are. They say they are deep but they don't give a BLANK about Brendon. Enzo brings up that Brendon had an alliance name for the three of them it's called the Athletics Matt: "are you BLANK serious?" everyone laughing at Brendon's wicked alliance name. Matt asks them if they are going to be buddy buddy with Brendon for the rest of the week. Hayden say of course he will be you never know what happens next, Brendon could win POV during double eviction and then win HOH. Hayden: "You don't want to burn bridges unless you have to". Matt asking a couple time about Brendon and the types of deals hayden and Enzo have with him. Both tell him they nothing long term. Matt asks if they'll put Brendon up, and both Hayden and enzo say they will. Matt asks them what the future has in store for them. Enzo and hayden say they need to get Brendon out first then brit/ragan then Kahty. they all agree that if anyone takes kahty to the final 2 then that person will not get anyones vote they'll give it to kathy. Matt gets called intot he DR.