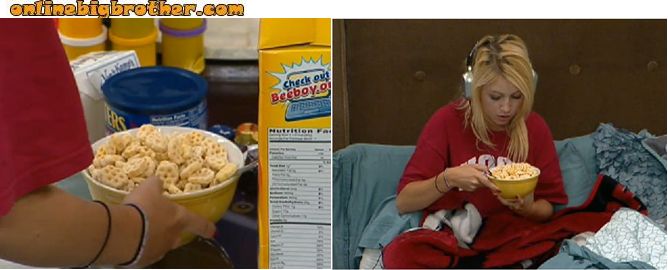 10:40am Britney heads down to the kitchen to grab a bowl for her cereal, then heads back up to the HOH room and pours herself a big bowl of Honey Comb cereal. Britney then sits on the bed to eat while listening to her cd. Meanwhile Brendon is working out on the elliptical in the backyard. All the other house guests are still asleep.

Watch everything LIVE as it happens!!
Superpass – 3 Day FREE Trial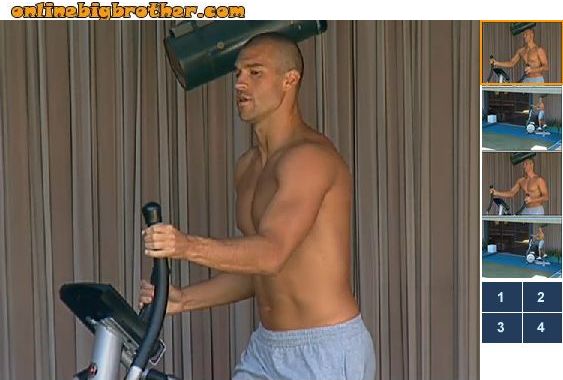 11:35am All four cameras remain on Brendon working out in the backyard…

FREE – Live Feeds! Superpass 3 Day FREE Trial!!


11:40am Britney comes out into the backyard and sits on the couch. She drinks some coffee and says to herself and the cameras that she just regurgitated some coffee. Then she says good morning live feeders. Brendon comes over and Britney tells Brendon about the events of last night …the weight bench space ship, her tiara out of tinfoil, Hayden breaking the vase and getting in trouble. Brendon says man it sounds like I missed out. Britney says that he didn't really miss much except for the space ship …she says that was pretty funny. Brendon says that he is still trying to catch up on sleep. Then he heads inside to make some slop.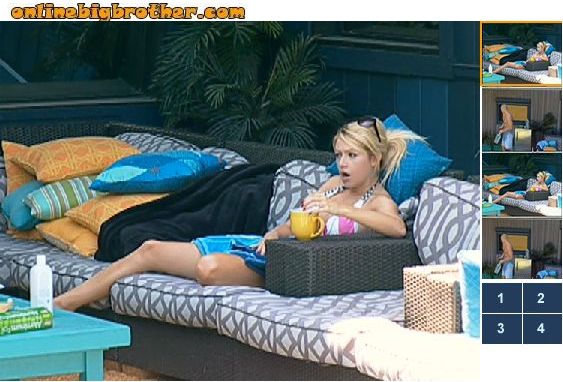 12am Brendon is in the kitchen making slop … and Matt starts wandering around the house and then heads out into the backyard and see Britney talking to herself. He jokes around with Britney. Britney says that she is talking to her mother. They talk about her younger brother Dillon and how he's acting up. Matt tells Britney that he will be a fine young man, just like Matt, and not to worry. Matt says Britney's brother Dylan will turn out to be a great son like him some day. Britney says we saw how much your folks loved you.. "your lawn sucks, and we're not sure Stacy is alive.." They both laugh. After he heads in Britney says to herself ..too bad I had to put Matty … (and the cameras switch to the kitchen again….) Matt goes back to his bed and lays there staring at the wall… All four camera are on Matt in the bedroom… complete silence..