SEE what they CAN'T show you on TV! 3 Days FREE No Commitments
7:59pm Cabana Matt and Ragan Matt is going to make a note for Brendon up in the HOH with Pretzels. It'll read I 'heart" Brendon. (Rachel made a note to Brendon that said I "heart" Matt implying that she wants matt gone from the house" Ragan asks if he's talked to Enzo much, Matt says not really very little game. Enzo came up to matt today and they breifly talked about the vote and Enzo wanted to know if Matt would be upset if he voted for Lane to stay. Matt says he explained to enzo if he has a good reason to get rid of him then by all means but if its some bullshit reason then yeah the gremlin will get pissed off. Matt: "That is the extent of my game talking with Enzo". Matt brings up how Hayden, enzo and lane came up to him last night and they were very awkward, Matt: "they wanted to know if we were still going to hang out. Ragan asks if they are leaning to lane.. Matt thinks enzo might be but hayden has more influence then enzo. Matt thinks that maybe hayden is voting for matt and enzo is voting for lane and that is why Enzo hasn't talked to me much. Matt saying he could hear Brendon and Kathy talking about POV and the saboteur while matt, lane. hayden and enzo were in teh cabana. matt: "enzo would say something every 10 seconds I swear he has AdhD I couldn't hear much because of him.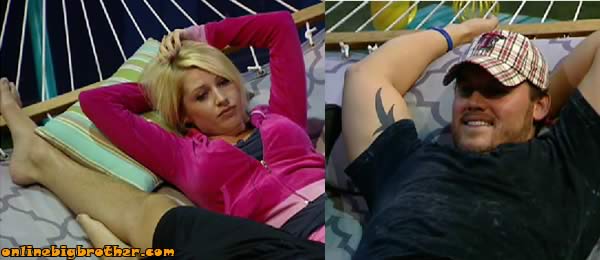 8:00pm Hammock Brit and Lane
Lane are you going to vote against me
brit you going to take me to the final 3
Lane are you going to vote against me
brit you going to take me to the final 3
(they go back and forth)
lane finally says he's going to give a mean speech about her on thursday, Brit: "Lane you know I would never vote against you" Lane: "I dunno your tricky"
Lane: "we all know your running around with your ASS sets out your flaunting around with your beef out"
Brit says she will vote for him if he gets to the end unless he had something to do with her eviction, but if he's up against Brendon or Kathy then he'll have her vote regardless. . Brit asks him if who is going after BRendon and Kahty are taken out. Lane says sooner or later you'll be in a position that it's ragan and Brit up. Brit: "I have the votes thought don't I?" Lane tells her that he's been trying to keep her safe by telling people he can manipulate her and not Ragan. This way the house thinks Ragan is less useful then Brit since they can persuade Brit to do things. Lane tells her he doesn't know if she has the votes to get that info he has to go deep.. sometimes he likes to go slow but other times he goes deep.. "you'll feel it in your stomach" Brit: "Ok alright thats enough lets just focus on getting ND out". Lane tells her not to talk to Hayden or Enzo what he's telling her.
lane runs down some scenarios with her, Lane: "lets say it's double eviction and Brendon goes home first then after that you win HOH and bout up Kathy and who…. lets say Enzo.. or Hayden and probably Kathy goes home".."That leaves in the house, me you, enzo, ragan and hayden.. you can't play HOH so lets say Enzo or Hayden win they will put up you and Ragan". They start talkign about how they are perceived by the fans.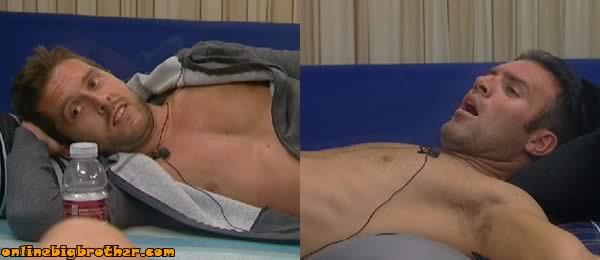 8:30pm cabana Room Enzo and Matt Enzo wants to know if matt thinks they should get rid of Brendon next week. Matt thinks that Brendon and Brit want each other out it might be easier to let Brit take him down, MAtt suggests they throw the next HOH. Matt tells him that if Brendon makes it to final 2 matt will probably vote him the money because if any player can survive in the house this long and have everyone hate them they played a amazing game and deserve to win. Enzo is worried about lettign Brit have the HOH because he thinks she'll put him up with ND (needledick aka Brendon). matt doesn't think it'll matter because Enzo has the votes. Matt says if he's around next week he'll volunteer to go up. Enzo says he's real sorry matty is up he wanted Brit to go home this week.
8:50pm Hammock Lane and Enzo Enzo is tell lane about his conversation with Matt. Enzo says Matt is going to vote for Brendon if he makes final 2, "over a brigade yo". Lane thinks that Matt has been talking to the Ragan about the Brigade.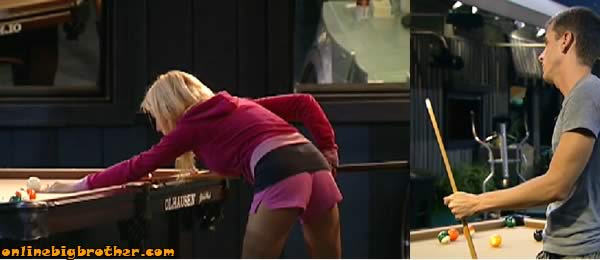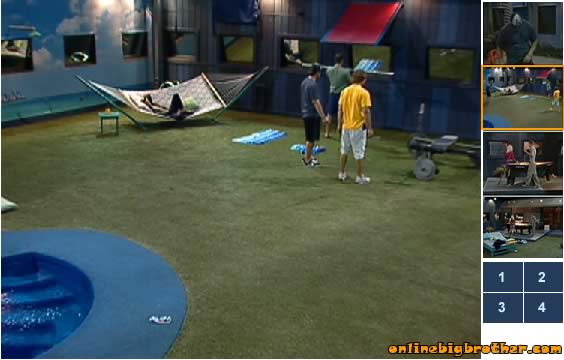 9:14pm The Alliance formally known as the brigade works out Lane and Enzo acting all "pumped". enzo: "I'm pumped i'm ready to do an HOH",lane jokes that they will fight ND tonight Lane: "We're going to fight ND tonight"
ND = NeedleDICK
Needledick = Brendon


10:04pm Ragan crying because he's crying to much this season, the rest outside playing pool and bullshitting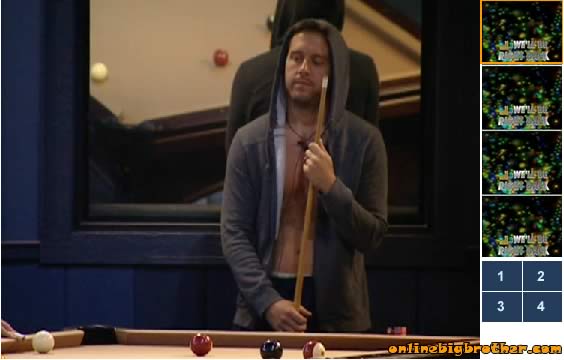 10:21pm Pool tournament