SEE what they CAN'T show you on TV! 3 Days FREE No Commitments
8:05pm Hammock, Matt, Brit and Ragan
Matt asks Brit whose she thinking of putting up. Brit isn't sure she wants to call a house meeting and ask people who wants to go up as the pawn. Matt asks to please not put him up, Matt thinks that Enzo should go up as the pawn becuase he's never been on the block before. Brit agrees she was thinking the same thing. Lane joins them and tells them they missed Brendon saying some "Good Stuff" . Brit: You just trapped Hayden.
Lane tells them that when him and enzo were out side playing pool Brendon came out after his DR session and started talking to Lane about how his Goodbye speech was really sweet to lane and that he said he didn't want Lane to go home this week. Lane adds that Brendon was reminding them that you shouldn't be rude to people in the house because you'll need their vote if you get to final 2. Brendon told him that he wasn't going to be rude to anyone because he doesn't want to win Jury votes. Matt and Brit interrupt says theres no BLANK way she's making it to final 2 so why does he care. Ragan: "So starting now Brendon is not going to be a jerk?" Lane: "he was telling us you should play the game with integrity like he did" They all start to laugh. Ragan: "Oh my god". They bring up Rachel going through Matt's bags and how Brendon was saying Rachel would never do that. They are all convinced she did because she was reading through the rule book to try and find out it she was allowed to go through other players stuff.
8:28pm Brendon and Hayden pool table Brendon saying that Matt is taking it personally, when Brendon was HOH he put matt up because matt took out Rachel. Brendon: "You call me a dummy come on matt you put websites together" Brendon: "I hope people are now intelligent enough to know that if you vote someone out you do it with grace because those people are jury votes… matts BLANK cocky he got BLANK lucky BLANK lucky little BLANK " Hayden tells him that if Matt makes it to the final 2 he'll probably win because he's made a lot of moves in the house. Brendon: "Kathy doesn't like Matt because he's rude to other players", Hayden doesn't think that kathy knew they were always making fun of her. Brendon thinks she did.
8:25pm Jumanji Room MAtt, Ragan and Enzo
Matt says look what we have the final 6 just like we planned. Ragan says this years final 6 will be the coolest and nicest ever. MAtt brings up that he knew all along that there wold be no double eviction because he was going to play the DPOV.
All three are talking about how awesome it is to be still int he house. Ragan says he feels like he just had sex, now all they need to do is get the ogre out. They talk about how close Enzo was, Enzo says he really wanted to see picture and get a letter from his family. Enzo mentions that Brendon was Cheering for enzo to win. Enzo says he's ready to get POV and take this Donkey out (Brendon) ragan says that now that Kathy is gone they've lost their pawn and Brendon's only true ally. They start Drilling enzo for information about Kathy. He tells them Kathy talked about getting Brit out a lot, she also wanted to keep Lane because she thought Matt, Brit and ragan were in an alliance. Ragan says he has little respect for Kathy's game play because when she was up against Andrew she would tell people she needed to stay because of the money but when Matt was on the block she didn't care about the fact matt needed the money. Ragan: " I can't believe Matt is in the bed right next to me right now, I just can't believe it". Matt smiles says they all thought they were going to get him out but he pulled a Gremlin move on the house. Ragan asks how many weeks was it go for. matt says 2 weeks and today was the last day. MAtt explains to them how happy he was when he first got the DPOV, he was dancing around the HOH by himself because he knew he was guaranteed to survive for 2 more weeks.
8:58pm Pool going on Have nots have just a few minutes until they can eat real food again
9:15pm Talking about what downtown LA is like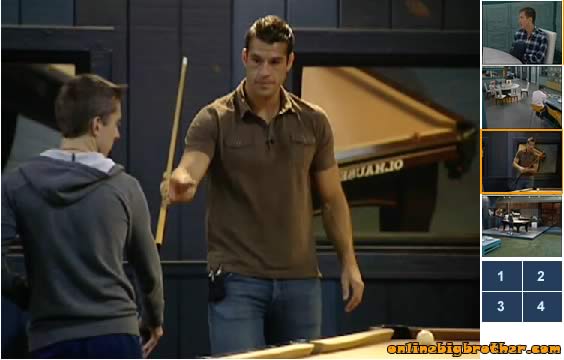 9:18pm A Gremlin and a Ogre play Pool.. The Ogre wins the pool game