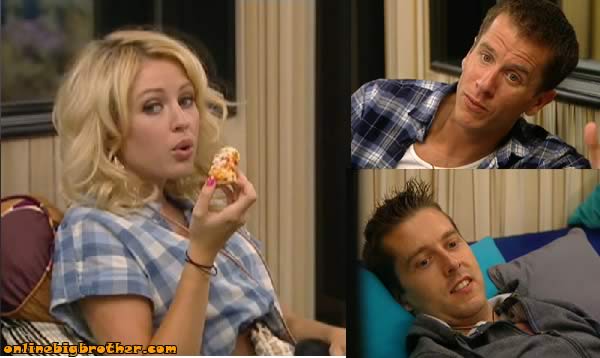 7:15pm Cabana Room Matt and Ragan
ragan: "I really think you deserve to be here and I think anyone that takes you out becuase your a competitor doesn't". Ragan brings that taking out kathy speaks volume of the type of player and person he is. Ragan: "I don't know many other people in the house would of done the same things"
Ragan: "the fact that he went back on his word and lied to you and now look at what happened"
Matt: "Thats what you get when you break promises, break deals, shake my hand Karma is a BLANK"
Ragan says that hayden warned him that brendon is going to start throwing people under the bus like made, Ragan has noticed that Enzo and Hayden are looking a bit down.
Matt is very relieved, "its a good night". Ragan says how excited he is, now he doesn't have to start at square one his best friend is still in the game. Ragan says he tried very hard to contain his excitement after Matt pulled out the Diamond POV but it was hard he was shaking. Ragan was so happy that Big Brother gave Matt the DPOV. Matt says he couldn't believe it when it happened, he was expecting something bad. Matt says all week he was trying hard to tell ragan to relax and be positive, he adds that it's kind of funny how Ragan stressed way out even though he tried calm him down. Matt tells him that if he's on the block again and it's looking as grim as it did last night he would of been trying way harder and being much more emotional. Matt: "things didn't work out so bad for us guys we live to fight another day.. assuming that brit doesn't have a schemey plan we have a 1 in 6 shot" He calls brit into the Cabana room. Matt: "would you say we have zero percent chance of us going up?" Brit says there is no way they are going up. The three of them are talking about how awesome this week is going to be they are going to bring back just the tip. Matt: "congratz people we have a 1 in 6 chance to win 1/2 a million". Ragan thinks the ogre has given up, otherwise he would be talking BLANK to everyone. Matt tells them to just get ready Brendon's wrath is coming.



They start a parade "HE GONE… HE GONE"
7:38pm Enzo and Lane, Enzo saying he's ready to go off on brendon but we'll wait till after the POV. Lane says he's not putting up with any of brendon's BLANK once Brendon starts tlaking about him the gloves are off. Enzo says the fire is now in his belly after he got so close to winning that HOH he's stoked. Enzo: "Once Kathy was taken out I was like I gotta fight for this YO". Lane: "It's fighting time we gotta fight from here on in"
7:40pm They're talking about how brendon is probably going to give up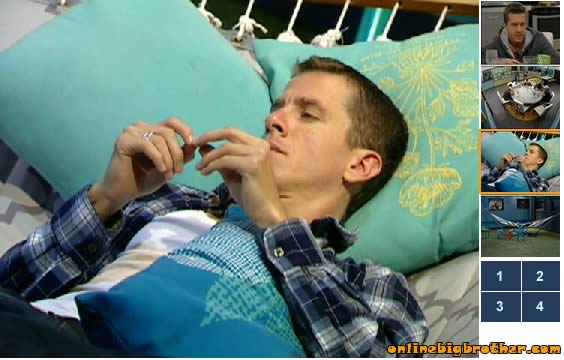 7:51pm Hammock Ragan
"My first best friend is safe for another day and my second best friend wins HOH…"
"I really feel like all that BLANK with hayden and enzo was really BLANK shady..so now I need to reboot and think strategy"
"Becuase that decision with hayden was very telling to me "
"So i think a final 4 is best with brit, lane and matt.. makes a lot more sense them the other option (Enzo, Hayden, matt and Ragan)"
"Which means if I get HOH next week it would have to be enzo and Hayden but i don't need to approach that conversation until it happns.. Please please let me win POV I would love to be the person that doesn't use it"
8:00pm Pool Table Enzo and Matt
Enzo is saying this is going to be a week of Drama, Matt tells him there will be only drama with Hayden, enzo and Brendon. Matt: "The rest of us will have it easy..you guys are going to have to find a way to crawl out of his asshole that you guys been stuck in these last couple days… matt you guys are going to be hounded all week". enzo says he told brit to come to him right away the second Brendon talks any BLANK about him then enzos going to call a house meeting and go off on Brendon. Matt: "you guys are going to kick me out of the BG you assholes" Enzo:"we were going to split but you said not to incase the sabetour…." Matt says it's ok he understands.