TRY the Live Feeds for FREE!! Superpass – 3 Day FREE Trial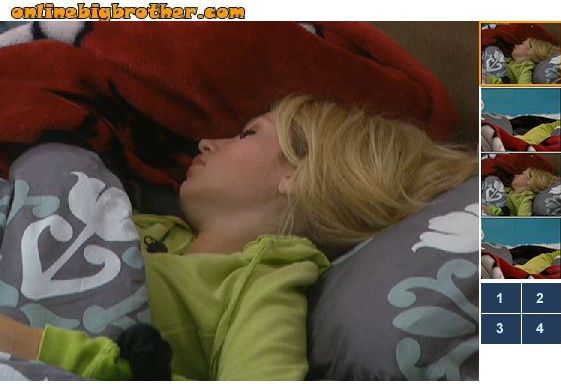 11:20am Brendon and Britney talk about how they never thought they would get on the show. Britney says that she almost didn't even go to the casting because it was such a far drive and she figured there wouldn't be much of a chance on getting one the show and that she didn't want to be away from Nick. Britney says that she wouldn't have ever come on the show if Nick wasn't okay with it. Brendon says that she wouldn't want to resent anyone though if she didn't go and try out. Britney says that she would always wonder if she didn't at least try. Brenden says that he still can't believe that they brought Rachel back and kicked him out and that Matt got the diamond power of veto when he did it. Britney says MmmmHHmmm. Britney and Brendon lay down to take a nap.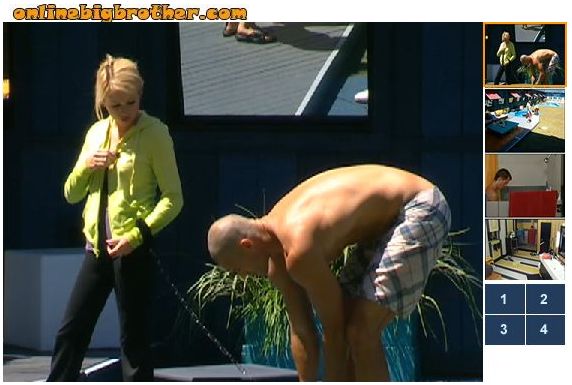 11:45am Big Brother wakes up Britney and Brendon with the bell for him to go take another chum bath. Brendon jumps in the shower and then the hot tub after. Matt comes out into the backyard and asks him how it was. Brendon says that it was chum-rific. Britney and Brendon then go and lay down on the backyard couch to take a nap before Brendon's next dip in the chum bath.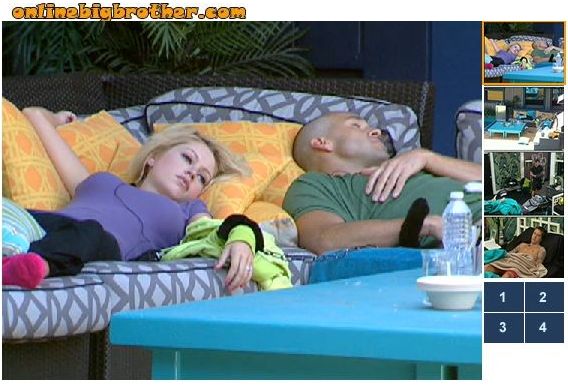 12pm Matt is laying in his bed in silence…. Ragan comes into the bedroom and whispers something to Matt. Big Brother yells at Matt to put on his microphone. Matt keeps asking him questions about his shower and about the music this morning… Ragan tells him that he can't talk or he will get yelled at again. Matt asks him if his mic is in the bathroom. Ragan says MmmmHMMm.. Ragan then leaves to go get it.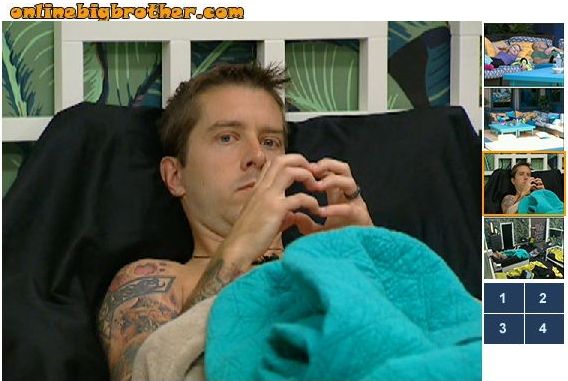 Ragan gets dressed and goes out to the backyard and asks Britney and Brendon if they got any sleep. Britney says about 30 minutes. Ragan tells them where everyone is and what they are doing. He says that Lane is being silly, and Hayden and Enzo are still sleeping. Britney asks …they're still sleeping. They start talking about Brendons chum baths. Ragan tells them that Brendon only has 16 more to go. Britney talks about how each time they would just fall asleep and the bell would ring. Britney says that when she read the competition thing it said there would be punishments and she was expecting really bad punishments. But after they got the punishments she thought that a chum bath isn't too bad …but it is!! Ragan says that its a lot more than 24hours that they are up …because it started up at 9pm at night so they had already been up all day. Ragan and Matt head inside. Brendon says that he wonders how Matt and Ragan would have reacted if he had picked them to be handcuffed. Brendon tells Britney that she is handling it a lot better than a lot of other people would. Britney says thanks. Brendon says that he picked her for the 24 hour handcuffing because he wanted her bed. Brendon asks her if they would have a shot to the end if it was Ragan, Britney and Brendon. Britney says it depends on how mad Ragan is going to get. Britney says that she wants to be able to talk to Ragan by himself, but Brendon says you have to watch what you say to Ragan because it goes back to Matt. Britney says that she doesn't want to make an enemy out of a friend. The whole time Brendon is picking his nose….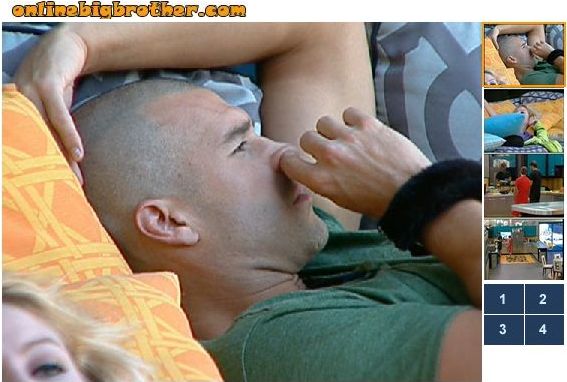 12:30pm – 12:45pm Brendon asks Britney who she thinks she could win against in the final two… Britney says thats the question because she feels that she would lose to everyone she goes up against. Brendon says that he feels the same way. Brendon says that Rachel is going to vote for who she feels played the game better. Brendon tells her that he thinks Rachel would vote for Britney over a Matt for sure and probably even over Enzo and Hayden. Brendon mentions that it is Britney's birthday today, its really tomorrow but they say that Big Brother celebrates it on the sunday. Matt comes out into the backyard and Britney tells him that they found a monster dead roach in the pool last night. Matt goes to look for it by the hot tub and its not their. They wonder if it was still alive or if Big Brother got it. Britney asks Matt what he talked about in the diary room. Matt says that he talked about the POV. Britney asks still?!! Big Brother cuts the feeds…. When they come back Enzo is out in the backyard talking to them about last night. They can hear music coming from outside the big brother house… Enzo says BLANK I am going back to sleep…