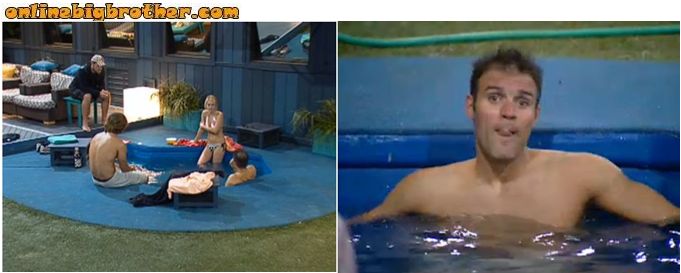 Watch the last 2 weeks of BB12 for ONLY $9.99!!
FREE 3 Days TRIAL
11:30pm Britney, Enzo, Hayden and Lane are all sitting around the hot tub talking and joking around. They are talking about flirting. Enzo gets all worked up when they start asking him about people flirting with his wife or her flirting. Enzo tells them don't put stuff in my head like the diary room. Enzo talks about getting upset about his wife's facebook friends. Britney is laughing. Ragan comes out of the diary room and joins the rest by the hot tub. Enzo asks Britney if she is still friends with her ex-boyfriends. Britney says that she is. Enzo says that he's got a headache now, Yo! I love you wifey. The conversation changes to talking about the girl Hayden was dating before he left for Big Brother. Enzo and Lane ask him that if he got back home and found out she had slept with 6 other guys would he still be with her? Hayden says that she wouldn't sleep with 6 guys in 3 months. They ask him what if she slept with one guy? Hayden says yeah he would still date her, if she got tested. Lane says that he wouldn't have told a girl he was dating to do whatever she wants while he's away in the Big Brother house. The guys say that girls are evil. Britney says that's not true! Britney says that she is not saying girls can't be douchey but guys can be douchey too! Britney says there are just as many crazy girls as there are crazy guys. Britney says that there are some girls out there that probably think Hayden is a douche bag and that there is probably some guy out there that thinks she is crazy! Britney says that you have to wait to find the right combination with someone, until then you'll get crazy. Hayden says that's my point girls are insane! Ragan says that Rachel is crazy. Britney says and Brendon is a douche. Enzo leaves to take a shower. Lane get up to go inside as well to make something to eat. Lane, Britney and Enzo head up to the HOH room. Enzo asked to take a shower up there. Britney is listening to the CD.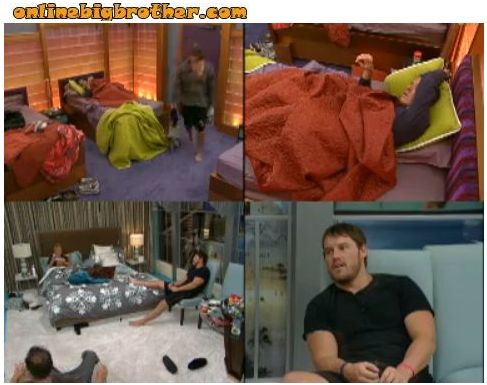 12:30am Lane and Britney are talking. Britney tells Lane about what she spoke to Ragan about. Lane says that he wants to know what points Ragan was making for keeping him and evicting Hayden. Brithey says that the points he was making were that Hayden and Enzo are really close and if one of them won HOH it will be her and Lane up on the block. Britney says that the points that Ragan made make sense for her game but it may not make sense for his (Lane's) game, that's for him to decide. Enzo gets out of the shower.
12:40am In the Taj bedroom Hayden and Ragan are talking. Hayden tells Ragan that it sucks to be on the block against him. Hayden says that he has mad respect for him and wants to keep in touch with him after the game. Ragan says vice versa, I like you a lot Hayden. Hayden tells him that he doesn't want him to feel awkward. Ragan tells Hayden that Hayden has never been on the block when he was the target, he says it is a categorically different experience. Hayden says he just wanted to get that out. Ragan tells Hayden he felt like he went into the POV as a 4 on 1, and it just feels really different to be on the block and actually be the target. Hayden says that even if he was the target this week he wouldn't go off and trash Ragan. Ragan says he sees the writing on the wall and if it seems like he is distant, then it is what it is. Hayden tells Ragan that he is sorry and that Ragan should keep his head up. Ragan says thank you. Hayden heads up to the HOH and then heads back down stairs for a drink.
FREE Live Feeds!!
Superpass – 3 Day Trial!
Up in the HOH room Lane, Enzo and Britney are talking about Lane's beard. Lane has his box of just for men facial hair dye. Britney asks him if he is going to put steps into his beard, he says maybe tomorrow. Lane says that he invented the steps, I was the first one to do steps. Britney tells them that she had a dream about Enzo having a full blown gray beard by the end of the game… she says that it was like growing in different directions and it looked like a bush.. Britney says that in her dream Enzo told her YO! ..this game is stressing me out!! Lane tells them the different ways he has worn his beard. Lane reads the warnings on the box to them. Britney explains how to do an allergy test spot. Lane says people just don't realize about the warnings because they are printed so small. Lane says that he is thinking about dyeing just the middle of his chin. Britney tells him that it will look like a butt hole on his face! Lane wonders if America wants him to change his beard up, he worries that he isn't allowed to dye his beard because it might screw up production, he says he cant shave his face without asking Big Brother. Enoz and Britney are trying to get Lane to either dye or change up his beard. Enzo tells him to not worry about the warnings it is just precautionary BLANK, like telling a pregnant woman not to smoke. Enzo says that he wants Lane to grow out his beard. Lane says it gets long like pubes. Enzo says that he wants it like that. Lane laughs. Britney says that she doesn't think he should grow out the beard. Lane has on a blue do rag and Britney says that his head looks like a penis with a condom on it.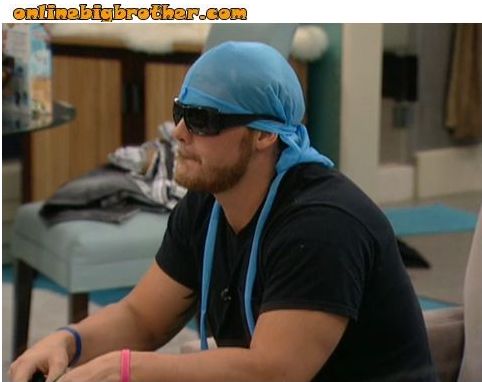 1:10am Up in the HOH room Enzo tries on the blue do rag. Lane tells Enzo that he is wearing it like he a nun. Lane tells Enzo the proper do rag technique. Lane and Britney laugh at Enzo in the do rag. Enzo says look at me YO!… I look like I could killed someone, I'm 8-10, not 25 to life but at least 8 to 10 maybe 10 to life. They start talking about Mike Tyson. Enzo says he feels bad for him. They talk about him losing his daughter in a freak accident. Enzo says you've got to be kidding me, I'd kill myself. They talk about Mike Tyson and his downfall. Britney asks why Mike Tyson talks like that? They tell her that he has always talked like that. Enzo does his Mike Tyson impression. Britney says that she doesn't ever remember a legit Mike Tyson she has always known him as a joke. Lane says he remembers the Tyson Holyfield fight. Enzo says Tyson was a beast back in the day. Britney asks why Tyson bit Holyfield's ear? They tell her that he was frustrated. Enzo says you've got to be an animal to bite someone's ear off. Britney says during the POV she thought Enzo was going to bite Ragan's ear off. They then start talking about the POV competition. Enzo says that he almost died over a CD with Brendon and Andrew's name on it. They laugh about Ragan and Enzo during the POV competition. Enzo asks Britney if she was scared that they were going to crash into her? Lane says Enzo came off the ramp in a Superman dive. Britney does her impression of Enzo during the competition.. how he threw Ragan out of the way and sailed in the air down the ramp. They laugh.
Enzo is now listening to the Eminem CD. Britney tells Lane and Hayden about talking to Ragan in the cabana room. Britney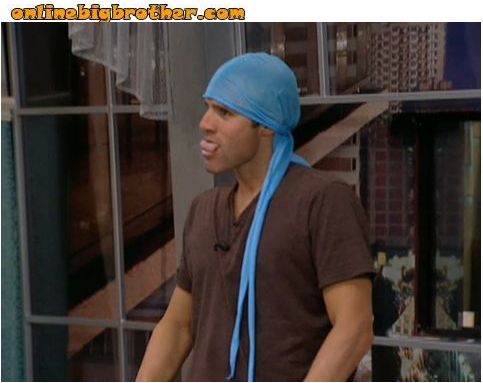 says that she told Ragan that Hayden and Enzo were never after Ragan until Matt told them that Ragan was coming after them. Britney says that she thought Matt was lying about that and Ragan was 100% after Brendon, but Ragan was after Hayden and Enzo. Britney says that Ragan said that was going to be his power move. Britney says that she can't believe Matt was telling the truth. Britney tells Hayden and Lane not to tell Ragan that she told them that. They start talking about the saboteur …who every one thought it was. Then they talk about the life long pair in the house. Lane jokes with Britney about the two of them being the pair! Britney says that he is stupid we're not long lost relatives either. Britney says maybe him Lane and Enzo are long lost brothers. Hayden says he sees the resemblance. Lane tells them that he had an adopted brother when he was younger, but his dad caught him doing drugs in his bedroom and kicked him out. Britney says that for a minute she thought Hayden and Monet were the pair. Britney says that she never told that to Monet though. Lane tells a story about his mom. Lane says that he had asked his Mom if she had ever smoked weed and she told him she slept around but she never smoked pot. Lane says why are you telling me this, we're talking about smoking. Britney says that her mom has only slept with people she married. Lane takes offense and thinks that Britney is comparing their moms to each other. Britney says that if I talk about my college degree is that me calling you stupid? Britney says that she wasn't comparing their mom's she was just making a comment about her mom. Britney and Hayden start talking about schooling. Hayden asks her how she got two bachelors in 3 1/2 years? Hayden says that he has been in school five years and he still doesn't have even one degree. Lane says that he has friends that have degrees and they have no work. Britney says that is why people are going back to school and getting Masters. Hayden agrees and says that having a college degree will be like having a high school degree in a few years, thats why he has taken his time at school. Lane says that he didn't go to school because he didn't have the desire to do a job that required a college degree. Lane says that he knew he wasn't going to be a doctor or a lawyer.
2:40am Lane jokes around with Britney and talks about them being the lifelong pair. Britney says we're not the pair; you're making us look bad! Lane says that its been this long it doesn't matter anymore they can come out as the pair. Britney says we're not the pair Hayden! Hayden gets up and says that he's going to bed. Britney tells Lane that she isn't trying to be cool when she brings up her family, she's just trying to be sociable and contribute to conversation. Lane says that his mom is not a BLANK. Britney says that nobody said she was.. Lane tells her he knows she's not trying to be cool. They start talking about Lane's HOH photos.
$5 off Discount – LIMITED Time OFFER! ONLY $9.99! PLUS try it FREE for 3 Days!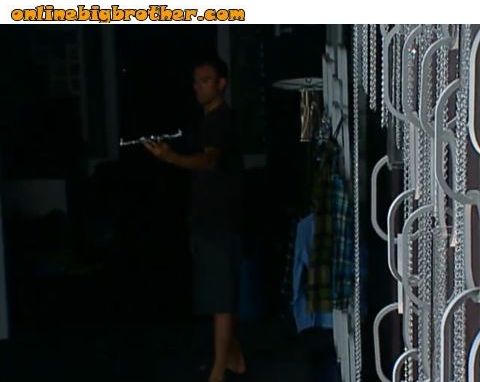 3am Britney and Lane talk about how close they are to the Finale. Britney says that after Thursday it will be less than two weeks! Britney and Lane both agree that next week could be really sad; they don't know what is going to happen. Enzo says that he is hoping for at least one more luxury competition. Enzo says that they are going to be in week nine, ….hook us up with something! Britney says that tomorrow, the 31st is officially Day 60! Enzo says they should have a Day 60 luxury competition, shut it down out there and put two cars out there. Enzo says that he would love to win a car, put a target on my back. Lane jokes and says that he wants to compete for a target. Enzo leaves the HOH room and goes to the jumanji room where Hayden is still awake. Enzo flies his tinfoil space ship around the bedroom. Hayden asks Enzo what are they going to talk about tonight. Enzo tells him to let Britney do the talking, he says she puts him to sleep. Hayden agrees and says when she started talking about hotel stuff last night it put him to sleep. Enzo says that we've got to get BT out man! Enzo and Hayden talk about ex-girlfriends. Enzo says that he probably slept with around 20 girls. Enzo says that he's been with the same girl 7 years. He says he doesn't have ex-girlfriends really; he just has girls he's had sex with. The conversation changes to talking about it being day 60 in the house. Enzo says they are in an elite group, only so many people have made it this far in the game over all of the seasons. Hayden tells Enzo that his friends are going to want to meet him. Enzo says that's why I'm coming to Arizona. Hayden says that Enzo could get paid to make appearances. Hayden says that he, Britney and Enzo could do it as a group, and that they could charge more.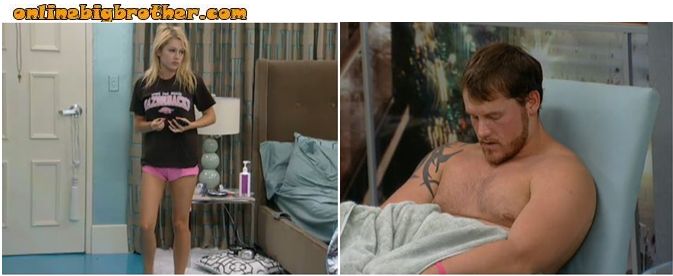 3:20am – 3:45am Up in the HOH room Lane asks her what side of the bed she wants and she says the jumanji side! Britney says she's going to go to bed. Lane asks her to stay in the HOH. Britney says no, she's going to jumanji. Britney says goodnight! Britney heads down to the jumanji room. Enzo and Britney talk about all the things they can't wait to do when they get out. Enzo asks Britney if she talked about his airplane in the diary room. Britney says I am not telling you ..you will just have to watch. Britney then says that she said it looked like something a kindergartener made and put in his backpack and he got beat up on the way home from school. Britney is laughing. Enzo says oh BLANK. Britney says it got beat up in his backpack. They start talking about last season. Then the conversation changes to talking about the saboteur. Britney says that the second saboteur was stupid. Britney says that they got out the first one and Big Brother had to scramble for another one. Britney says that she thinks the second one was Matty. Enzo says that he wishes they would have gotten a message confirming Matty as the saboteur. Britney says that she wonders if they'll have, have nots again. Enzo says that he doesn't think there will be anymore have-nots because it would be a disadvantage going into the final four. Enzo says that he thinks a luxury competition is coming. Enzo says that he also thinks there is going to be one more Pandora's Box. They talk about how the Diamond POV was the best Pandora's box. Britney says that she got the worst one by far. Enzo agrees. Britney complains about being stuck in there for an hour with Jessie. They talk about past house guests. They say that Janelle is a legend and that they think she will be at the wrap party. Enzo asks if Janelle is hot. Britney says that she is! Britney says that she thinks that Janelle hates Rachel and that Janelle probably throws up in her mouth a little bit every time Rachel talks about her. Enzo and Britney decide to go to sleep….
7:40am All the house guests are still sleeping…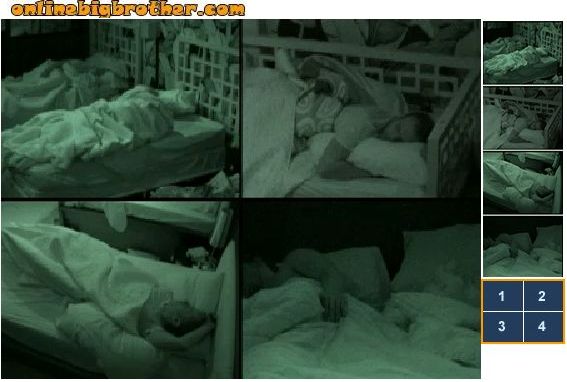 SEE what they CAN'T show you on TV! 3 Day FREE Trial