10:00pm Lane/Hayden Kitchen Lane is eating with a pair of grilling tongs. They are looking at the memory wall and doing some studying. Lane mentions how Jeff did so bad in the face challenge. Lane whispers that Brit has no idea about the Brigade. hayden brings up how big the house feels now that theres just 5 of them. Brit comes in and starts making food.. Lane says that the DR told him to stop talking about Brendon. Lane: "Dang we rat on Rachel so bad" hayden: "She's going to hate us". They all agree it doesn't matter if Rachel hates them they never want to see her again. lane: "If I go to vegas… if even i'm stabbed, shot 3 times injected with heroin and I see her run by I won't talk to her… I call" They start talking about Rachel and Brendon and how weird it was that Brendon loved rachel after only a month. Hayden says he didn't understand why they would brag about a 20K bottle of tequila, HAyden: "Who wants that just give me the money instead".
10:14pm HotTub Ragan, Lane and BRit Lane is jokeing with brit that he can see her "rats Hair".. Brit says to not talk about that there on showtime. Brit tells them that when she was in spain she had a wax done she didn't want. She knew how to speak Spanish well enough but the she agreed to the wax and what happened was very humiliating.. she'll tell them in September. Ragan asks LAne if they can have a uncomfortable conversation later tonight.. Lane says sure. Ragan starts telling them that his Father was a big time wine collector. When Ragan was in highschool him and his friend were drinking all his fathers win for a couple days and it was very expensive win. Lane asks if he was caught. Ragan says his dad never noticed… Talk is dominated by what alcohol they like to drink. Enzo joins them yo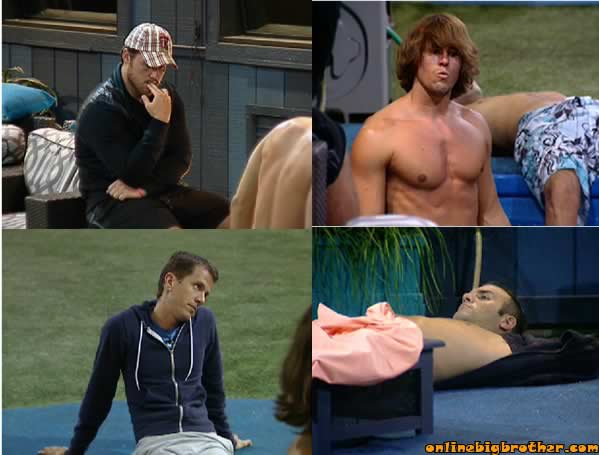 10:45pm Small talk


11:25pm Drunk Stories





Big BRother 12 Poll Whose the hottest BB chick
Share it YO!!
Tweet