SEE what they CAN'T show you on TV! 3 Days FREE No Commitments
10:14 enzo and hayden Enzo is worried who MAtt will put up if he wins HOH next week, he doesn't think it will be ragan. Hayden agrees. Enzo: "if one of us wins HOH we can put up Matt and Ragan if POV is is used biam put Brit up there.. tell her she's a pawn". Hayden: "right now best case scenario is…. " ragan wakes up in the hammock and walks over. Hayden asks him to explain the HOH comp "how bad do you want POV". Ragan explains it all all. They ask him how far would he go in the competition. ragan says that last week he was praying that it was going to be "how bad do you want POV" because he would win it. Ragan says he treats this week as if his life in the BB house depended on it… Enzo brings up that Brendon was complaining that Matt got the DPOV. Ragan says Brendon is too dumb to see that Matt got the power because America likes him and they hate Brendon.
enzo leaves
Lane: "I feel as safe as a girl whose having unprotected sex with hugh hefner ….cause he's shooting dust"
Matt asks Hayden who he thought Brendon and Rachel will vote for in the final 2 Hayden or Enzo. Lane and Hayden both say that Enzo has Brendon and Rachels vote locked in. Matt: "wow thats 2 votes". lane thinks that Enzo will have Kathy's vote, Hayden isn't sure. Hayden: "I think if Enzo goes to final 2 he might beat anybody" Matt agrees
10:19pm HOH Matt and Brit He asks her how the bath was. Brit says it was fine, she's been going over the timeline. They both start studying..
10:40pm Have nots Brendon and Enzo Brendon complaining about being on the block, He's really pissed at Ragan and MAtt for being mean to rachel. He feels that Brit stabbed him in the back and he's disgusted that matt is "fighting for his wife" yet is grabbing ragans ass. Brendon is upset about the big dummy comment, Brendon: "Lets break it down I'm smarter then you period" (enzo just giggling) Brendon tells him that if He goes home he carries with him 3 jury votes so voting him out is stupid. (Brendon's 3 jury vote logic is so incredibly BLANK i love it) Enzo tells him he's gotta win POV. Brendon knows he's winning POV and next week he knows he's winning HOH.
10:52pm Cabana Room Matt and Ragan talking about how tomorrow's POV has to be the "how bad do you want POV". Matt thinks its a perfect time for production to do it because there is so many people fighting for their lives. Matt tells him that him and Brit did the math and it's double eviction next week it has to be. Ragan tells him they have to win HOH next week or they are going up together. Matt agrees. They think there odds are good for the double eviction. Ragan: "As long as we survive this eviction theres 2 of us going into the HOH" Matt brings up that it's going to be a quiz.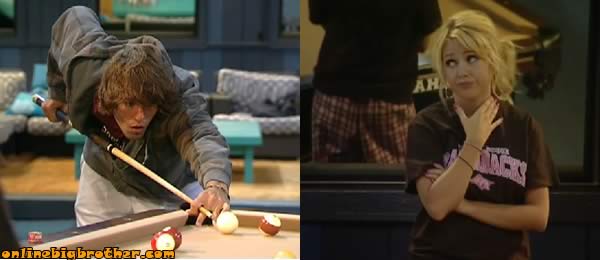 10:50pm Pool table Brit, HAyden Brit tells them about Double eviction next week. She goes over the math with them and they all agree. She tells them she's worried about the POV because if Brendon wins she's screwed. hayden tells her not to worried there is a lot of people fighting for it. Hayden mentions that Matt told him if he wasn't on the block he wasn't going to use the DPOV. Hayden thinks that Matt would of used it to save Ragan, Lane Agrees. Hayden says he would rather play in comps against BRendon then Matty. Hayden tells them not to mention that to Matt because he might get upset.