SEE what they CAN'T show you on TV! 3 Days FREE No Commitments
7:45pm hot tub Brendon, Enzo and Hayden Enzo says it sucks to be on the block even though he's well liked in the house it still really sucks. Brendon says he over Ragan and Matt he's too old to be acting the way they are, He doesn't like Ragan and he doesn't plan to talk to him again. Brendon starts in about how unfair the game is because Rachel won HOH 2 and he one once and they never got a power. Enzo bring up that there was that rope competition so it all kinda worked out. Brendon's weaving some awesome mad conspiracy's "they" knew that rachel was going so "they" planned the rope comp and "They" gave matt the power knowing that he would go after Brendon. Brendon says he's not going to lie to people because that not who he is, He knows people say it's big brother and that is what you're suppose to do but he's not going to be that way. Enzo says you shouldn't lie to people theres jury votes, enzo points out that brendons worth 3 jury votes. Brendon: "Exactly i'm worth 3 jury votes I have Kathy, my own and Rachels"… Feeds cut
7:45pm Talking about how expensive the new grill is, Matt and Brit think 500bucks.
8:12pm Backyard Ragan, MAtt, Lane, brit and Hayden Ragan is telling them that the comp tomorrow is probably "how bad do you want POV". Ragan explains how it works by giving examples. He says they ask you questions like will you shave your head, eat slop for X amount of days, put the enitre house on slop for X days, Get a tattoo, be in confinement for X number of days, give up the ability to win HOH.. They all start talking about the slop saying it would be the worst. Ragan tells them that you write down how many days you will be on slop then whoever puts the highest number wins but the person with the lower number has to be on slop for the number of days they wrote. Lane asks Brit if she'll get the tattoo, Brit say no way. Matt: "I'll get it i'll let brendon pick what it is to". Hayden thinks that Brendon might just give up, Brit: "I don't think he will he says he does but I think he'll go all out" Matt agrees says that Brendon will do whatever it takes. Ragan suggests that maybe it'l be a puzzle based one with questions or series of event. Matt says he was thinking along the same lines.
8:25pm Lane and Brit Hottub Lane: "I think Nicks going to get mad at me again.." Brit: "What did you do". Lane: "I didn't do it". BRit: "What did you do now" Lane: "Nothing" Brit: "Just quote it".. Lane: "ummm hmmmm uhhh what if there is a lot" Brit: "TELL ME" Lane: "OK… Let me see how I can explain" Lane asks Brit how long long has Brit and Nick been engaged, Brit says 3 months… Brit demands he tells her. Brit: 'Fine.. I said you've all been engaged for only three months then yeah I have a chance…. I'm telling ya brit it's getting bad in the DR" BRit: "You did not say that LANE" Feeds cut… Lane is saying that the DR is always asking him questions about Nick and if he likes Brit. Lane says he's looking like a baffon in the DR. feeds cut out .. Brit: "your in so much trouble.. " feeds cut
8:39pm Studying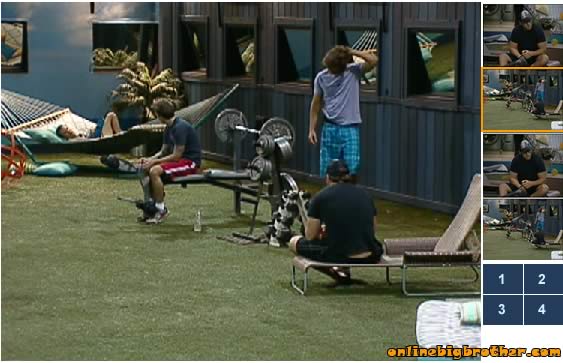 8:58pm Ragan on Hammock, MAtt on the bench, Hayden spotting and Lane on the lawn chair Matt asks if Brendon has been BLANK. Hayden laughs says BRendon BLANK any chance he gets. Lane says if your will to listen he'll BLANK to you. Matt mentions that Brendon told Brit he's going confront him about matt calling him a big dummy. Matt says earlier today they were alone doing dishes for 20 minutes and Brendon had the chance to say something but he didn't. HAyden leaves Matt asks Ragan how he's doing, Ragan says good Matt agrees. Matt: "The stars are aligned i'm feeling good". Ragan mentions how Brendon has a fake confidence pose. Ragan: "He's the most insecure scared little boy i have every met…. which is funny because he's twice my size". ragan: "I'm surprised he said those things to Brit about being worth 3 Jury votes" Matt: "BLANK Chump"
9:05pm HOH Bath Brit studying the timelines
9:18pm Have nots Brendon whimpering about how much he loves Rachel he pretends to be talking to her.
9:23pm Backyard Hayden, Enzo and Lane Enzo is saying that this is the new brigade and it's missing one person.. MAtty. Enzo starts in calling Matt BrokeBack MAtt. LAne laughs: "BrokeBack Matt". Enzo:"That Matty he's got his head so far up Ragans ass yo"
10:12pm