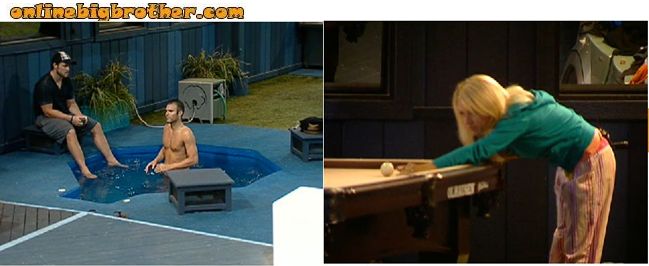 7:50pm – 8:05pm After the pool game with Hayden, Lane goes over and sits by the hot tub with Enzo and tells him about getting money in Pandora's Box. Lane says that he grabbed envelopes from the back because he thought the big money was in the back…and that he ended up with only $91.17. They talk about what they think will be shown on tomorrows show. Britney and Hayden finish up their pool game and join Lane and Enzo by the pool. Lane says that he cant believe they've spent their entire summer in the house. Hayden tells them that they have been in the house for 57 days now. Enzo starts talking about his new baby daughter and how much she will have changed. Enzo says that he thinks she might be walking and talking some by now. Enzo says that his daughter smiles so much and is a happy baby. He says why wouldn't she be?…coming from me!! The conversation then changes to talking about sports. Big Brother then cuts the feeds to the we will be right back screen….





LIMITED Time Offer 33% OFF – Plus try it free for 3 days!
Superpass – 3 Day Trial!
8:15pm – 8:35pm The house guests get their SECOND PUNISHMENT! The live feeds come back and all the house guests are playing with sock puppets at the kitchen table. Each of the sock puppets look like them. Their punishment is that they have to keep these sock puppets on any time they are talking and use them to talk. They are allowed to take them off but they can't talk. If they fail to use them to talk then they will be been have nots.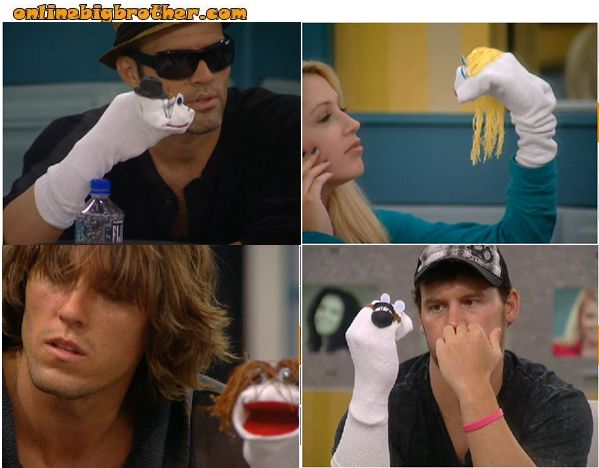 Lane tells them that he is taking his off to make burgers and tells them all not to talk to him. Hayden takes his sock puppet off too. Britney tells both Lane and Hayden not to talk. When ever one of them has their sock puppet off they tell each other not to talk to them. Hayden is in the backyard grilling without his sock puppet. Enzo goes out and tells Hayden not to talk to him.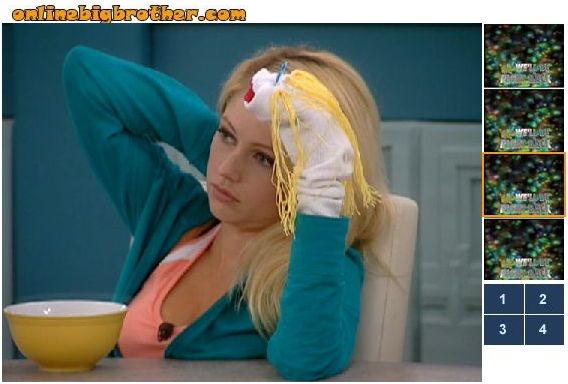 8:40pm – 9pm Enzo gets into the hot tub. Lane comes over and joins him. Both of them have their sock puppets on and are talking to Howie the duck. They're talking smack to the duck. Hayden says that he likes the puppets. Enzo says yeah, they aren't a punishment, they're something to play with. Enzo says that they are going to get tipsy tonight and listen to some music. Lane says yeah we're gonna get like 3 beers. Enzo asks can you imagine Brendon and Rachel in here now with these puppets. They says that Brendon and Rachel would be so annoying. Enzo says that he likes Rachel now and that he misses the drama and says that he wouldn't even care if she picked a fight with him …he would just laugh. The conversation changes to talking about the last season of Big Brother and what the final HOH competitions were like with Jordan. They talk about what they think Brendon is doing right now. Enzo says that he is probably blasting at Rachel right now. Ragan comes out and and they tell him about how annoying it would be to have Brendon and Rachel with the puppets. Ragan says oh yeah especially Brendon. Ragan then says you know what would be really funny …and mean is that if Rachel was in the house and instead of giving her a sock puppet …there was just a pile of trash on the table and to call it Rachel. Enzo goes into the storage room and grabs the alcohol that they were given and brings it into the backyard. Enzo tells them that they got a 6pk and a bottle of wine. Ragan asks them if they should just drink it out of the bottle. Ragan then jokes and says that he doesn't want to get their aids. The burgers are done… they head into the kitchen to make and eat them.. They can't find Britney …they think that she is in the diary room. Enzo tells them not to talk to him while he eats. Enzo then says that these arent even a punishment. Ragan tells him not to say anything. Enzo says right…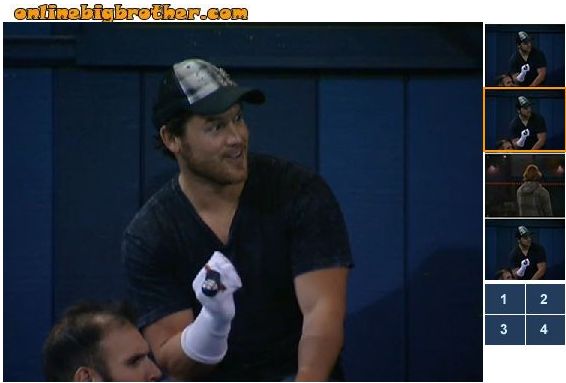 SEE what they CAN'T show you on TV! 3 Day FREE Trial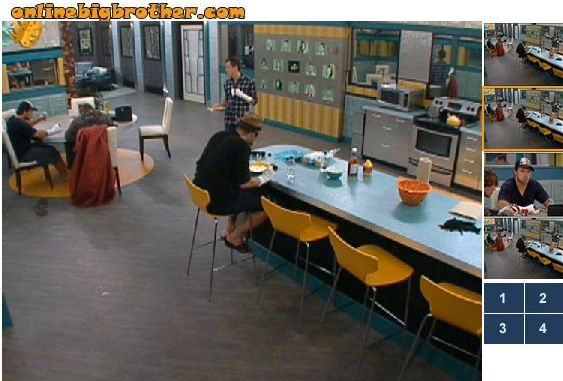 9:13pm HOH cam 3
9:40pm sock puppets play pool
9:51pm Enzo celebrating
10:25pm My biggest fear when I get out of the house is going back and find out you were the most hated houseguest. Ragan: "What I want to do most is go to a bar with jason, mike and peter… I don't want to be the guy from big Brother". Ragan is dreading people coming up to him after the show and want to have long conversations about big brother, he doesn't want these people to come up to him at the bar when he's getting wasted with his friends and talk big brother with him.