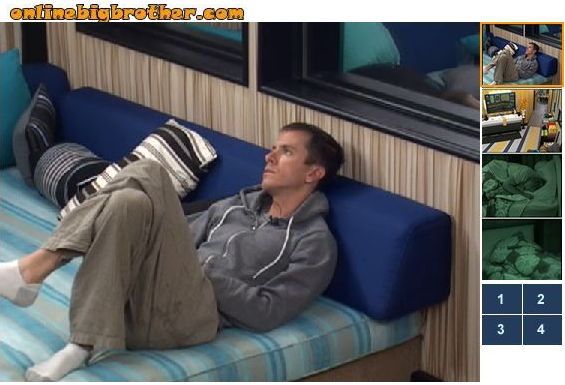 Watch everything LIVE as it happens!!
Superpass – 3 Day FREE Trial

8am Ragan wakes up and goes to lay down in the cabana room. Ragan is studying out loud. Ragan starts going over all of the events in the house, who was evicted when and what happened next. After a while of studying Ragan rolls over and tries to sleep.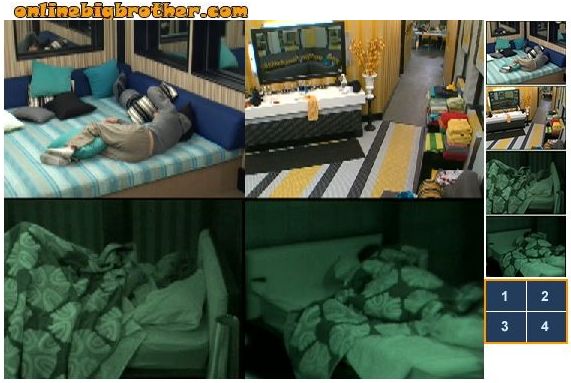 9:10am – 935am Big Brother switches the live feeds to the we will be right back screen to wake up the house guests. Matt is talking to Britney and Ragan in the have nots room with the lights off. Matt says that Hayden and Enzo said they were going to talk in the Taj or Cabana room late last night. Matt says that he suspects that they will just cop out and say that they are going to do what ever Kathy wants where they split the vote and Kathy decides. Big Brother tells them that the bedroom lights must remain on during the day. Britney Ragan asks so Kathy was talking to them too? Matt says no it was just them. Matt says that there isn't much else that he can say …he has said it all. Britney asks Matt how late he was up and Matt says that he Enzo and Hayden and Lane stayed up till 4am. Britney can't believe it and says that her and Ragan went to bed at midnight. After laying in silence Britney asks what time it is and then says that she's going to go make slop. Ragan and Matt go back to sleep.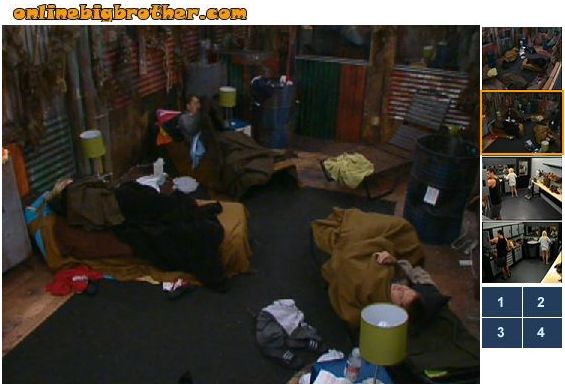 SEE what they CAN'T show you on TV! 3 Day FREE Trial

9:45am Britney finishes up making her slop by dumping a huge pile of sugar on it and then goes to eat it in the cabana room. Brendon came down earlier made breakfast and went back up to the HOH to eat it and then went back to bed. In the cabana room Britney gets through half of her slop and then takes a break for a few minutes and then goes back to eating it.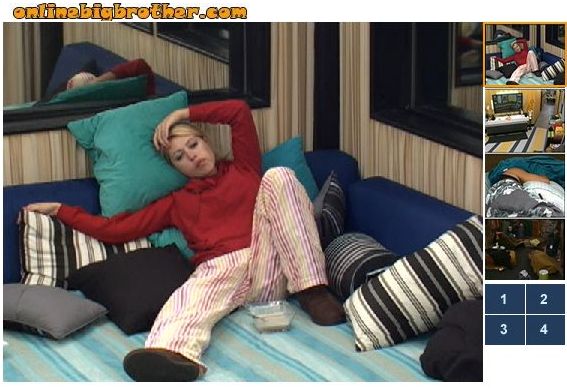 10am – 10:20am Matt comes into the Cabana room. Britney says that she tried to finish a whole bowl of slop but just cant do it because it hurts her stomach. Britney says that they will have to go up to the HOH room for the lock down in an hour. Matt says yeah. Britney says that hopefully Brendon will lock himself in the HOH bathroom again. Matt says yeah that would be amazing. Britney asks Matt if he knows why Enzo and Hayden were up in the HOH for so long. Matt says that they says they were just up there gathering information or they were sucking his dick. Britney and Matt talk about how they can beat Brendon in the quiz competitions where its numbers of things all then need to is find out what Brendon is going to answer and then add 10 to it. Matt says one person just needs to answer one and the other one over whatever he is going to say and we will win 100% of the time. Matt says that Brendon is wasting so much time because he wont be here after next week anyways. Britney says that she thinks Big Brother will not use questions that they talk about …Matt says that he thinks Big Brother will definitely use questions that Brendon talks about and that they will probably use his answers too. Matt says that from hearing of what Brendon was talking about from Enzo he already notices a couple things that he has wrong. Matt says that he has the number of saboteur messages wrong and the order.

** Updated **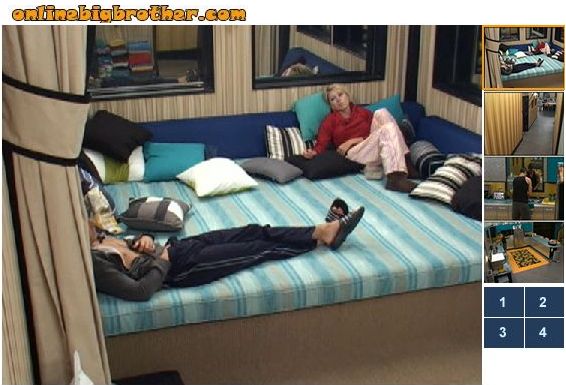 10:20am Britney and Matt are talking in the cabana room. Matt says that who ever wins this HOH …it doesn't matter ..it all comes down to who wins the POV. Matt says that it will be so hard to get excited for the diary room ..and after each question he will be like I don't care… I don't care. Matt and Britney talk about how much they dislike being a have not. Britney talks about how she has thought about all the ways she could cheat and eat real food and nto get caught. Britney talks about how Enzo used to cheat and eat all the time but that he got caught. Britney says that she just kept thinking what would Enzo do?! Matt starts talking about how he found out why Kathy was so upset last night. Matt says that Kathy had a premonition that something bad happened at home. Britney talks about how Kathy is so depressed and doesn't do anything and how she wont even go in the pool.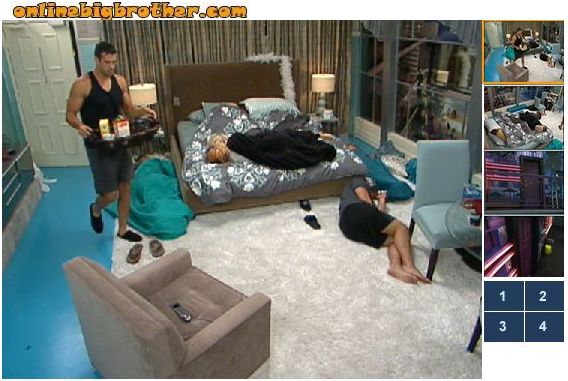 10:30am – 10:55am Big Brother switches the live feeds to the we will be right back screen and when the feeds return all the house guests are heading up to the HOH room for the HOH lock down. Everyone comes into the HOH room and finds part of the bed or the floor to sleep on. No one is talking. Brendon goes into the bathroom and closes the door. Britney and Matt along with the others are probably hoping he will stay in there for the entire lock down like last week. In the bathroom, Brendon is in the HOH shaves …and then gets into the shower.

11:15am Brendon finishes his shower and then grabs his clothes and suit case from the HOH room and then goes back in to the bathroom, shuts the door and packs.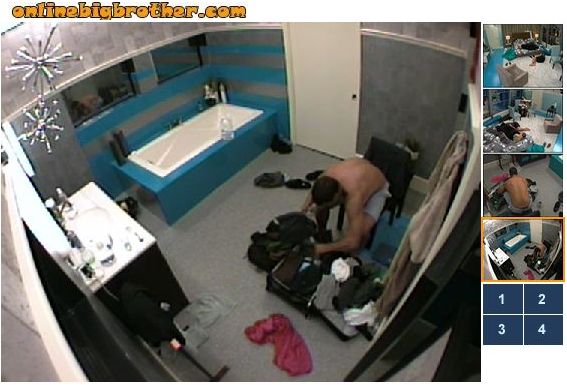 11:45am Brendon is all packed and ready!! He is just sitting in the HOH bathroom all alone waiting for the HOH lock down to be called off… Brendon gets up from his chair in the bathroom and lays down in the bath tub.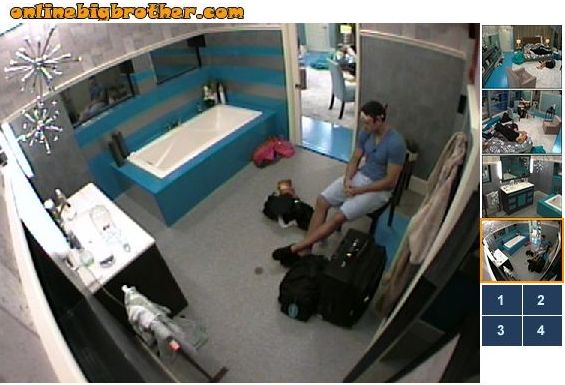 Sign-up today and watch the next few days of DRAMA for FREE!
Superpass – 3 Day FREE Trial