Watch everything LIVE as it happens!!
Superpass – 3 Day FREE Trial
12:15am In the have not room are Matt, Britney and Ragan. Matt says that all of Brendon's studying is for naught; it won't help him, let him study. Britney and Ragan say that the house facts aren't HOH questions. They talk about Kathy crying earlier. Ragan says that she is just depressed. Britney says that Kathy acts annoyed when she tries to console her. Britney then says that she is tired of trying to be nice to her, no more!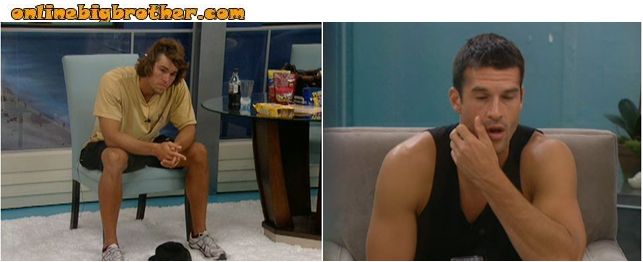 Up in the HOH room Hayden and Brendon are studying still. Hayden tells Brendon he was trying to cheer up Kathy. They talk about the new saboteur message. Brendon still thinks it was Lane since he has access to the Taj. They talk about the note being planting and agree that the saboteur isn't Matt. Brendon says that he doesn't trust Britney for BLANK. Brendon says no one would vote for her to win. They both agree that they want her in the final two but that taking her to final two she would back stab anyone to get there. Brendon talks about Matt leaving and says that Ragan will attach to Britney. Hayden says that after tomorrow its a 1-7 chance. Bren says that it will be a battle to get to final two. Brendon tells Hayden that he has it easier. Brendon says no one will vote Kathy out, even if she's on the block. Brendon tells Hayden to work on Lane. Brendon says he sees Ragan and Britney trying really hard for HOH. Hayden says that Enzo will do better than people give him credit for and may win HOH tomorrow. Brendon says that a lot of people will fight to see her gone. Brendon says that once Ragan and Britney are gone no BLANK talking or back stabbing. The conversation changes back to who the saboteur is. They talk about Americas vote and says it couldn't be Kathy. Hayden says that every night the lights are off but last night with the note the lights were off. Hayden says that even if she is the saboteur she is on our side and she won't affect the vote. Brendon says that he sees America voting for someone entertaining. Hayden says that maybe America voted for someone they love to hate. Brendon says because America votes for people they love its got to be Lane. Brendon says that the final four with him Enzo, Hayden and Lane would be cool even if he's the saboteur. Hayden says he needs to go to bed. Brendon keeps going on about Lane as the saboteur. Brendon says that no one will vote for Lane at the end since he's won nothing. Brendon says he sees Hayden beating Lane if he's in the final two.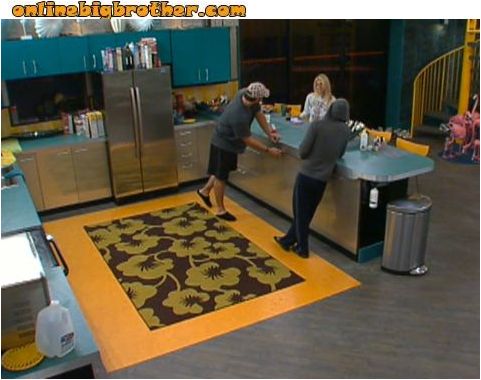 12:40am In the kitchen, Kathy is talking to Lane. Matt joins them in the kitchen. Matt asks if Kathy if she feels better. Kathy says that she feels something …a that feeling something isn't right at home. Matt asks her if she is having a premonition. Kathy says that whatever it was she felt it. Lane tells Matt that he wished tomorrow would just get over with. Matt says that Brendon is wasting all this time studying because he'll never win HOH. Matt says that if he is in jury house he wants to see Brendon walk in with a black eye. They both call Brendon scum. They head into the bathroom to talk to Enzo saying him and Lane are wallowing. Matt asks if he learned anything new that they don't know. Matt says if all goes well Brendon will never play another HOH.
TRY the Live Feeds for FREE!!
Superpass – 3 Day FREE Trial
Up in the HOH room, Brendon is talking about enjoying the house without any drama. Brendon says that if he makes it through another week Lane will get over it. Brendon says that Matt gets cocky and says Kathy is important because she's a solid vote. They talk about if Britney wins. Hayden says him and Brendon will go up. Hayden lies and says that he will work on Lane for a vote. Brendon starts talk about how the house will a better place with Britney gone. Hayden is trying to leave HOH. Brendon keeps going on talking about Hayden has 8-10 seconds to answer and to run things through his head with a before or after. Hayden says if he doesn't know he still has a 50/50 chance to get it right. Brendon says to pattern answers if he stands next to Britney or Ragan. Hayden leaves the HOH and then goes into bathroom and laughs about being stuck up in the HOH.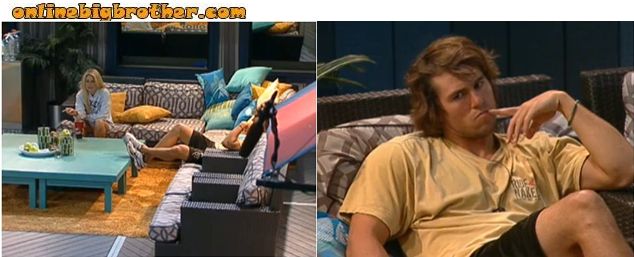 1:15am Hayden is talking with Kathy in the backyard. Hayden tells Kathy that he thought they would get a saboteur message today especially after Enzo found the saboteur's note last night. Kathy says that Matt never asked her to vote for him. Hayden asks not even once? Kathy says no. Hayden tells Kathy that he is glad he met her, if you or I go home next week …hopefully Britney goes home. Hayden asks her who he should put up if he wins HOH. Kathy says Britney. Hayden says that the only problem with that is he would lose a bunch of jury votes for doing that. Hayden asks who would I put Britney up against, someone that would be a pawn? Kathy says that it would have to be Enzo. Hayden says no I wouldn't put Enzo up, I couldn't do it. Hayden goes on that if he puts up Britney he has to put up Ragan against her. Hayden says that he hopes it isn't a double eviction tomorrow because he needs time to think about his decisions. Hayden asks Kathy if he should put up Brendon vs. Britney. Hayden says that he thinks the votes would be split and then he could actually decide who goes home. Kathy says Britney is going to make it all the way and win the game if she doesn't go. Hayden says that if he does that then Brendon would probably win the POV and that would work out perfect. Kathy says she is scared that Britney will win HOH. Hayden tells Kathy that she will be safe if Britney is HOH. Hayden says that as long as Brendon doesn't win POV then Kathy is safe. Kathy tells Hayden she just has to make it to the $50,000. Kathy says that she needs at least that. Hayden tells Kathy he is going to go in and talk to the guys.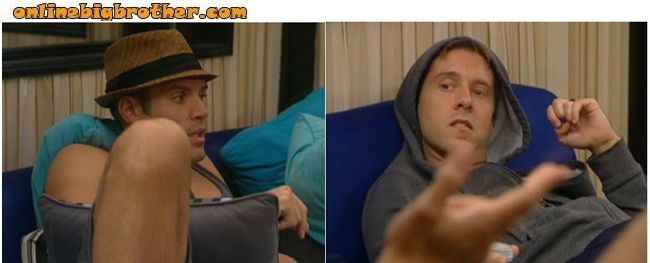 1:20am – 1:45am In the cabana room Enzo and Matt are talking. Matt tells Enzo that Brendon will tell you whatever you want to hear. Matt asks him if Brendon still thinks he isn't going up next week. Enzo says he kind of has an idea that he'll go up. Matt calls Brendon a scumbag! Enzo says that his days are numbered here, he is gone, no matter what he is gone! Lane joins them in the cabana room. Matt says that he doesn't understand why Brendon is studying so hard because he probably won't see another HOH competition. They talk about how they have never won a POV. Enzo says they need to pick it up now! They are going over how close they have been to POV. Hayden tells them that Kathy said that she needs to make final 2 because she needs to 50G's. They all say everyone needs it. They ask Hayden if he talked to Kathy about the saboteur. Hayden says that Kathy thinks it is Britney. Enzo says so one of you is going home tomorrow. Hayden says unless you got the power! Enso asks if they are splitting the votes or should they wait to see what Kathy is going to do. Matt says this position sucks for Hayden & Enzo. Hayden says that no matter what happens; I got mad respect for you guys! Hayden starts talking about his goodbye messages. Enzo says that it's been a crazy experience. Matt says to take the brigade to the Final three, anything is possible! Enzo says that whoever remains out of the Brigade after tomorrow has a great shot of making it in this game! Matt tells them to not let it slip away, he says it is totally BLANK doable! Enzo says that the only thing really standing in their way is Britney and Ragan. They know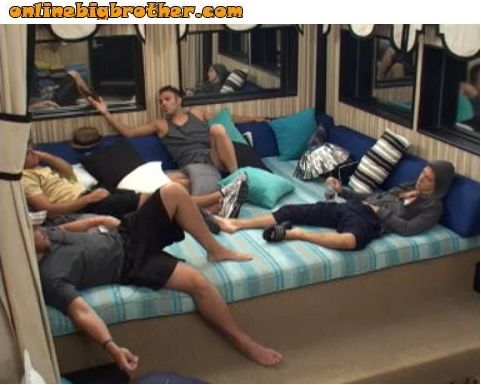 everyone is after Brendon and they don't think Kathy is a threat at all. Enzo says that they gotta beat Andy Dick and the albino! Enzo wonders if they should split the votes. Hayden says they should find out from Kathy tonight what she is going to do and then they will tell Matt tomorrow what's going on. Matt says cool. Hayden says he doesn't think either Lane or Matt would throw him and Enzo under the bus by exposing the Brigade. Matt says that he may punch him on the way out. Matt and Lane both say they would not throw the Brigade under the bus. Enzo tells them if he were the one on the block going home he wouldn't want anyone but the Brigade to win the game. The Brigade are talking about all the highs and lows they have been through in the game. They laughing about Hayden being in solitary. Enzo brings up the AA – Athlete Alliance with Hayden, Brendon, Enzo. They are all laughing. Matt says that they're the Asshole Alliance. Hayden and Enzo are tell Lane and Matt about all the random facts they have been going over with Brendon, like how many feet of rope were in the last HOH, how many gallons of paint could fit in the paint can. Matt asks if Brendon actually had an answer for that. They say he was doing like diameter by pie or some BLANK! Matt says all this BLANK because he probably won't ever play in an HOH again, I guess its good for you guys though. Matt can't believe Hayden and Enzo have been able to stand spending so much time with Brendon! Enzo says that when he's had enough of Brendon he just gets up and leaves. Hay tried to excuse himself from Brendon and that Brendon held him for another ten minutes giving non stop advice with every other word being the F word. Hayden says that Brendon has no street smarts, but can multiply numbers in his head.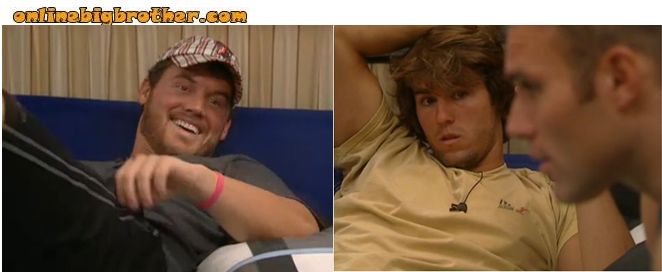 SEE what they CAN'T show you on TV! 3 Day FREE Trial
2am Matt says that the scariest outcome for tomorrow's HOH is Kathy winning, who knows what she is thinking. Hayden says that Kathy can't stand Britney. Matt wonders why Kathy hates Britney so much Hayden says that Kathy told him that Britney told her that she was going home. Matt says why would anyone say that to someone's face! Matt and Enzo leave the room. Hayden tells Lane that he hopes he has the coup d'etat. Matt comes back in he says he wonders if Enzo has a power. Matt says they shouldn't make too much of it or they'll make him crack and he'll lose the power. Enzo says that he wants to get down to the final three with Kathy and Michelle! The guys laugh. Lane says Michelle is playing the game now! Kathy left the game and Michelle is playing now! Enzo says Kathy is like Jekyll & Hyde. They say Kathy is the one cleaning and Michelle is the one leaving saboteur notes! Lane says that he hopes Ragan or Britney win HOH tomorrow because the next week they'll have three Brigade members playing in the HOH. Enzo says that he thinks Britney would put up Brendon and Kathy. Matt asks Lane if he is still close with Britney. Lane says that it depends on the day, today I made her cry. Hayden says his side alliance with Kristen was named Undercover Lover. Matt asks really? Hayden says no. Enzo says that the best would be if Ragan won HOH and then Brendon would go home. Hayden says the next week he could win HOH and he would put up Kathy and Britney. Lane says he is worried if he votes against Britney then he'll lose her vote in the jury house. Enzo says don't worry about it, it's a month away,they'll get over it. He brings up that they voted out Rachel and Brendon is already back on their side! They talk about the possibility of a secret power coming out during the live how tomorrow! Hayden says god what if Kathy stands up! Enzo says nah.. Bro I don't think there's no powers. They all decide its time to do a brigade diary room session. They all get ready in the bathroom, Hayden and Lane put on bandannas.  They all go over to the diary room door and wait to be buzzed in.. then they head inside.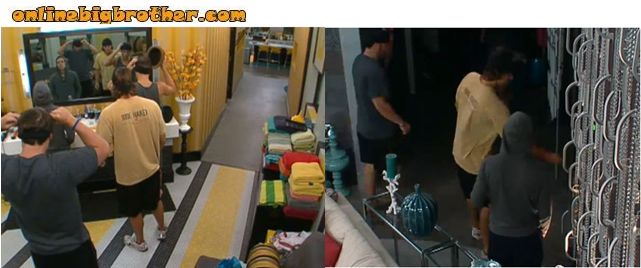 2:45am The Brigade comes out of the diary room. Matt tells them he is going to bed. Lane, Hayden, Enzo are talking about Kathy being the saboteur. Hayden thinks if they offered her money she'd do it, Enzo says if they offered her cigarettes she'd do it! Enzo tells Hayden and Matt they have to hang out outside the house! They say how much this position sucks, but say it was bound to happen. Enzo says that they got a good chance of winning this even if they are smarter than them. Enzo says they got street smarts. Hayden says that big foot asked him if Lane has a crush on Britney. Hayden says he'd hit it if she weren't engaged, Enzo says if he weren't married he'd hit it. Enzo says that if it weren't for the Brigade they wouldn't have made it this far in the game, if they had been on their own individually. Enzo asks Matt if he thinks his wife likes us. Matt says hell yeah! Enzo says if they can get the big donkey out this week then they have a great chance at the game. Hayden brings up that fact that he regrets saying hang loose at the end of his goodbye message! Hayden says that he doesn't like pegging himself as the surfer dude. Enzo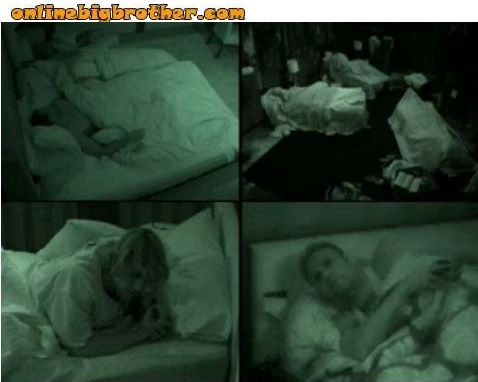 says that they are all hugging tomorrow when the eviction happens, he says he may cry ..and that you may even get a kiss. Enzo says that Britney has gotta go. Matt says that he loves Ragan. Enzo says Ragan is gay in a straight way. They all agree they like Ragan. Enzo tells the guys that they made the experience for him… that meeting them and being in the Brigade made the game for him. Matt says that we gotta get Brendon out next week. They start talking about the possibility of a double eviction tomorrow. Enzo says that he could see it going from 7 to 5. Enzo says they have been half assing everything and he wishes they had done better in the competitions! Matt goes to the have not room to go to sleep. Enzo tells Hayden that his wife breaks his balls more than she strokes his ego! Hayden laughs, and says that he can't wait to meet her. Enzo says she is the cutest thing ever. Hayden asks if she has sisters. Enzo says she has one sister. Enzo talks about his wife saying that she is cute but she's hot as BLANK too. Hayden says that's the best! Enzo says that he likes a Megan Fox type. They both agree a girl has to be tan, they don't like chalky pale white girls like Britney. Enzo says he likes dark haired girls when green eyes. Hayden brings up the girl he was seeing before he came into the house and says she was the coolest girl he's ever been with. Hayden says he has only dated one girl that wasn't a blonde. Enzo says he really didn't have that many girls before he married his wife, he could have had more, he says he has slept with 20 girls. Hayden says he is picky, his number is lower than 20. Both Enzo and Hayden say that they wouls love to do a movie after this if they were offered it. Hayden and Enzo decide to go to sleep..
Watch all drama on FLASHBACK! FREE 3 Days TRIAL
4am All the house guests are asleep….
7:50am Everyone is still asleep..