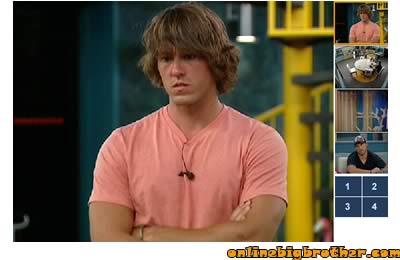 9:53pm Kitchen, Enzo, Brit, HAyden and Lane. Enzo is asking them if MAtt was campaigning for votes. Lane says he was trying to get votes but once Hayden told him he was voting for Enzo to stay MAtt stopped trying. Brit: "Matty Knew he was going home".

Lane wonders if maybe the people that go to the Jury house may miss the game and after a week will want to be back. Brit agrees, she points out that if you go home next week you only have to stay 2 weeks in the jury house. Enzo says it's best to get out in the beginning or go the distance.

They start talking about how dumb Brendon was in the game. Lane: "Brendon is really smart with numbers and reading books. Enzo laughs at how clueless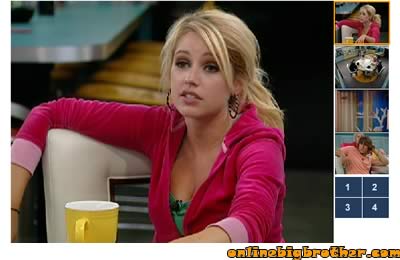 brit says she was given the option to be chained to brendon during his Chum and only be there for 16 hours or she could of waited until brendon was done the chum and be chained to him for 24 hours. She really didn't want to be chained to him. Hayden asks her if they talked much game. Brit explains that Brendon talked game twice to her, once he was warning her about "y'all" being in an alliance. Brendon wanted me him and Ragan to for a team and take y'all out. Brit laughs, hayden: "brendon played himself", Enzo laughs calls him a dodo. They all are laughing a about brendon being worried when he got out of the POV comp thinking that he was going to go home. Enzo says he told him on the bench that he better hope Ragan doesn't win.
Brit wonders why ragan makes a funny fase when he played in the HOH. Lane says he does that when he plays pool. Hayden: "He's giving someone a H***ER" (hayden is starting to say some douchey things)