6:10pm Feeds are Back The final 5 hanging out in the kitchen talking about worse case final 5. Hayden says Andrew, Ragan says KAhty, Brit says Brendon, Enzo says Rachel and LAne says Annie. They all agree that Annie would of never of made it this far she was too crazy. Brit tells them she never got to cast a single vote today because she was HOH then on the Block. Ragan says that Matt is going to have a very rough week, he's sure that him and MAtt will be close friends for the rest of their lives. Enzo: "Yeah really". They all start talkign about the POV comp, lane gives Brit a hard time because he did better then her and she was studying like crazy.

Enzo: "We still got HOH to play yo" everyone lets out a giant sigh. Hayden tells them that getting Brendon out during double eviction is perfect because they don't have to deal with all his bullshit and scheming. Enzo, Brit and ragan agree. Ragan hopes they get playing cards and a margarita party. Hayden mentions that after he won the HOH Brendon was giving him a hi-5 and telling him not to put him up because it wasn't right. They are all amazed that brendon made it so far because he was everyones target from day one.
6:32pm Ragan tells them his eviction saying about Rachel, Ragan: "Ohh My God we get a mansion and our very own waitress". Ragan tells them that MAtt is a super fan of the show he applied six times and last year he made it to the season finale.

6:42 HAyden in the DR. There talking about the HOH, Brit is really laying it on thick how unstoppable Hayden was during the comp. He goes over how he preformed in the HOH and how much faster he was compared to the rest of them. She adds that Brendon was doing decent as well. Enzo is wondering who is going to start washing the dishes, Lane says he's starting to do them more now. Lane, Enzo and Brit all happy they don't need to listen to BRendon's stupid stories any more.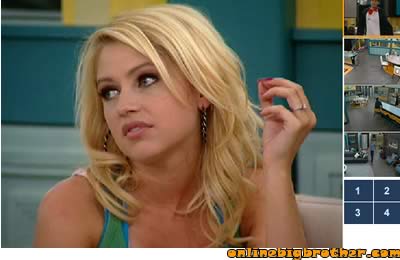 6:49pm Brit tells Ragan, LAne, Enzo that that She told Hayden to put her up becuase she knew y'all wouldn't vote her out. Brit didn't want HAyden to feel bad having to make the choice of who to use as a pawn.

HOH COMP is coming up

Watch everything that happens after the LIVE SHOW Tonight!!
FREE Trial!

6:59pm Jumanji Room Ragan and Brit Ragan is telling her they have to win if they don't they are both going up. Ragan: "You understand this now one of us is going home if we don't win".. Ragan asks her Why are the boys in the storage room together like that. Brit: "there unloading Grocery's" Ragan: "no there not they're planning the next move"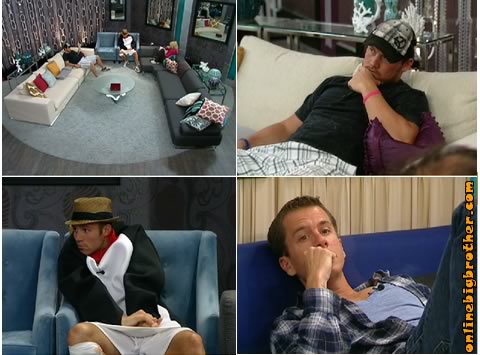 7:14pmTalking about how important the HOH is. Hayden is working Ragan in the cabana room telling him that he did a shout out to America to award MAtt he America's choice money.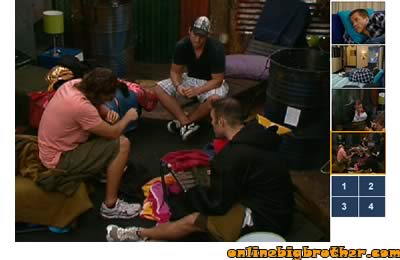 7:30pm Hayden, Lane and enzo These three are freaked out about Ragan potentially winning the HOH. they think it will be Hayden and Enzo that go up. HAyden tell Lane that he needs to win the POV then they can get BRit up on the block. Enzo tells them they all have to really fight from here on in, he thinks they'll be the final 3 and however is the best player at that point wins. Lane tells Hayden that he is going to sell the sock Monkey now that it is famous. Hayden says he gave that to Kathy he wants it back, LAne: "Why you give it to her I want it".

hayden now saying that the crowd was really cheering for him during the HOH cop and they went wild after he won. Enzo: "America loves us yo we're making this season"

7:52pm Feeds on Trivia

8:16pm Feeds on Trivia

8:49pm Feeds on Trivia
Share it YO!!
Tweet