10:14pm Talking about cougar hunting
Hayden says week one he said in this DR that Kathy is a cougar and he bets she's going to start hitting on him. Lane says he likes older women and he told that in the application so when he saw Kathy talking down the stairs eh was like OMG they did this on purpose. Brit brings up rachel and how dirty she was brit wants to spray the Big Brother House down with roach spray. Enzo brings up Rachels memory wall picture says they took it on her good side because her other side has a giant pimple on it. (Bashin B/R was fun when they were in the house now it's just Douchey)
Enzo: "Rachel is from the Flintstones I don't know where she comes from"
Brit: "I remember when Lane asks enzo week one if he was real"
Lane: "I never thought there was someone out there like you.. I thought it was an act". They all start talking about how awesome they are. HAyden doesn't think the audience would of cheered as loud for Brendon and Ragan as they did for him when he won HOH.
10:24pm All the remaining houseguests in the kitchen Hayden telling them that after he won HOH Brendon ran up to him and was begging him not to put him up. hayden told him that its all cool Brendon is safe. HAyden laughing says then his ass was sent home. Brit tells them that Brendon is going to be shocked when he finds out how badly he was duped.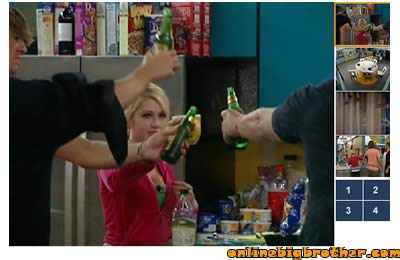 10:27pm Kitchen a toast to final 5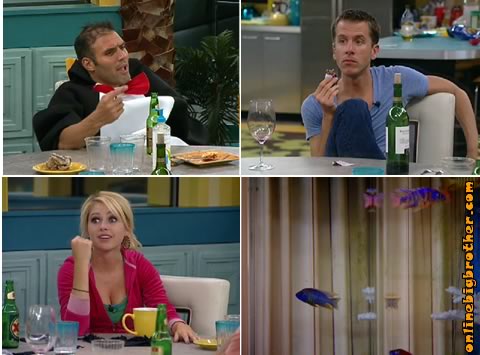 11:05pm Lane called into the DR they are all talking about the sab. Enzo is positive Matt was the sab because he thinks the only way to guarantee to have someone accept the position is to offer them the DPOV along with it. Enzo wants to be the sab if he get the DPOV.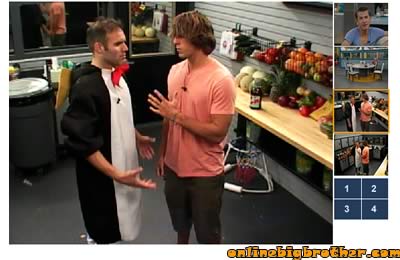 11:10pm Enzo and Hayden on the storage room grabbing some wine Enzo is very worried that Ragan is getting close to Brit and those 2 might start talkig to Lane. Hayden isn't worried they can pull Brit back to them. enzo tells him if Lane puts up Ragan and one of us and Ragan wins the POV then we are screwed. Hayden tells enzo to not worry so much they will talk to Lane and Brit tongiht and make sure they all know Ragan is the target (Please Lane put hayden and enzo up and bring some excitement into the house)
11:26pm Ragan: "You know some people rach are playing this game and others are only looking out for themselves". hayden says that the other day Brendon was telling him that Rachel turned out to be exactly like he thought she was going to be. Brit: "when I first saw rachel I tought she was porn acrtess who retired because of ta STD"… Brit: the grossest thing I saw her do was the day she set up the obstacle course and she in her bikini tried to crawl underneath it but she wouldn't fit with her whole butt sticking out". Hayden brings up Rachel wearing a bikini when working out. Ragan: "you know the charade game… WEIRDEST BLANK thing I've ever seen in my life". He talks about he charades they did in the HOH room when one person would go outside in front of the HOH cam and the rest would watch on the HOH TV
11:46pm Enzo: "Today I'm not only a donkey, i'm a donkey with 3 legs". Lane tells them that he won't be getting his HOH key for another hour because they have to do DR sessions with everyone.
Ragan: "I have the diamond power of dildo". Enzo: "I have the diamond power of donkey".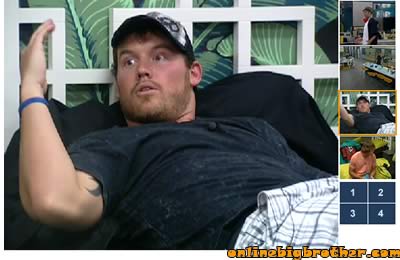 11:50pm Jumanji Lane and Hayden There talking about how set they are. Lane tells him they could not of asked for a better situation. Lane goes through worst case scenario is Ragan wins HOH comes off then Enzo goes up and Brit goes home. Lane: "we're guaranteed final 3 you and me..You and me are going to win". Lane says that they are both the most popular players in the house, America loves them.
hayden says he so excited to even win 50K, Lane brings up that he had no idea it was going to turn out this way in the beginning they got there asses kicked.