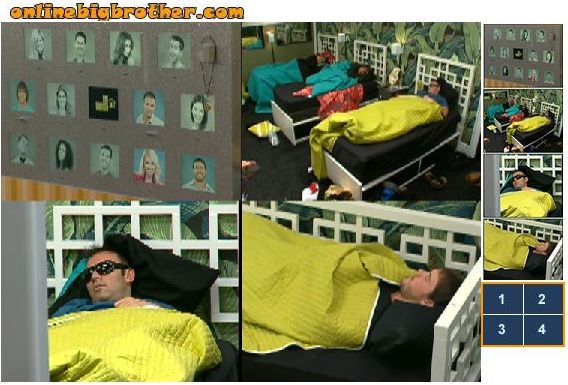 10:20am – 11am Big Brother switches the live feeds to the we will be right back screen. 10:40am The live feeds come back. Enzo is awake in the jumanji room talking about how he hears them banging out in the backyard. Enzo says that they've been on lock down for like two hours now. Enoz thinks that some celebrity is going to come in and they'll watch a movie or Monday night football. Enzo says that the banging noise sounded like in WWF when someone hits the mat. Enzo says that he really thinks a celebrity is going to be coming into the house. They all go back to sleep… Britney gets up to go to the washroom. Enzo, Lane and Hayden talk about being on lock down. Enzo says that they put them on lock down around 8am. Hayden asks what time the POV ceremony usually is? Enzo says its usually at 11am. Hayden gets up to go take a shower. Britney heads up to the HOH room …and tells Hayden that they are definitely building something. Hayden asks really?! Britney says yeah its loud! Britney goes into the HOH room to listen to music. Hayden gets a bowl of cereal and sits at the bar in the kitchen to eat.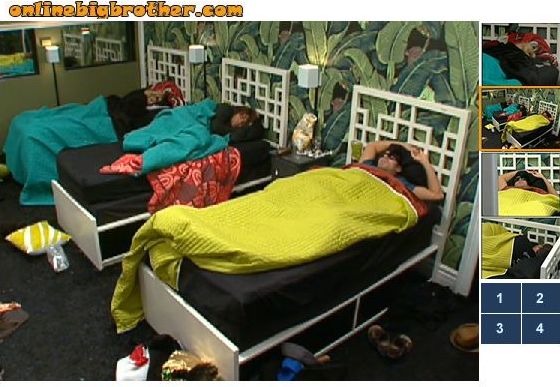 11:10am Hayden comes up to the HOH room to shower. Britney and Hayden talk about how normally on Monday they are called into the diary room a lot before the POV ceremony and they are usually on lock down right before it happens. Both Britney and Hayden think it is weird that big brother is building something in the backyard and usually they have the POV ceremony now. Hayden says maybe we'll be having the POV ceremony later today??… Hayden goes into the bathroom to shower and Britney goes back to listening to the CD.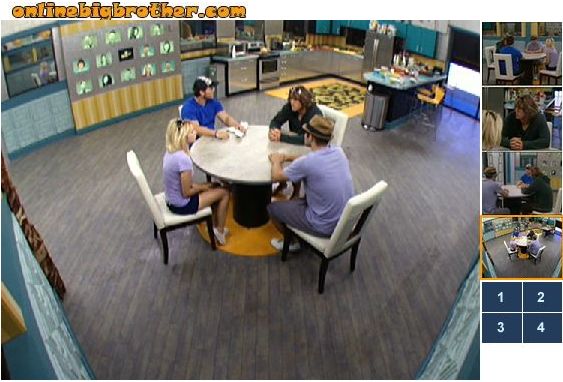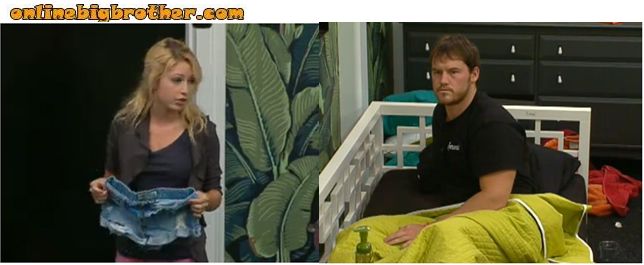 11:15am – 12pm Lane asks Britney if production is building animals in the backyard? Britney looks at Lane like he is stupid and says I don't think they are building animals but …maybe?! Britney says that they are building something out there, she says that the noises are loud and intense. Britney says that it is weird that they still haven't had the POV ceremony yet, usually its at 11am. Lane says that someone is going to die! Lane teases Britney that her short she is wearing are underwear. Britney says that they are shorts, you've see me in them all the time. Lane says that she wants to show her Cou-de-gra today. Britney says that's gross …I don't even know what that means… have you seen me in my underwear… I don't think so! Britney changes into some other shorts. Lane goes into the kitchen to eat cereal and play with some cards. Hayden is up in the HOH room by himself sitting in the chair. Lane gets upset because he loses …he says that the game is rigged. Britney says get over it you lost. Lane says that the dealer always wins! Lane says that the dealers are always girls. Britney asks if she could be a dealer. Lane says yeah. Britney asks if she could be a jockey. Lane says yeah. Britney asks where could I learn? Lane says in my bed! Britney acts surprised and says Langel what has come over you today! Britney says that she thinks she could be a good jockey .. because she is little. Hayden joins Britney and Lane at the table. Hayden tells Lane to deal him in next hand. Enzo is still sleeping.. Britney says that Enzo is the first one up in the morning club dancing and now hes back asleep. Lane says it makes him tired. Britney says yeah too much fist bumping. Britney talks to her mom and says that she needs to bring an extra suit case because she collected a lot of shit in here. Britney goes to feed the fish. She thinks Mufasa is going to die… he used to be the king of the jungle…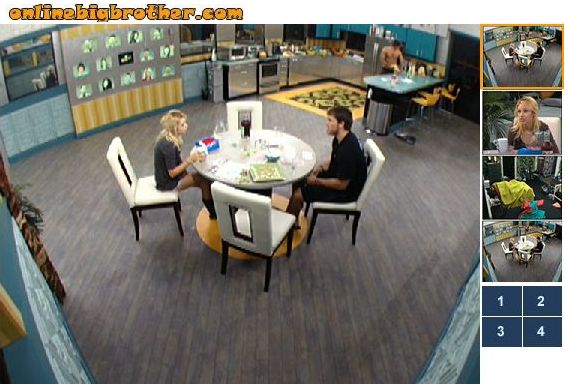 Share it YO!!
Tweet