12pm – 12:25am Hayden goes back to the jumanji room to lie down in the bed next to Enzo. Britney is in the kitchen by herself playing with her bead picture maker. Lane is in the bathroom. Lane heads into the bedroom Lane, Hayden and Enzo talk about exchanging the cards, dominos, and all there other things for just one board game. Enzo says that he'll even throw in his tinfoil spaceship. Hayden says OHHHhh.. that's a deal of a life time. Lane puts on his black durag and his blue baseball cap. Hayden tells him that wearing his hat like that builds his street cred. Hayden says that the only way to get more street cred he would have to kill someone. Lane goes into the kitchen and asks Britney if she was at a bar would she approach him like that? Britney says oh yeah all the girls will want you. Britney says that the girls will come up and whisper to him telling him they want him to get inside their panties. Lane asks you think so? Britney says oh yeah cuz you're famous now! Lane heads up to the HOH room to listen to the Eminem CD. Britney tells him to listen to the Almost Famous track. Britney is alone again in the kitchen she comments that her Big Brother 12 Memory Wall picture looks like a cheap Mexican blanket. In the jumanji room Hayden and Enzo go back to sleep.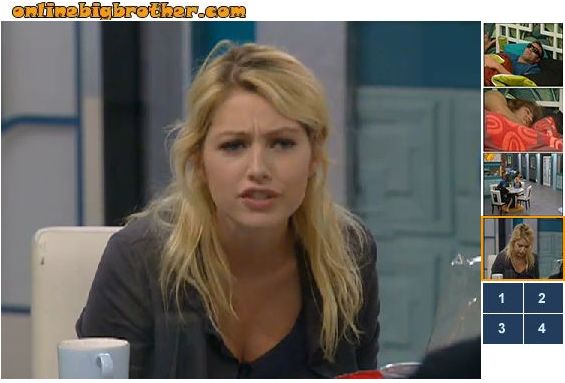 12:50pm – 1pmBritney is playing solitaire at the kitchen table and talking to the live feeds. She says that she doesn't remember the rules ..its so much easier on the computer. She asks can you put down anything other than a King in a blank space… I don't think so. Meanwhile, Lane is up in the Head of Household room listening to the Eminem CD and Enzo and Hayden are sleeping..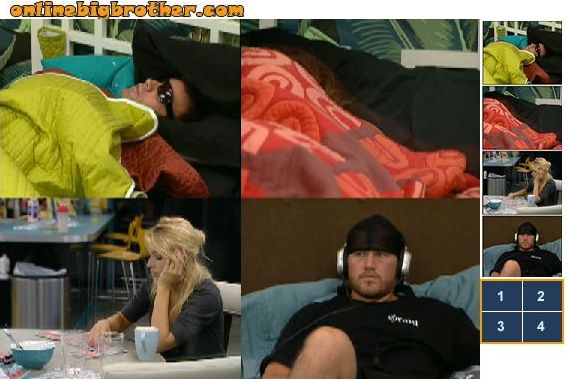 1:10pm – 1:35pm Britney gets called to the diary room. All four live feed cameras are on Hayden and Enzo sleeping.. At 1:30 Big Brother switches the feeds to the "We will be right back" screen. They flash back and Britney is in the kitchen she says please will you be nice to him. Lane says what?! Britney makes coffee and heads up to the HOH room to listen to the Eminem CD. Britney says that this is probably the funnest thing I've done since I got here …listen to a cd and play cards …its like multi-tasking.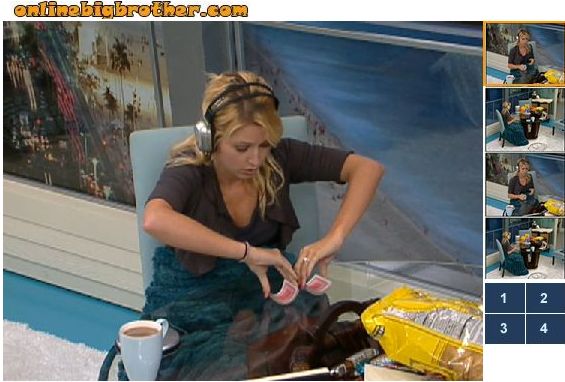 2pm All four live feed cameras are on Britney playing solitaire and listening to music.. Hayden is called to the diary room … and then CBS Big Brother cuts the feeds …